Lifetime tour with art, culture, history, people and nature of the three distinct equally beautiful nations
Highlights
Explore Buddhism's art, culture, tradition and architecture of Bangladesh
Visit Bogra, Paharpur, city temples and local markets.
Enjoy the mesmerizing view of the valley of Paro, Thimphu and Wangdu/Punakha
Beautiful Hike Taktshang Monastery(Tiger's Nest).
Tour of Bhutan's towns and country's villages.
Admire Kathmandu's various world heritage sites like Pashupatinath, Swayambhunath, Bhaktapur Durbar Square and Patan Durbar Square.
Chitwan National Park to view the rich diversity in the flora and fauna of Nepal.
Bangladesh: 5 Nights in Bangladesh with archeological sites & Buddhist monastery of Bogura & Comia, City Temples of Paharpur.
Bhutan: 4 Nights in Bhutan with a short hike to Taktsang Monastery (Tiger's Nest), Paro, Thimphu and Punakha with local.
Nepal: 6 Nights in Nepal with Boudhanath, Pashupati, Swoyambhunath, Patan Durbar Square, Bhaktapur Durbar Square and Chitwan with jungle safari.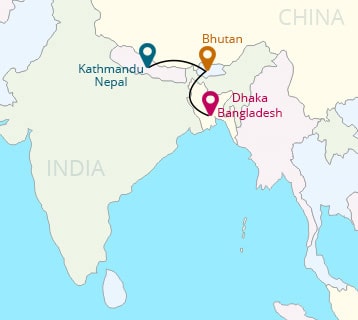 Bangladesh Bhutan Nepal Tour experiences art, culture, history, and nature of the three distinct equally beautiful nations in the world.
Bangladesh Bhutan Nepal Tour takes you to Bangladesh first. Bangladesh, the comfort zone and provides a lifetime experience of their wonderful hospitality. It combines culture, an adaptation of major religion which exhibits in the form of various art and music. The folktale is also a medium of the exhibition that narrates the culture and tradition of religions in Bangladesh. Main attractions are Sixty Dome Mosque, Buddhist Monastery- Somapura Mahavihara and the Sunderbans-largest mangrove forest on earth. Apart from these three UNESCO heritage sites, there are other attractions too. Such as Mainamati Bihara, Salban Bihara, Mura, Itakhola Mura, Rupban Mura and Basu Vihara.
Nepal is a land of diverse culture and traditions and hosts a variety of mouth-watering cuisines. It is home to the highest mountain peak in the world, the Mount Everest. Royal Bengal Tiger, the one-horned Rhino, ancient temples and wooden and pagoda shaped architecture are the highlights. You may leave the country but not its memories.
Bhutan also was familiar as Shangri is at heart of the Himalayas. Bhutan is the only nation that can provide us a glimpse into the traditional life of the people of earlier centuries. Unaffected by modernization, its landscape is marked by high mountains and deep valleys with rich and diverse ecosystems. Different ethnicities have given rise to diverse culture, multiple cuisines beautiful arts and traditions. Culture and the beautiful architectures are the prime takeaways from this tour and leave a profound impact on the visitor.
YOUR JOURNEY DAY BY DAY
Asia Experiences representatives will meet you at the arrival section of Dhaka Airport and transfer you to your hotel in Dhaka. Our representatives will give you a brief orientation of this tour. Taking the period of time you have in hand, we will visit some of the nearby city attractions of Dhaka. The colorful flower market, Dhaka University, the temple of Dakeshwari and Parliament House are the shortlisted major places to visit here today. Try some local style dinner and rest for the day at your hotel here. Overnight at Dhaka.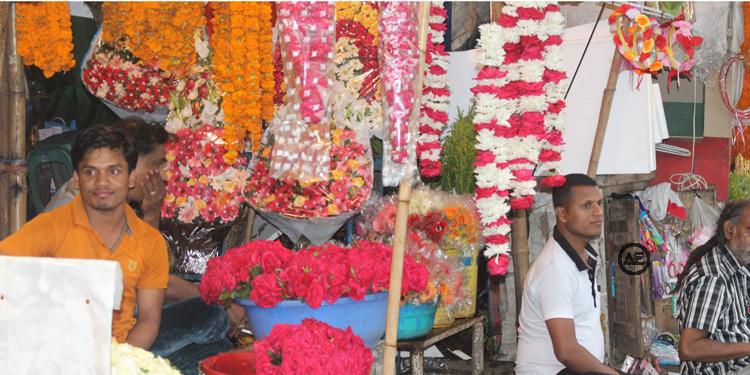 Dhaka to Sonargaon and back, Dhaka tour
We will pick you up early and take a drive to Sonargaon as the first thing today. Starting at the marvelous Folk art and craft museum, we will explore the place with some boat riding in the lakes constituting it. One can experience a complete art and cultural delights here in the Museum. We will visit the lost Panam city next, which has an old history and many stories of existence to offer you. In the city, we will visit the Bara Sadar Bari of the ancient ruler Isa Khan and then head to the Goaldi Mosque. This Mosque is one of the best surviving monuments from the medieval Bengal era and ages back to 1519 AD. From the Goaldi mosque, we will take a boat to cruise the Megna River leading to some of the local island villages here. After the tour, we will return to Dhaka and resume our trip here. Visit the Lalbagh Fort, Pink Palace (Ahsan Manzil), and try traveling in a Rikshaw to the old town of Dhaka. We will walk in the town here visiting the Armenian Church and Ornamental star mosque before returning to Dhaka. You will rest for the day in your hotel. Overnight at Dhaka.
Flight/drive to Rajshahi, Drive to Paharpur via Kusumba Mosque and to Bogra
We will start our day trying some Bengali breakfast before the drive to the airport. From here, we will fly to the second major city of our tour, ie. Rajshahi. After landing rest for a while and we'll drive to the historical Paharpur. We will make a brief stop to visit Kusumba Mosque in the way. This mosque reflects the architecture and stone-carved arts from the period of 14th to the 16th century here. We will continue our drive to Paharpur next focusing mainly on the UNESCO world heritage site of Somapura Mahavihara. This area is one of the most significant archeological sites in Bangladesh with the remains of walls surrounding a traditional Buddhist stupa in its center. Many statues, inscriptions, coins, ceramics, and terracotta Plaques were recovered from this area, some of which aging back to the 4th century or older. We will also visit the tribal villages and explore the local lifestyle here. We will continue our drive to the Bogra city and rest for the day there. Overnight at a hotel in Bogra.
Note: We also have an option to take a 6-hour drive to Rajshahi; however, flights are suggested for better site visit results.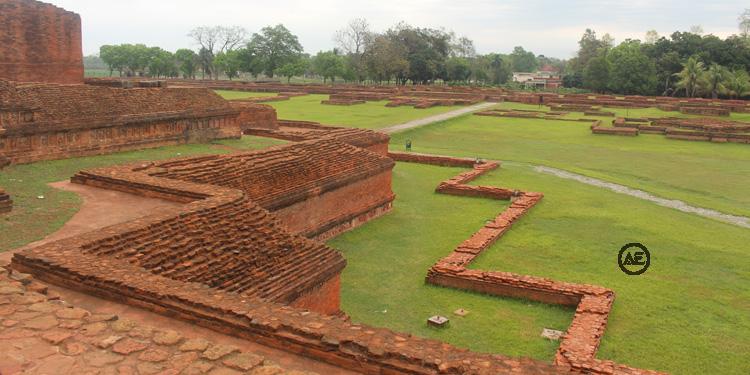 Bogra Tour, Drive to Rajshahi and visit Puthia temple
We will visit the archeological site of Mahasthangrah in Bogra, which is also the oldest archeological site in Bangladesh. The area consists of a prominent Citadel walled in all sides with many remains of the buildings and temples surrounding it. We will also pay a visit then to the Govinda Bhita Hindu Temple in the northern end from the citadel here. Located a few kilometers from the Mahasthangarh is another important archeological site of Gokul Medh or the Behula Lakshindar Bashor Ghor. Our next destination Basu Bihar is one of the ancient Buddhist heritage of Bangladesh and an equally crucial archeological site too. These destinations show us the architecture, art, and the lifestyle of the people from the era of the 3rd century to 12th and till now. After your Bogra visit, we will take a drive back to Rajshahi. After a brief rest, we will visit the Puthia temple. It is one of the largest historic Hindu temples in Bangladesh with beautiful wood/stone carvings and architecture inspired by Jor-Bangla and Jaipuri style. After a brief exploration of the temples here, we will continue our drive to Rajshahi. Overnight at a hotel in Rajshahi.
Rajshahi tour and flight to Dhaka
We will start the tour of today visiting the central park of Rajshahi. We can try some local cuisine and visit the local bazaar areas here. Rajshahi Silk from here is a pristine quality silk famous all over the world. The city of Rajshahi is also the educational hub of Bangladesh with many prestigious universities. We can get some cultural bonus in the festive season here. After our tour, we will board a flight taking us back to Dhaka. In our spare time today, we will visit some of the other sites left in Dhaka. You can also revisit your favorite destinations, restaurants, etc. and return to your hotel. Overnight at Dhaka.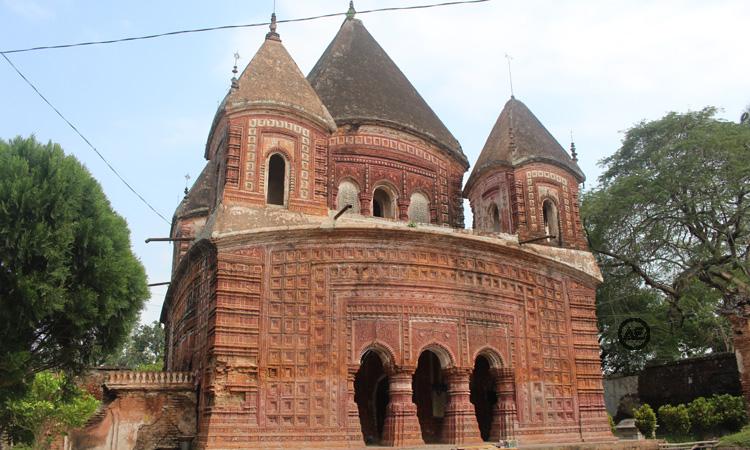 Departure to Paro / Bhutan and drive to Thimphu (B/L/D)
We will leave Bangladesh and head towards the next stop of our tour in Bhutan today. After breakfast, we will drive to the Airport and take a scenic flight to Paro airport. After reaching there, we will take a short drive over the hills and farmlands to the capital of Bhutan, Thimphu. Our guide will provide you a brief introduction about this tour on the way to Thimphu.
Stop halfway to the Paro-Thimphu highway, visit the 16th-century old Tachogang Lhakhang temple. The temple means the hill of the excellent horse. You will need to cross an old bridge to visit the temple. From the bridge, enjoy the scenic views of the villages.
After reaching the hotel, you can rest for a while and head for a walk around it if time permits. You can also attend the evening markets here today. Overnight at Thimphu.
Thimphu sightseeing (B/L/D)
A visit to National Library, an immense collection of Buddhist manuscripts as well as English version books. Folk and Heritage museum displays livelihood and tools of Bhutanese farmers in the medieval period. You will also visit a site built for world peace, the Late King's Memorial Stupa. Don't miss out to visit Great Buddha Dordenma and Thimphu Dzong. Then, explore Traditional Handmade Paper Factory and Painting School that preserves the sculptures, wood carving, and traditional paintings. National Handicraft Emporium is the place if you are looking for souvenirs.
Also, visit Bhutan Postal Museum and end the tour with Takin Zoo visit. Then an evening walks in the city before you retire to the hotel for your overnight stay.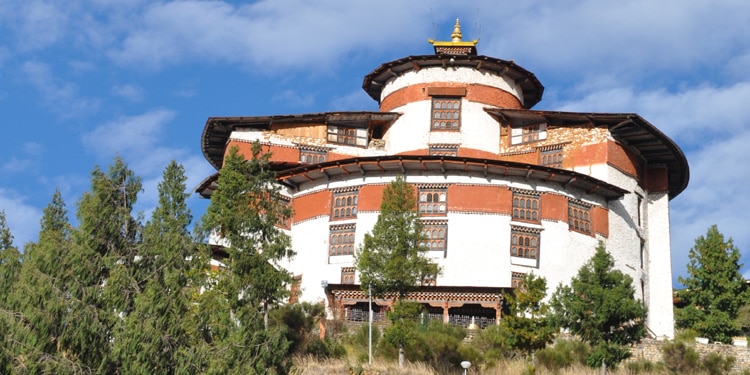 Thimphu – Punakha-Thimphu (148 Kms.) 7 hrs. (B/L/D)
Early morning we head towards Punakha which is across Dochula pass (3,100m). Here you can get an amazing view of the great Himalayas and the highest peak in Bhutan. En route is a temple of the divine madman, the temple of fertility. A walk through the beautiful villages and the rice fields will provide you with a chance to view the lifestyle of local people. You will reach Punakha, the capital city of Bhutan till 1955 which is a Je Khenpo, the residence of the Chief of Abbot during winter
Post lunch visits Punakha Dzong built by Shabdrung Ngawang Namgyel in 1638 and situated at the junction of Pho Chu and Mo Chu Rivers. Go a little further and visit the oldest Punakha Sightseeing Bridge in Bhutan. Relish the views from the bridge that connects three beautiful villages. Return to Thimphu where you will stay overnight.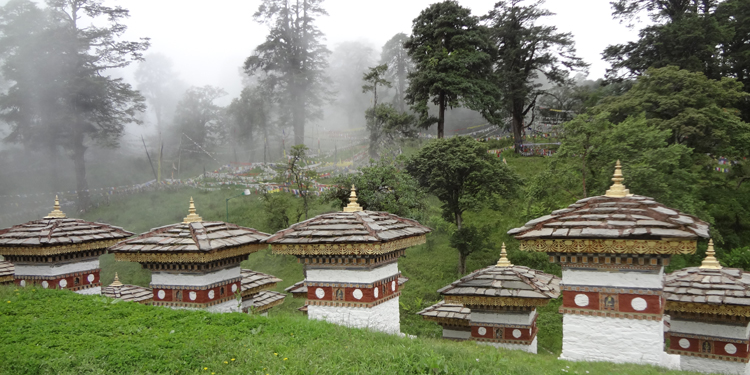 You will head towards Paro and from the bottom of the cliff, you start your trek towards Takstang (Tiger's Lair) monastery. Pony or horse are managed on your request by your guide up to cafeteria. Then with proper shoes, which is necessary one should be able to hike. For those who opt out can take a tour around Paro.
Taktshang – Tiger's Nest or Taktshang. The pelphung monastery is located on the face of a 900m sheer cliff and is one of the most venerated of Bhutan's monasteries. The monastery is reachable only by a walk or on a pony/mule. After the hike, have lunch. Then, explore Paro Rinpung Dzong, National Museum of Bhutan, and the beautiful Kyichu Lhakhang Temple. Overnight at Paro.
You will take a flight to Kathmandu for your stay overnight.The flight provides an amazing panoramic view of the green hilly landscapes crisscrosses with beautiful and clear water streams. If time permits there might be an opportunity to try shopping some beautiful traditional artifacts and try some delicious local cuisines.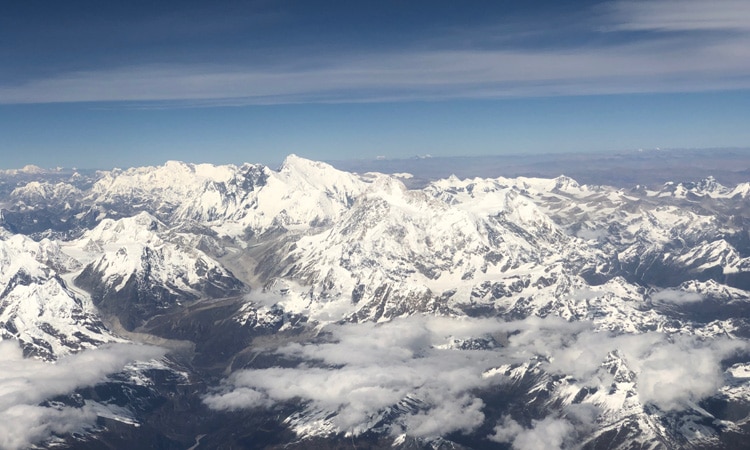 Out of 10 UNESCO heritage sites, Kathmandu houses seven of them. You will explore some of these heritage sites. They date from 5th century B.C, 4th century AD. Durbar square provides you a glimpse of spectacular architectures showcasing the artistic skills of people over several centuries. Swayambhunath temple, a Buddhist Chaityas sits atop a hill overlooking most parts of the Kathmandu Valley thereby providing a beautiful panoramic view. Thamel, distinguished by its narrow alleys is crowded with various shops and vendors selling the wide range of products which includes handicrafts and souvenirs.
In the Kathmandu valley, you will explore Pashupatinath temple -the holistic Hindu temple located on the banks of the Bagmati river.It is a site for cremation for Hindus and the evening rituals (aartis) are famous among tourists.
Boudhanath is the largest Stupa in the world. The devotees believe that one circle around the Boudhanath Stupa will clear all your sins.
Bhaktapur is rich of monuments, palaces, temples and beautiful wood carvings. Open courtyards and golden color roof make the sight more beautiful. Famous painting school is also in the list of sightseeing.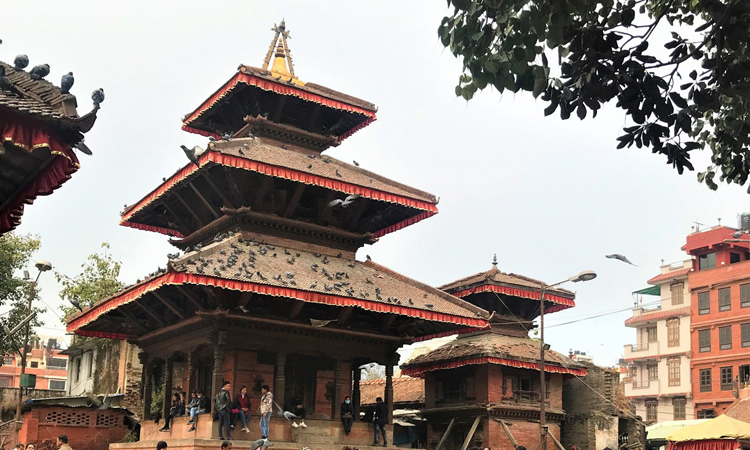 Drive to Chitwan National Park (B/L/D) 190km 5/6 hrs.
After breakfast drive of 4/5 hours southward takes to Chitwan National Park, home to over hundred Royal Bengal Tigers, one horned rhino found only in India;s Kaziranga and here, and the wild elephants. Post lunch we stroll around the village getting a closer view of Tharu culture. The essence of tribal life followed from centuries can be felt in the village. Tharu tribe may provide the presentation on wildlife and their culture. Sunset view will be an outstanding experience.
Jungle Safari Rides in Chitwan National Park (B/L/D)
We will head for morning river tour on a traditional canoe and enjoy the view of various life forms found in the river. Post lunch you can head for an elephant safari into the forest. You can see one horned rhino, wild boar and if luck favors the royal Bengal tiger.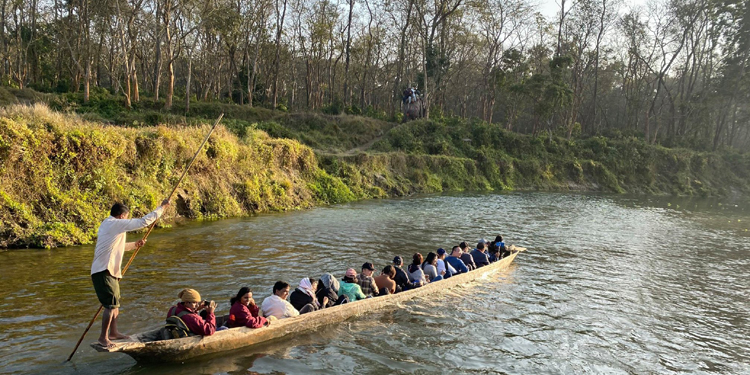 You will be driven back to Kathmandu. Along the way, you can view the beautiful valleys and the river Trishuli.With enough time at your disposal, you will be able to go out for shopping, try local cuisines and check out the night life in the capital city of Nepal.
Kathmandu to Next Destination or your home (B)
This marks the end of your tour and you will depart from Kathmandu. You will carry along with you a lifetime of memories to be cherished, which will be engraved in your mind as the most beautiful days of your life well spent.
Cost & Inclusion
Asia Experiences offers you quality services through its local expertise that is the best value for your money. We have a decade of experience in providing exquisite services that best fit you and satisfy your needs.
The package price varies on hotel category, tour duration, travel season, routes, and activities. But, we are aware that everyone's travel needs are unique, which is why we offer flexible customization options. You can create an itinerary that meets your specific requirements with our personalized packages. A great deal worth your money, something you won't find from other providers.
We are here to make your visit memorable. Hence, our team is always available to assist you in planning your tour. Don't settle for anything less than the best - trust Asia Experiences to optimize your travel plans. To help you get started in exploring a specific country or region, please use our 'Ask Expert' or 'Customize Trip' buttons.
Bangladesh
Airport pickups and drops service.
Private ground transportation with A/C.
Twin-sharing hotel accommodation.
Local cultural tour guide with English speaking.
Sightseeing entrance fees for museums and monuments.
Breakfast in Bangladesh.
Bhutan
Airport pickups and drops service.
Private ground transportation with A/C.
Twin-sharing hotel accommodation.
Local cultural tour guide with English speaking.
Sightseeing entrance fees for museums and monuments.
Full meals in Bhutan.
Processing Travel Permit and Entry Visa.
Nepal
Airport pickups and drops service.
Private ground transportation with A/C.
Twin-sharing hotel accommodation.
Local cultural tour guide with English speaking.
Sightseeing entrance fees for museums and monuments.
Breskfast in Kathmandu.
Full meals in Bhutan.
Reviews
---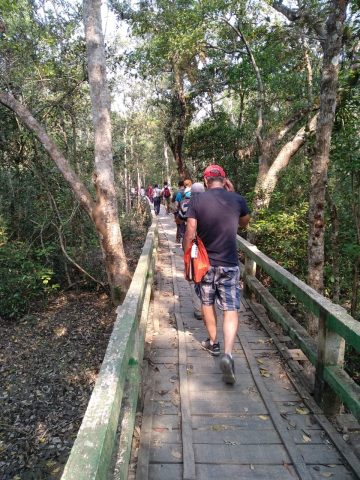 Jackson
Australia
16 Oct 2022
Surprisingly beautiful and memorable Trip
Our trip to three distinctive nations Nepal-Bhutan-Bangladesh was surprisingly beautiful and memorable. We were doubtful before joining this trip. Thanks, Shiva for the proper information and well-management. The nature, the culture, the impressive arts, the food, and the accommodation all were top-notch. Our guides were also very informative and kind. Their knowledge of the history of the places made our trip more fruitful. We would like to travel to other destinations with Asia Experiences again. 
---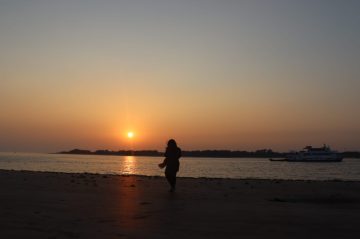 Juanita
Mexico
16 Oct 2022
Fantastic Trip
I am an art and nature lover. It was the best decision to travel to Nepal-Bhutan-Bangladesh. On my friend's suggestion, I chose Asia Experiences for the tour booking. I was very pleased with their guidance and suggestion. I loved their recommendation, service, hospitality, and coordination throughout the tour. The friendly guides and drivers were a big plus point. The artistic monuments and the natural beauty truly attracted me. I will again visit these places from Asia Experiences.
---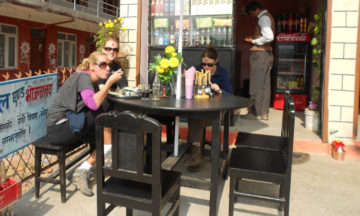 Austin & Kylie
United States
19 Jan 2021
Smooth handling of the itinerary
With so many places to see and experience in these countries, I was in doubt that if the company can really catch up to it. You know how people say 'leave it to the professionals' well they did it and in some fashion. We had plenty of time in every destination and we could even extend that over the itinerary time too. The guide was completely experienced and knew when it's time to push. Another thing I admired about Asia Experience and especially Mr. Umesh is that he checked and communicated with us and the guide all over the trip. The guides didn't hesitate to explain me twice when it came to safety and norms of some of the destinations. I will suggest this travel company if you want to experience the countries in their authentic form.
Pay Online