Luxurious exotic experience and discover the culture and lifestyle
Highlights
Countries full of cultural richness so you can embrace them to your hearts fullest
Different from metropolitan areas and a destination to rest your busy soul with luxurious experiences.
Tradition festivals falling in the lunar calendar acts as a bonus to fell the culture and tradition in these areas
Hospitable environment and a great learning experience for knowing the people from this very part of the world.
Best for people of different ages and highly rated for Pensioners for an amazingly comfortable vacation
A load of different eye appealing scenery for photography lovers.
A twist of taste as the culinary difference is experienced from the rest of the world
A great Luxury holiday destination with cultural fares and fests and organic goods served specially for you. Luxurious souvenir shopping experience including artifacts and rare Himalayan products.
Nepal: 6 Nights in Kathmandu with Bhaktapur Durbar Square, Pashupatinath, Boudhanath, Patan, Swoyambhu Stupa and Chitwan National Park safari.
Tibet: 3 Nights in Lhasa, Tibet with Potala Palace, Drepung Monastery, Norbulinka Palace, Jokhang Temple with Barkhor street.
Bhutan: 3 Nights in Bhutan with Taktsang Monastery (Tiger's Nest), Paro Valley, Thimphu with weekend market and Punakha Dzong.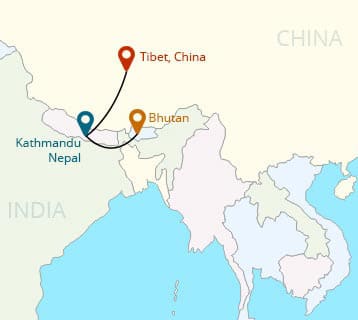 Come and discover the beautiful culture these fascinating counties portray. The Luxury Trips Nepal Tibet Bhutan is designed to provide people with the ultimate luxury experience. Your journey begins with a flight to Nepal, one of the most beautiful and dramatic countries on earth. With eight of the world's fourteen 8000-metres peaks and alluring culture, Nepal is a dream travel destination.
The Luxury trip Nepal Tibet Bhutan is designed to provide everything you need to savor these hidden gems in heart of the Himalayas. All three countries provide dramatic pristine scenery, along with a wealth of exotic ancient culture. We have carefully chosen luxury hotels throughout, to reflect the particular daily destination you are visiting.
In Nepal, discover the unique beauty of the seven World Heritage Sites in the Kathmandu Valley. These days Include visits to the temple squares of Patan, Kathmandu and Bhaktapur. The religious sites of Pashaputinath, Bouddanath and Swoyambunath portray the religious significance of both Buddhism and Hinduism in Nepal.
From the delights of Kathmandu, take a relaxed Chitwan Safari in the jungles of lowland Nepal. On returning to Kathmandu refreshed, "The roof of the world", Tibet awaits. A superb Trans Himalayan flight, over the snowcapped mighty Himalayas, to Tibet and the ancient city of Lhasa. Tibet is fascinating, heaped in Buddhism, with many mystifying works of humankind and nature to discover. The following two days are spent on a guided tour with visits to Potala Palace, Sera Monastery, Jokhang Temple, Barkhor street and Norbulinka. On returning to Kathmandu, take some downtime before the last three days of an epic journey.
A further Trans Himalayan flight to Bhutan follows. Known as "The Land of the Thunder Dragon" Bhutan is a magical land serene in all its beauty. We are based in Thimphu, with visits to prominent sites in the small capital. Excursions to the hugely impressive Punakha Dzong, via the Dochu La pass, and the cliffside Tigers Nest (Taktsang) monastery, are taken on the following two days. Finally, you will return home with the unique and beautiful experiences of this whole trip.
YOUR JOURNEY DAY BY DAY
Arrive in Kathmandu
15 min drive Dwarika's Hotel
After landing in Kathmandu and clearing the customs apply for your visa at the airport. This will be easy and fast as well. Our representative will welcome you and transfer you to the hotel. Visit our office after some rest where we will have a welcome and orientation session for the trip for you. In the evening take a stroll around and take a glance at local culture here.
You will spend your night at the Dwarika Hotel in Kathmandu. One of the exquisite hotels here providing visitors the blend of modern luxury and traditional architecture. Rest and relax on its premises after the orientation session.
Overnight at a Luxury Hotel – Dwarika's Hotel, Kathmandu
Tour of Patan with local sights, Pashupatinath, Boudhanath Stupas
4-6 hrs Breakfast Dwarika's Hotel
We will explore different destinations in Lalitpur and Kathmandu today. First thing in the morning we will apply or the Tibet Visa for you after collecting your documents. We do always apply at least three days prior to the visit for any possible delays or problems of any kind. You will commence your tour after breakfast with our guide.
About half an hour's drive from your hotel will see you at the heart of Patan or Lalitpur city. One of the three major cities of the Kathmandu valley, Patan is known for the arts and architecture in its streets, monuments, and temples. The Patan Durbar Square is your first destination here. Some of the highlights of the Durbar (Palace) region are the beautiful Krishna Mandir, Bhimsen and Vishwanath Temples, and beautiful courtyards. Also, visit the Tibetan Refugee camp and painting shops while you are in Patan.
Following the Patan city tour, we will visit a couple of more sites in Kathmandu. The first place will be the Hindu Temple of Pashupatinath beside the holy Bagmati River. Get to know more about the Hindu traditions and rites in your time here. Next, we will take a brief drive to the Boudhanath Stupa. Explore the Tibetan inspired streets and try some popular snacks in Boudhanath. You will return to the hotel after a majestic sunset view from Boudhanath stupa.
Overnight at a Luxury Hotel – Dwarika's Hotel, Kathmandu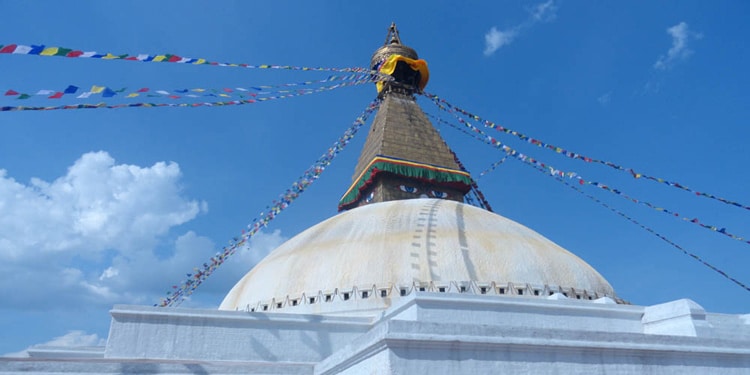 Drive to Chitwan National park and continue village tour with evening cultural Tharu dance
5-6 hrs drive B L D Meghauli Serai
We will start the drive to Chitwan post-breakfast today. You do have an option to fly directly to the Bharatpur Airport there. The drive takes a bit over 5 hours long and impressively scenic from the hills to Terai plains of Nepal. In the midday, settlements try local snacks and fruits. We will transfer you straight to your hotel after arriving at Chitwan.
Walk around the Tharu village in the evening and take a glance at the Terai lifestyle. You'll then attend a cultural program organized by the local Tharu community. Witness the vibrant ornaments and dress watching the traditional stick dances and more at the program. You will spend the night at Meghauli Serai. Megauli Serai is one of the closest to nature luxury hotels from the luxurious line of Taj Hotels. Enjoy your stay connecting with nature and its sublime shades here.
Overnight at a Luxury Hotel – Meghauli Serai, Chitwan
Chitwan National park tour with jungle safari by Jeep / Elephant
B L D Meghauli Serai
Todays tour will take you close to nature and wildlife in Chitwan. The tour starts with a canoe ride cruise in Rapti River. You can spot some birds, Gharials, and Mugger crocodiles during it. You can choose between a Jeep or elephant safari to explore the Chitwan National Park.
The rare One-horned Richonocerous and Royal Bengal Tiger are some special sightings in this safari. Other major sightings include Chittal deer, Peacock, Wild Boars, and other wild flora and fauna. Finishing the safari you can also visit the crocodile hatchery and elephant breeding center here. Rest for the day back at the hotel.
Overnight at a Luxury Hotel – Meghauli Serai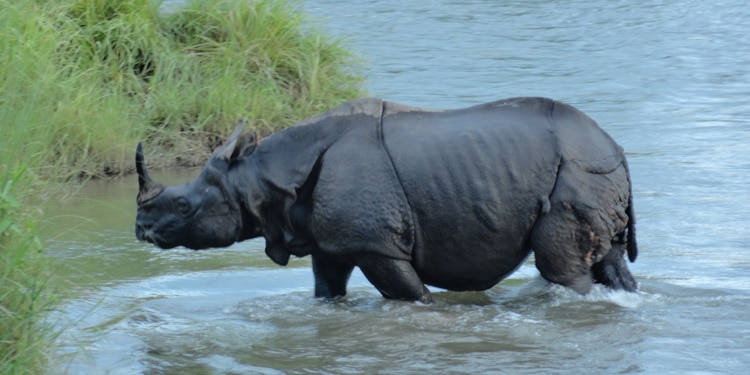 Fly / Drive back to Kathmandu and tour of Kathmandu durbar square and Asan bazaar
25 min fly / 5-6 hrs drive Breakfast Dwarika's Hotel
You will return to Kathmandu from Chitwan and explore some more sites in your spare time. To arrive in Kathmandu you can either drive or fly here from the local airport. We will drive you to your hotel. You can rest for a while before the tour continuation.
We will visit the Kathmandu(Basantapur) Durbar Square within a short drive from the hotel. The temple of 'Living Goddess Kumari', Taleju Temple, Hanuman Dhoka Palace, and street markets for handicrafts are some of the main attractions of Kathmandu Durbar Square. Visit the Ason Market and Thamel area before returning to the hotel.
Overnight at a Luxury Hotel – Dwarika's Hotel, Kathmandu
Fly to Lhasa Tibet
1.30 hrs Breakfast St. Regis
We will drive you to the airport after breakfast for a flight to Lhasa from Kathmandu. You can enjoy a fantastic view of the Himalayas from the window during the flight. After landing in Lhasa your Tibetan guide will receive you at the airport and transfer you to the hotel.
Lhasa is situated at an average elevation of 14000 feet above sea level. The fantastic view of landscapes follows you straight from the airport throughout the Tibetan tour. You will spend the night at the St.Regis Hotel. St. Regis hotel is a luxurious hotel in the popular Barkhor area of Lasha.
Overnight at a Luxury Hotel – St. Regis, Lhasa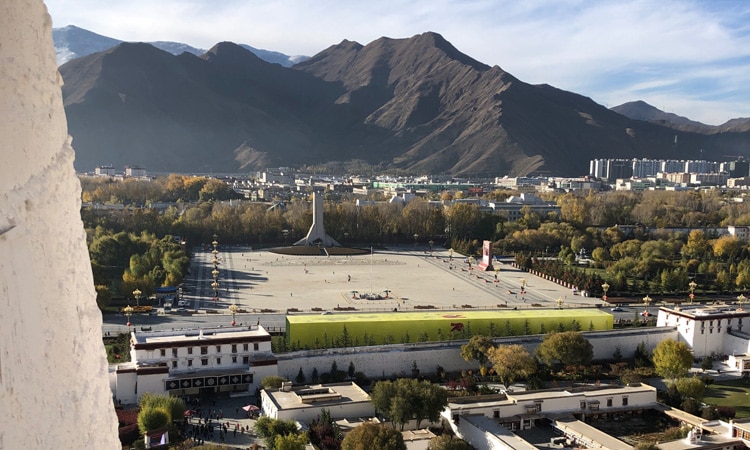 Visit Potala Palace, Sera Monastery, Jokhang temple, Barkhor bazaar
4-5 hrs Breakfast St. Regis
You will kick off the Lhasa tour with a visit to the beautiful Potala Palace. Located within a short drive this palace was the home of Dalai Lamas, the spiritual leader of Tibetan people. Exploring the UNESCO world heritage site witness the wonderful sculptures, Chapels, Thangkas, Murals, and many more. Explore the allowed sections of this massive palace and spend some time in the ponds and park behind it.
Sera Monastery is next on our list which is among the biggest Gelug university monasteries in Lhasa. Within a short drive from Potala, you can get closer to the lifestyle and culture of local monks here. Explore the chapel, courtyard, and other beautiful components of the monastery in your visit.
Towards late afternoon we will head towards Jokhang Temple. Jokhang Temple is the spiritual center of Tibet holding many beliefs and significance. The temple architecture is beautiful and is inspired by Vihara and Nepalese style. The Barkhor square in front holds different memories of historic events and celebrations as well. Explore artifacts and paintings of different periods here in the temple.
Overnight at a Luxury Hotel – St. Regis, Lhasa
Drepung Monastery and Norbulingka Palace (B)
4-5 hrs Breakfast St. Regis
Our Lhasa tour continues and we will visit the remaining major destinations here today. Starting the day we will take a short drive to Drepung Monastery after breakfast. This expansive monastery houses some of the oldest Buddhist writings, Murals, and Thangkas. Visit the courtyards and chapels alongside the Nechung Oracle temple nearby. We will visit the Mentshekhang (Chinese traditional hospital) next today. Learn more about some of the Tibetan ancient diagnostics and medicine while you are here.
In the afternoon we will head towards another UNESCO world heritage site, the Norbulings Palace. Norbulingka was the summer residence of the Dalai Lamas. You can visit the major buildings, chapels, and monuments in this palace. The garden surrounding Norbulinga palace is another attraction of the beautiful palace. Spend some time there before returning to your hotel.
Overnight at a Luxury Hotel – St. Regis, Lhasa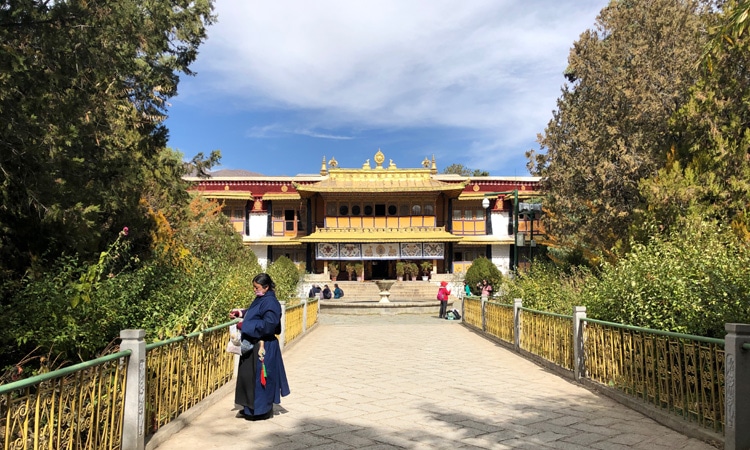 Fly to Kathmandu
1.30 hrs Breakfast Dwarika's Hotel
If you have some time to spare head out for a quick souvenir shopping in the local markets of Lhasa. We will leave Tibet and return to Kathmandu through a flight. After arriving at Kathmandu we will transfer you to your hotel. in your leisure take a short walk around and shop for some souvenirs from Nepal.
Overnight at a Luxury Hotel – Dwarika's Hotel, Kathmandu
Flight to Bhutan, Drive to Thimphu and Thimphu Tour (1.5 Hrs)
1.15 hrs B L D Taj Tashi
We have a morning flight to Bhutan today. After leaving Kathmandu, a brief flight will take us to Paro Airport. Your Bhutanese guide will meet you at the airport and you will take a short drive (1 hour) to Thimphu. Along the ride, the guide will brief you through the Bhutan part of the tour. After arriving at the Bhutanese capital, rest for a while and start your Thimphu Tour.
You can explore some of the major attractions around Thimphu today which include the Giant Buddha Dordenma Statue, Third King Memorial Stupa, National Library of Bhutan, and more. In the evening explore the local market and get closer to local culture and commerce. You will spend the night at the majestic Taj Tashi hotel. This hotel is popular amongst visitors being a five-star hotel near the handicraft markets.
Overnight at a Luxury Hotel – Taj Tashi, Thimphu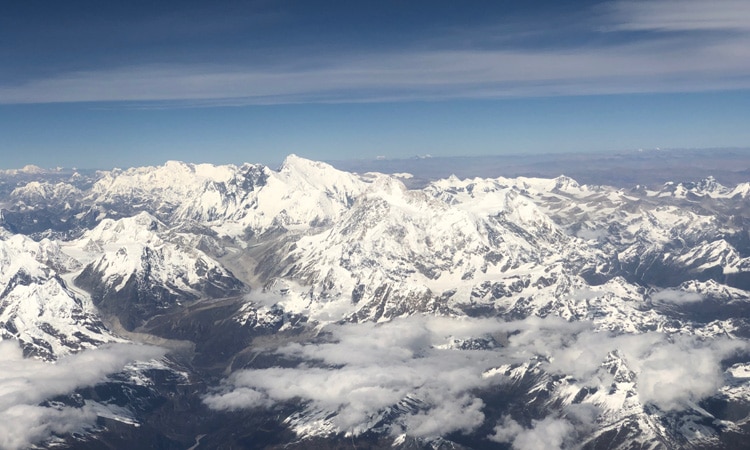 Thimphu to Punakha excursion- back to Thimphu (150 km.)
5-6 hrs B L D Taj Tashi
Head towards Punakha after breakfast today. The drive is about two and a half hours long and passes through the Beautiful Dochula Pass. We will stop at the pass and spend some time at the royal botanical garden and Druk Wangyal Chortens. The pristine view of the Himalayas in clear weather is one to behold. We will continue the journey to Punakha following the stop.
The Chimi Lakhang temple on the way will be our first stop. This unique temple is also known as 'the temple of the divine madman'. The Punakha Dzong is next on our list. One of the most beautiful and historically significant fortresses in Bhutan, Punakha Dzong is one not to miss here. We will return to Thimphu after the Punakha Tour in the evening.
Overnight at a Luxury Hotel – Taj Tashi, Thimphu
Drive to Paro and Tigers Nest Hiking & Paro valley tour
5-6 hrs B L D Uma Paro
The Hike to Taktsang Monastery is a proven delight for travelers to experience nature and spirituality as a whole in Bhutan. The hike might be challenging for some but it truly is worth a couple of hours hike from Paro. You can have a slow and gradual walk with breaks in the midway shops.
Once there witness the majestic view of the pristine Taktsang monastery carved in a giant cliff. Know the legends of great Guru Padmasambhava and explore the beautiful monastery. Also, visit the caves inside the monastery interacting with the monks here. Return from the hike and rest for a while in your hotel. Visit some more local monasteries and the beautiful Drukgyel Dzong to end your Paro tour.
You will stay at the Uma Paro hotel today. Como Uma Paro is an intimate and exclusive luxury hotel in the heart of Paro Valley popular for the fantastic Himalayan views.
Overnight at a Luxury Hotel – Uma Paro, Paro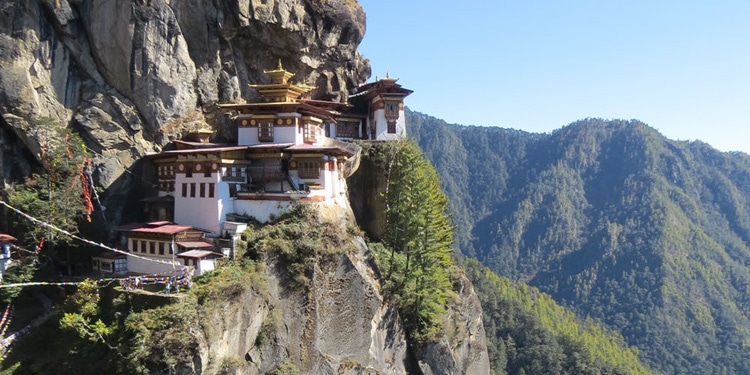 Final Departure, Fly to Kathmandu/Bangkok
Breakfast
You will complete the luxury tour of Nepal, Tibet, and Bhutan after a flight to Kathmandu. In your spare time here enjoy a quick souvenir shopping session in the markets of Kathmandu. With some wonderful stories and memories to return, you will conclude this amazing tour with Asia Experiences. We will drop you off at the airport before your departure back to your next destination.
Cost & Inclusion
We never compromised for the best service as we have unrivaled local expertise and ready to provide bonus experiences for you. As operators providing exquisite services for over a decade, we prioritize quality over other factors.
Tour cost for each package might vary with the hotel category, tour duration, travel season, routes and activities being the major factors. You can customize these find your ideal package which might not be same with cheaper deals elsewhere. Rest assured, make your visit worth every bit with Asia Experiences.
Please, tell us your tour plan with interested countries from below links 'Ask to Expert' or 'Customize Trip'.
Nepal
Breakfast in Kathmandu.
Full meals in Chitwan.
Tibet
Breakfast in Tibet.
Processing Travel Permit and Entry Visa.
Bhutan
Full meals in Bhutan.
Processing Travel Permit and Entry Visa.
Airport pickups and drops service.
Private ground transportation with A/C.
Twin-sharing luxury hotel accommodation.
Local cultural tour guide with English speaking.
Sightseeing entrance fees for museums and monuments.
Reviews
---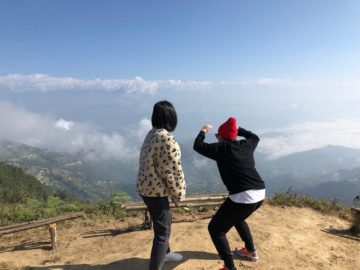 Connie
United States
A life changing experience – Nepal, Tibet, Bhutan
Dear Netra, After many years of talking about traveling to these 3 destinations, we finally took the jump. What seemed like places so far away on the other side of the world and cultures so foreign to us from the west, at first was a bit daunting. This was the first time ever in our travels that I did not do any research or prepare a detailed itinerary (usually spend an entire month or so organize) Because of the region, we knew this was not possible to do on our own with the logistics of visas, flights, and booking accommodations but also knowing the what to see and where to go when. Your communication was perfect and the itinerary you custom put together for us was more than we expected. It was thoughtful and everyday was well planned. It allowed for rest and nothing was rushed. On top of that, the tour guides who took care of us were incredibly knowledgeable and accommodating. We have even become friends with some of them. We could not have had such an immersive special experience without them. We learned about more than just the surface sights but a lot about history, culture, food, religion, politics, and the arts. Our drivers were patient and high skilled in navigating the roads. We will share our travel stories and memories with our friends and family and cannot wait to return again to the region. Thank you again for making our vacation invaluable with such special memories. Anyone looking to travel to this region should absolutely be confident they will be well taken care of by Asia Experiences.
19 Jan 2021
---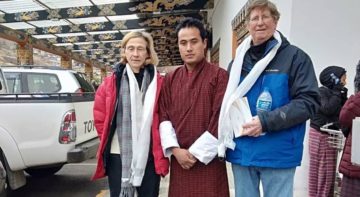 Andris
Latvia
Excellent Service, Thoughtful and Professional
We (My friend and me) surfed a whole lot seeking for some popular agencies in Nepal. We decided to take no consideration when it came to professionalism in services. From our first words to the assistance we knew that Asia experiences were a perfect match for our south Asian visit. The reviews and ratings were just the overviews and I happen to find an actual blog written by one of the previous travelers too. We communicated and sought for advice both professional as well as personal and headed towards the TIA airport the next month. The hotels we stayed were top class, and we got to admit that the Asian foods we tried were a little spicy. However, we also had a range of different cuisines to choose from. I was also amazed to find the photography and English speaking skills impressive from Asia Experiences guides. We needed and god the detailed expense list and found the assistance of the agency worth every penny. We want to thank Asia experiences and especially Mr. Umesh for this smooth and perfect vacation. If you want to avoid complications and have a professional aid by your side choose Asia Experiences.
19 Jan 2021
---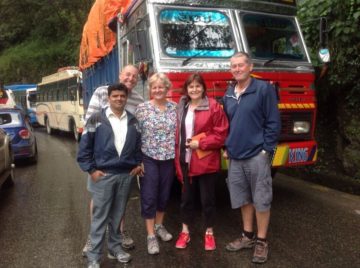 Lucas
Australia
Reaching for the horizon when you have trustworthy agency
As a traveler young in heart and an aging body, I was in doubt that whether I can push further and add a new chapter in my travel diaries with this 14 days tour of Nepal, Tibet, and Bhutan. With my previous experiences, I knew the importance of having a proper agency to back me up in my journey. I was lucky to find a couple back from the tour of these countries a few days back in the local cafeteria. By their help, I was able to connect with the Asia experiences tour. As days came nearer to y arrival at Kathmandu, I asked numerous questions and communicated with the agency. They were of great help to keep my morale high. From the TIA to every other destination to come, the agency and guides completely aided me. From different hidden photographic locations to myths and legends of my destinations, I was provided a complete insight about them. With the Help of Mr. Umesh from Asia Experiences, I was also able to get extra privileges at the Hotels and Lodges. My guides acted as my extra limb as I took on the journey from the plains to the marshlands and high hills. I will suggest Asia Experiences for travelers of all ages and taste.
19 Jan 2021
---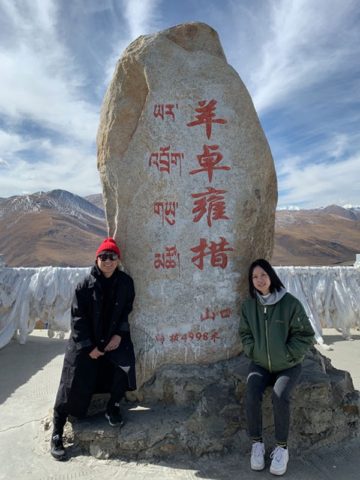 Jennifer
Hong Kong
Tibet, Nepal, and Bhutan- Much more than you hear
Being a solo traveler, I was in a dilemma on whether to take these nations head on alone or ask for some assistance. With the costly offers running the market I was able to give up when a friend of mine suggested Asia Experience. I thank him even today as the experience I had in this Journey was worth every penny. Walking through the hills and the tight streets, my guide made it all possible as only I knew that I would have missed so much of those without Ashish (Nepal), Pemba (Tibet), and Tashi (Bhutan). The great thing was that my guides were well trained and experienced. They also had mastered the local languages in many of their visits. The memories and beautiful stories of reaching each destination were possible with Asia Experience and their pristine group of guides. I approve and suggest Asia experiences for solo travels as it is cost-efficient and professional.
19 Jan 2021
---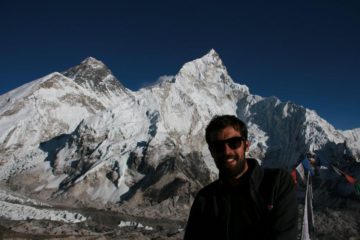 Christian
Australia
Incredibly good company and surreal customer assistance
To be honest, we came to this idea of going to the vacation in Asia in a short notice, and we(My wife and me) really didn't expect that was possible. With fate or coincidence, we happen to take suggestions from the customer assistance of Asia Experiences. The whole process of query and answer was so smooth that the company made us realize. It's never too late. And Bam! The very next week we were in Kathmandu doing the Nepal-Tibet-Bhutan tour. We asked hundreds of questions before and during the tour, and all of them were eager to help us with our curiosity and sometimes even stubbornness. We are so happy to choose the tour, and we are pumped up for another. Thank you Asia Experiences for aiding us and making this whole trip possible in such short notice.
19 Jan 2021
---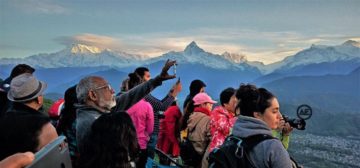 Jessica
United kingdom
Best Company for multi country Tours
We used Asia experiences Holiday company for our first visit to Nepal, Bhutan, and Tibet in last year. This company is professional, reliable, and the service is excellent. While planning the trip, they were very quick to respond to questions and answers. We hit all the highlights and enjoyed the local guides in each country. The trip was perfect, guides and drivers punctual knowledgeable and very pleasant! Everything was spot on! Thank you for an amazing trip and a fantastic experience! Highly recommend this tour company.
19 Jan 2021
---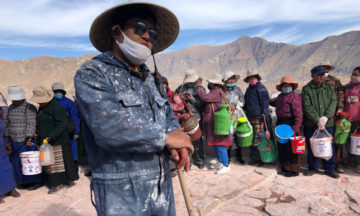 Martin
United States
Amazing trip to Nepal, Bhutan and Tibet
We had very good opportunity to go for Holiday trip to Nepal, Bhutan and Tibet tour with Asia Experiences Holidays. The trip was excellent. They have very good guides and drivers with them. Our guide was knowledgeable his service was perfect and the driver was very experienced and safe drive. We would highly recommend this company to anyone who is planning to visit Nepal, Bhutan, and Tibet. The Company is reliable, very professional and the quality of its services is excellent! If you have any further questions to ask me, please do. Thank you
19 Jan 2021
Similar Trips
Our tours are highly customizable to fit your preference best. Here are some trips with similar experiences from which travelers can select their ideal tour package.
Pay Online