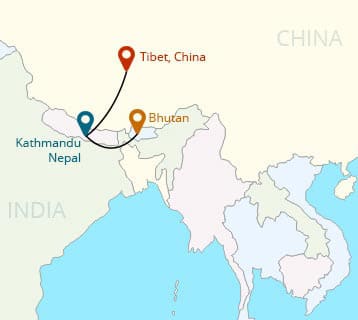 A vista of the magnificent Himalayas merging with the art and culture of Shangri-La, Nepal Tibet Bhutan
Tour is everything you would imagine in your vacation of Asia. These countries define the adventure of
discovering uniqueness while being a part of fantastic experiences at the same time. One can overland
ride piercing the snow-capped mountains to retracing the paths of legends immediately here. A
balanced blend of tranquil nature with lifestyle and hospitality worth your time awaits you in Nepal,
Bhutan, and Tibet.
One of the best qualities of highly-rated tours around the world is its flexibility. The tours in Nepal Tibet
Bhutan very much relish that multi-country feel. As a traveler, you can choose from different variations
and durations to be a part of this tour. You can do the Nepal Tibet Bhutan tour multiple times and have
different itineraries of magnificent destinations each time.
Nepal has been the prime destination for travelers in Asia looking to skip the monotonous itineraries of
popular touristic countries. The cultural richness of Kathmandu valley, thrill-inducing activities in
Pokhara, and the natural scenery of Chitwan are some introductions for travelers in Nepal.
Tibet similarly is a place of unknown, eager for travelers to share experiences and unique adventures
alike. The monuments and majestic monasteries here pair perfectly with the mesmerizing landscape and
scenery. In the royal palaces as well as the spiritual pilgrimages you can enjoy a calming sense of being
familiar with several generations.
Bhutan deservingly is listed as the must-visit nation in the world for this decade. You are more likely to
end your Nepal Tibet Bhutan tour with a bang here. Places like Thimphu, Punakha, and Paro can easily
quench the travel thirst of yours and add something new to it every day.
A tour of these three countries surpasses your regular vacations with the rich culture, serene nature,
and warm hospitality. Select the ones that fit your travel taste and preference and we'll promise you an
experience well worth the time.
Nepal Tibet Bhutan Tour Packages
Pay Online