3 countries historical, cultural, lifestyle, religion, jungle safari and mountain view combined tour
Highlights
Extensive sightseeing of ancient heritage in Delhi.
TajMahal - one of the seven wonder of the world.
View of exquisite Amber Fort in Jaipur, the city Palace and HawaMahal.
Visit ancient places as Stupas,temples and palaces.
View of endangered One Horned Rhino and if lucky Royal Bengal tiger in Chitwan National Park.
Captivating beauty of the city Pokhara with mountain views.
Visit to the Tiger's Nest (Taktsang Monastery) Temple - the oldest monastery of Bhutan
Tour to peaceful and beautiful villages, weekend market and landscape of paro valley.
India: 6 Nights in India with Old and New Delhi, colorful city Jaipur, Tajmahal at Agra, Amer fort, Fatehpur Sikri.
Bhutan: 4 Nights in Bhutan with a short hike to Taktsang Monastery (Tiger's Nest), Paro, Thimphu and Punakha with local life style.
Nepal: 8 Nights in Kathmandu with Kathmandu Durbar Square, Pashupatinath, Boudha stupa, Swoyambhunath, Bhaktapur Durbar Square, sunset view from Nagarkot, Jungle Safari in Chitwan and beautiful city Pokhara.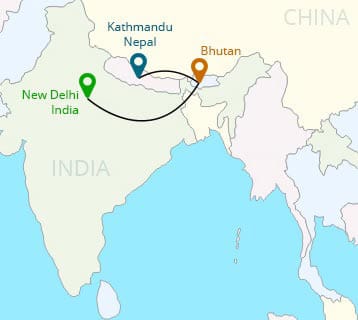 A trilateral tour in the beautiful Sub-continent of India covering the cultural and natural diversity. Devour your hunger to travel as you take upon a valued trip rising through the Himalayas to the plain of the Ganges. In the long run, rejoice with the feeling of satisfaction from this tour of yours. Rise up and above to this trip uniquely and steer through the ocean of new Escapade.
Rejuvenate with your soul as you visualize this part of the world as never before in your visit to India. Tenderize your inner self with the sights of ancient Mughal empire remains. Rejoice with the vibrant color together with the different culture and lifestyle. A land with culinary variety and Smell of rich spices in the air. As a matter of fact, India torments you with pleasure. A visit to Taj Mahal will refill your energy as you make your way towards Jaipur through  Bulund Darwaza. Cities are bustling with lie and streets coming into life through spices; one has to visit India to experience it thoroughly.
A shift to the quieter neighborhood towards Bhutan is a perfect way to wash off your soul. A country so affluent in culture and religion yet so simple with their lifestyle. What more one can ask than warm hospitality under the great Taktsang monastery. Embrace the nature in her best form at Paro valley then rinse your soul with the spiritual enlightenment from the Monks. Explore the handmade paper factory and experience the Bhutanese way of living in Thimpu.
Ignite your energy as you experience a natural and cultural burst in the valley of Kathmandu. Devour the views of magnificent sunrise from the hilltops as you make your way to the world heritage sites. Hover around the habitat of One-horned Rhinoceros and Bengal tigers in your Safari through thriving forest of Chitwan. An adventure lovers paradise, Pokhara comes with the possibility of living your life again. Enjoy nature and scenes as you will be stunned by Mother nature blooming in a most ravishing silhouette.
YOUR JOURNEY DAY BY DAY
A member of our staff welcomes you on arrival to Delhi airport. He will accompany you to the hotel and arrange for your stay. He will also brief you about the plan for the next day. If time permits you can be out on the streets of Delhi visiting the local markets and trying the delicious local Mughal cuisines
Exploration begins with a visit to ancient city's street alley; colorful market, Jama Masjid, largest Mosque in India built in 1650 AD, visit Red Fort seat of Mughal Empire for over 250 years. The afternoon tour begins with a drive through Safdarjang's Tomb built in 1753 AD and towards Qutb Minar, Humayun's Tomb. Tourists can enjoy the view of beautiful architecture, ancient crafts and temples.
Two-hour travel from Delhi to Agra. Travel facilitator will inform you about the where about of the journey. In Agra, the exploration begins with magnificent monuments of the city, famous tomb of Itmad-Ud–Daulah's. Afternoon visit will be to Taj Mahal, one of the Seven Wonders of the World. It was built in 1653 AD by Shah Jahan in memory of his wife Mumtaz.
An option to view sunrise in Taj Mahal or Mehtab Bagh 500-year-old garden across Taj Mahal. Check-outs and driven towards Fatehpur Sikri to enjoy a guided experience of this uninhabited city built by Emperor Akbar, 1570-1575 AD. On the way to Jaipur, you can see the tallest gateway in the world Bulund Darwaza.
Start your excursion in Jaipur visiting Amber Fort & Palace and enjoy the finest example of Rajput architecture. Explore the chambers and hallways of the Palace. Next, proceed towards the walled city and magnificent palace. Visit the astounding Jantar Mantar, wonderful stone observatory built by Raja Jai Singh in 1728. View the 'Hawa Mahal' (Palace of wind). Continue the sightseeing of exquisite art at city palace, a taste of both Rajasthani and Mughal Architecture. Spend the evening with cultural show and dinner.
It's a five-hour drive from Delhi to Jaipur.It is a city bustling with life.You will be left quite some time at your disposal so that you can explore cusines, historic monuments and the local markets.
Bhutan- Fly to Paro and drive to Thimphu (B/L/D)
After immigration and customs, you are helped to travel to Paro, where you can enjoy the lunch in a traditional restaurant. Visit the National Museum of Paro and Paro Rinpung Dzong. Then, drive to Thimphu.
Half way to the Paro-Thimphu highway, visit the 16th-century old Tachogang Lhakhang temple by traversing an old bridge. From the bridge, enjoy the scenic views of the villages. Tachogang temple means the hill of the excellent horse. Continue to drive to Thimphu. Overnight stay at Thimphu.
Note: If you arrive at the Paro in the afternoon, then we continue to sightsee around Paro after Thimphu and Punakha visit.
Thimphu sightseeing (B/L/D)
Explore the Folk and Heritage Museum, Late King's Memorial Stupa, a symbol of world peace, and Traditional Handmade Paper Factory. The National Library of Bhutan was built to preserve and promote its rich and religious cultural heritage. It houses sacred religious books and manuscripts. View of Painting School which conserves our traditional paintings. Majestic Tashichho Dzong, which runs the office for the king and ministers followed by National Handicraft Emporium. Bhutan Postal Museum, Great Dordenma Statue, and Takin Zoo are also interesting to visit. Free walk-in Thimphu city and overnight stay at Thimphu.
Thimphu to Punakha (148 Kms) (BL/D)
Punakha, capital of Bhutan until 1955 lies across the Dochula pass providing the beautiful view of Himalayas. Along the way is the Divine Madman, the temple of fertility. The village houses are surrounded by rice fields and gardens. A walk through these fields offers us a glimpse into the culture and lifestyle of the people. Attractions are Punakha Suspension Bridge, Chimi Lhakhang Temple, and famous Punakha Dzong, built by Shabdrung Ngawang Namgyel in 1638, at the meeting point of Pho Chu and Mo Chu Rivers. Overnight stay at Punakha.
Drive to Paro, trek to Taktsang monastery, Bhutan's most popular sight. Your attendant can arrange Pony/horse for ride uphill till the Cafeteria, then you have to walk above. Then visit Taktshang or 'Tiger's Nest' even called Taktsang Pelphug monastery, a famous monastery in Bhutan, located on 900m sheer cliff.
After that, have lunch and visit Kyichu Lhakhang. This temple was built to stop female giants from preventing the spreading of Buddhism across Tibet. Thus, its religious importance is at the top in Bhutan. One can also witness the most sacred sculpture of Jowo Rinpoche here. The feeling of spiritual calmness after visiting these places is magical. Overnight at Paro.
Paro – departure to Kathmandu, Nepal (B)
Morning travel to Paro then flights to Kathmandu Airport. A guide will receive you and after refreshment, visit Kathmandu Durbar square and enjoy the attractive monuments in Nepal. The city highlights Nepalese architecture connecting the old with the new ones. The oldest monument is from the 12th century. In this tour, you may get a glimpse of Kumari, the living goddess, and the beautifully carved house of the goddess.
Visit to different art of Kathmandu (B)
The main highlights of today's tours are Swayambhunath Stupa (nearly 2600 years old). Patan Durbar Square (oldest among three cities in the valley). Pashupatinath temple (popular among Hindus of the world). Boudhanath Stupa (one of the biggest stupa in the world). Swayambhunath Stupa also known as the Monkey Temple. The visit is enriched with Nepalese culture where you can see some fine art and tradition of Nepal.
Sightseeing and optional mountain flight or Everest helicopter tour (B)
Early morning, optional mountain flight through modern jet-stream aircraft and feel the splendid Himalayas from approximately 25,000 feet. Also, opt for Everest helicopter tour, which takes about 4-5 hours. Afternoon, tour to Bhaktapur Durbar Square, the open museum with a beautiful palace, sculptures, Shikhara style temples, royal bath, and a Buddhist monastery. At dusk, sunset view from Nagarkot also known as 'the fort of the city'.
Kathmandu to Chitwan (B/L/D)
After sunrise view from Nagarkot and breakfast, drive to Chitwan approximately 5-6 hours by road or by flight (optional) in 25 minutes. In Chitwan tour will be followed by visiting local villages. Meet Tharus, the native of the southern plain of Nepal. In the evening an entertainment program of Tharu stick dance.
Elephant back safari into the wild, nature walk and a visit to elephant breeding camp. Canoeing along Rapti River, if lucky enough view of Royal Bengal Tiger in the dense forest on elephant Safari. The National Park is best known for Royal Bengal Tigers, One – Horned Rhinos, python, monkeys, wild boar, marsh crocodile leopards and many more.
An approximate 8 hours' drive to Pokhara alternatively you can board a flight as well. On the way, you can enjoy various landscape and click pictures of the beautiful views of the countryside. The clear Trishuli river flows along the side. If you have time, you can observe the lifestyle, culture, and cuisine in Pokhara. One of the most captivating sights is the reflection of the snow white Mt. Machapuchare on the Fewa Lake.
Pokhara is best known as a city of lakes, simultaneously famous for more than 5000 years old cave. Next a visit to David Fall, a natural wonder where the water goes into the earth. Sarankot, an ideal hillock for paragliding and the stunning scene of sunrise above the Himalayas. Boating in the famous Fewa Lake is one of the attractive activity for tourist.
6 hours scenic drive enjoying the beauty of nature and photography in between or an optional flight as per your choice. Today you have a free afternoon for additional exploration or you can relax and prepare for your next day final departure.
After check out, you will leave for the airport. You will accompany abundance of memories and an increase in your personal happiness index.
These memories will definitely make you want to return again to the richness, beauty, and calmness of these places. You are bound to fall in love with diverse culture, tradition, and nature of these regions.
Cost & Inclusion
You're guaranteed the best value service with bonus experiences with our unrivaled local expertise. As operators providing exquisite services for over a decade, we prioritize quality over other factors.
The price for each package might vary with the hotel category, tour duration, travel season, routes and activities being the major factors. You can customize these find your ideal package which might not be same with cheaper deals elsewhere. Rest assured, make your visit worth every bit with Asia Experiences.
Please, ask your tour plan with interested countries with below buttons 'Ask to Expert' or 'Customize Trip'.
India
Airport pickups and drops service.
Private ground transportation with A/C.
Twin-sharing hotel accommodation.
Local cultural tour guide with English speaking.
Sightseeing entrance fees for museums and monuments.
Breakfast in India.
Bhutan
Airport pickups and drops service.
Private ground transportation with A/C.
Twin-sharing hotel accommodation.
Local cultural tour guide with English speaking.
Sightseeing entrance fees for museums and monuments.
Full meals in Bhutan.
Processing Travel Permit and Entry Visa.
Nepal
Airport pickups and drops service.
Private ground transportation with A/C.
Twin-sharing hotel accommodation.
Local cultural tour guide with English speaking.
Sightseeing entrance fees for museums and monuments.
Breakfast in Kathmandu.
Full meals in in Chitwan.
Reviews
---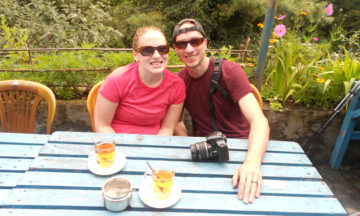 Edward
Australia
19 Jan 2021
Nepal Bhutan Tour- Great and humble tour assistance
I still remember the first time I called Asia Experiences for aid. It was noon here in Boston, but I didn't realize that it would be a late night in Nepal. However, their customer case assistance was humble and took no time on my queries to visit this group of nations. I love traveling around the world, and in my many traveling stories there are some negative parts too. However, with the assistance and proper guidance of Asia experiences I could enjoy my trip to the fullest. Mrs. Dipa was very polite and yet professional as I knew I was a handful of curious traveler who wanted a lot. In my short time here I thought I was able to know central Asia better than before with the courtesy of my amazing guides from Asia Experiences. I suggest and approve this agency as one of the best and straightforward companies you will find in Nepal. So better be safe than sorry, with Asia experiences holidays.
---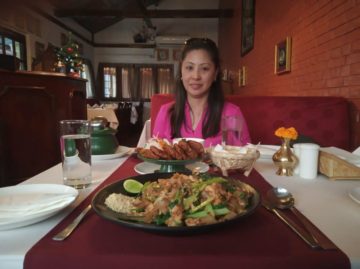 Joseph Ashton
United Kingdom
19 Jan 2021
Best and Experiences Company
Thank you for the most amazing trip to Nepal, Bhutan, and India. Our family had an absolutely amazing time for this trip. Your itinerary was very good, they help our group make a trip to Nepal, Bhutan, and India. I liked very much the way they helped me find a very good hotel and a lot of nice trips in each country. I would like to go back there again together with Asia Experiences Holidays company.
Pay Online