Kathmandu Nagarkot Tour - Tibet (Lhasa) to Kathmandu by drive via Rongbuk (EBC) - Kathmandu to Bhutan by flight
Highlights
Fly above Tibet Nepal Bhutan and admire the beauty of Himalayan range including Mt. Everest.
Experience a vast difference in each country with geography, culture, and overall lifestyle here.
Enjoy the ancient world heritage sites of Kathmandu.
View of ancient art, history and culture in Kathmandu.
Scenic drive to Nagarkot and sunrise/sunset view with mountain view.
Excellent view of Mt. Everest from Rongbuk Monastery.
Visit Monasteries & palace of former Dalai Lama including Potala Palace.
Visit Drepung Monastery, the biggest Monastery in Tibet and Norbulingka Palace.
Enjoy the delightful valley of Paro, Thimphu, Phunakha and Wangdue.
Hike to Paro Taktsang Monastery (Tiger's Nest) in Bhutan.
Nepal: 4 Nights in Kathmandu, Nagarkot with Bhaktapur Durbar Square, Pashupatinath, Boudhanath, Patan, Swoyambhu Stupa and local market.
Tibet: 6 Nights in Lhasa with overland including Potala Palace, Drepung Monastery, Norbulinka Palace, Yamdrok-Tsho Lake, Rongbuk Monastery, Everest Base Camp.
Bhutan: 3 Nights in Bhutan with Taktsang Monastery (Tiger's Nest), Paro Valley, Thimphu with weekend market and Punakha Dzong.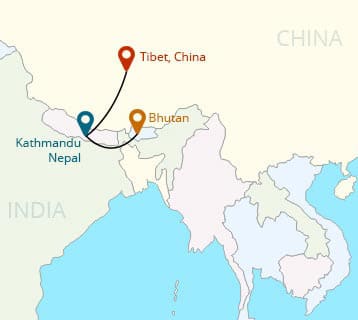 Nepal overland Tibet Bhutan Tour is a perfect blend of culture and nature alongside the bonus tasty cuisine and historical monuments gifted by this golden triangle of places in the Himalayas.
Tibet Nepal and Bhutan are the highlighted name giving us a different shade of the Himalayas and the people living there. From the barren hills, green forests to the grassy terrain, all these end up giving us the breathtaking snow-capped Mountain view here. The overland tour from Tibet to Nepal showcases the fantastic landscape as well as the authentic culture of the locals living there. Starting every day with a vivid sunrise view, your journey glides you to the best bits that these nations can offer. Starting from the narrow and colorful streets of Kathmandu, we will make our way to the magnificent monasteries of Tibet. Hopping in a car, we will cruise through high Passes beside Everest and follow the winding roads leading straight to the Nepalese Capital. The calm and fresh breeze will hail you out in the beautiful hills of Bhutan to end the trip. Deep into the cultural paradise and happy faces welcoming you, start the Nepal overland Tibet Bhutan Tour journey of a lifetime.
Your journey to these three magical destinations commences in Nepal. This paradise of a nation in Asia is a pristine experience of cultural and historical delights. From the lively streets with ancient monuments in every next stop here is one to stop and adore. The religious shrines reflect the devotion shown by the locals, and one can experience warm hospitality in any of these places. With the taste of the local cuisine hanging by your tongue, embrace the warm hug and lose yourself in the majestic art and crafts. From the bright sunrise over the hills, witness a pause in time as you will visit the best bits that the valley has to offer. Prepare to be a listener as every street here has a well-known story to share in Nepal.
Tibet is not just a state in the Himalayas, but a beautiful way to explore the united shades of Buddhism under a roof. With lesser-traveled roads leading us to the glorious monasteries and exotic scenery, there is no better way to spend every day than it is in Tibet. This place is full of feelings, devotion, and a hint of uniqueness that pushes every travel-loving individual to their next destination. From the vast gardens of Potala and Norbulingka Palaces to the silent prayers of the monks in the monasteries, one can dive straight into the lifestyle here. Starting the road trip, one can just forget everything and live in this overland section leading to the base of Mt. Everest and beyond. Munching the distance and reading the welcoming smiles of the locals, experience Tibet better.
Bhutan is the cherry on the top of this grand tour in the Himalayas. A dash of fresh air welcomes you in this land of the Thunder Dragon. The vast green farmlands and beautiful hills of Paro before you are a perfect spoiler of the tour soon after landing. With the authentic culture and traditions, undiluted with modernization, every step you take will surprise you here. From the cliff-side view of Taktsang Monastery to the fortress of Punakha, Bhutanese art follows you here. The warm hospitality, pleasant climate, beautiful monasteries, and rich culture all make this trip memorable for a long time to come. Experience the best vacation in the Himalayas and below with Asia Experiences.
YOUR JOURNEY DAY BY DAY
After landing in Kathmandu (TIA), our representative will meet you at the arrival section with a placard. He/she will drive you to your hotel in Thamel after some formal introductions. You will pass through the busy roads buzzing with life to reach Thamel. You will be given an orientation about some Do's and Donts here alongside a brief description about the whole tour. You can go for an evening walk around Thamel following the rest and refreshments at the hotel. Overnight at Kathmandu.
Kathmandu tour with Patan
We will start our cultural tour of Kathmandu after breakfast. From the hotel, it is about half an hour drive to reach our first site, Pashupatinath. Pashupatinath temple is a complex with over 500 small and big Hindu shrines in the bank of holy BagmatiRiver. After some time here, we will take a short drive to the Boudhanath Stupa. The stupa is the biggest one in Nepal and reflects Tibetan Buddhism in the valley. You can try some snacks from the rooftop restaurants here. After some spiritual time here, we will take a drive to the 'The monkey temple' Swayambhunath. A short hike to the top provides you a great view of the Kathmandu valley. You can witness both Hindu and Buddhist devotees in the temple and certainly a lot of monkeys. We will head towards Patan from here and explore the major attractions here. The Patan Durbar Square, Newari streets, and other historical monuments make our visit-list here. We will return to hotel and rest for the day there. Overnight at a hotel.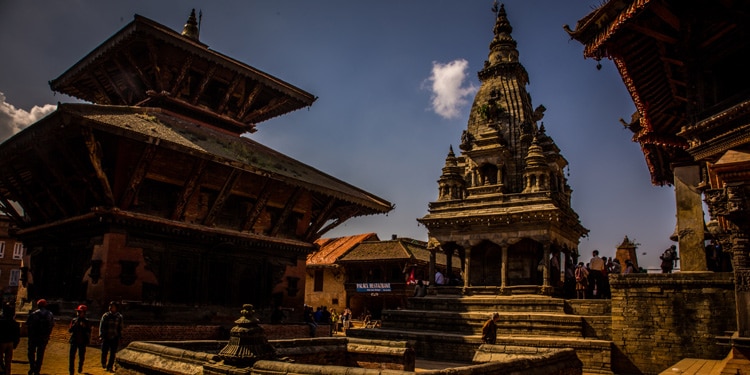 Bhaktapur sightseeing and Nagarkot
After breakfast today, we will head towards Bhaktapur, one of the major cities in the valley. Bhaktapur also called 'Bhadgaon' showcases the ancient-side of the valley as many locals live a similar life as the traditional people use to. We will visit the Bhaktapur Durbar Square here first and take a tour of nearby temple square as well. In between these amazing tours, we will also make brief food stops to gulp in some of the local Newari delicacies. We will visit the art schools to view the traditional paintings and Thangkas before driving to Nagarkot today. About an hour of calm and beautiful hill drive will lead us to this hilltop village. Overnight at a hotel in Nagarkot.
We will start our day early with some amazing sunrise views over the green hills and the Himalayan range in the far north from Nagarkot. As we will leave Kathmandu for Tibet today, we will drive to the Tribhuwan international airport from Nagarkot before the flight. We will be collecting the Chinese visa, which you must apply three days prior to the flight. Cutting straight through the snow-capped mountains, we will reach Lhasa after a mountainous flight. An AsiaExperience representative/guide will take you to your hotel from Lhasa from the airport. You can take a short tour of the surrounding places and view the firsthand experience of Lhasa in the evening. Overnight at Lhasa.
After a refreshing breakfast, we will start our cultural tour of Lhasa. Being the Capital of Tibet, we can experience a timeline of culture and art in this city. The Potala Palace, also the former seat of Dalai Lama of Tibet, is the first destination we'll visit today. Potala Palace is one of the most beautiful and extensive palaces in Tibet withholding a significant part of the Tibetan history behind its walls. We will start the tour from the garden on the ground floor and to the different parts of the Palace. The courtyards, praying rooms, decorations, Thangkas, and sculptures reflect the Buddhist culture as well as the lifestyle of the previous Dalai lamas here. After a memorable time here, we will make our way towards the Sera monastery within a short drive from here. We will explore the art and culture of the monks living there alongside the view of the landscape surrounding it. From the monastery, we will make our way to Barkhor Street and Jokhang Temple. This temple is one of the most important ones in Tibet. This UNESCO heritage site and premises is the best place to learn Tibetan culture. Overnight at a hotel in Lhasa.
Further exploration of Lhasa
We will continue our Lhasa Tour visiting the Drepung monastery here. Being one of the biggest monasteries in Tibet, it was once home to more than 10,000 monks. We will explore the paintings and murals here and pay a visit to the library. After spending some time here with the monks, we will head towards MentshiKang. A Tibetan Medicine center, you can learn more about the locally made medicines and healing techniques. Our next destination in Lhasa will be the summer palace of Dalai lamas, Norbulingka palace. Also a UNESCO world heritage site, the gardens, shrines, and monuments are pristine here. Overnight at a hotel in Lhasa.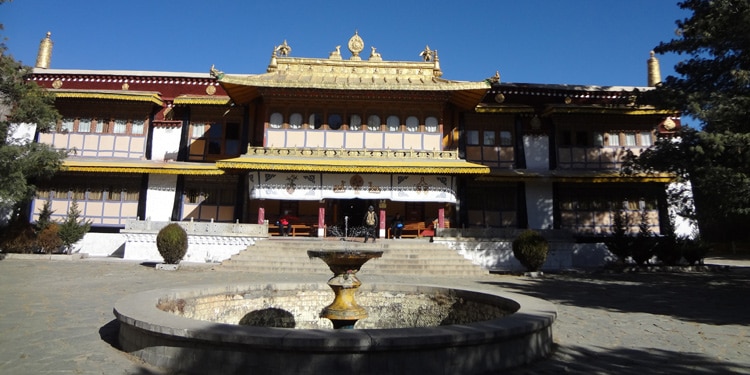 Lhasa - Gyantse (3950m) -Shigatse (3900m)
After breakfast, we will prepare and start our overland tour from Lhasa to Kathmandu. We will drive to Shigatse via Gyantse tour today. The road trip from Lhasa quickly joins the friendship highway and towards the Khamba La pass at 4794 meters. For the first part of the drive, you can savor the breathtaking views of Yamdrok-Tso Lake and Nazin Kang Sa Mountain (7252 m). Heading towards Gyantse, you can also enjoy the sightings of snow-capped mountains and massive glaciers from the road. We will pass small Tibetan settlements where we can try some snacks before reaching the town of Gyantse. This historically significant town is in a beautiful valley and was one of the major cities where multiple trading routes were mixed. Our stay here will be brief, and we will visit some of the dzong ad monasteries in the stop. Our journey continues for about a couple of hours from Gyantse and ends today at Shigatse. The second-largest city in Tibet, Shigatse is beautiful and full of life. We will visit the Tashilupo monastery which is the seat of Panchen lamas of Tibet and one of the largest functioning monasteries here. Overnight at a hotel in Shigatse.
Drive Xigatse (Shigatse) to Rongbuk/ EBC – (5000m)
The drive of today to the famous Rongbuk Monastery from Shigatse is packed with wonderful views of the landscape and natural scenery. The road is smooth, and we will be passing the highest point of the tour, the Gyatchu La pass at 5,220 m today. We will first cross Lhatse and drive through a pass nearby. Moving on from small stops where we will have our lunch, we will pass by Tingri village. Another two to three hours of the relaxed drive, followed by small patches of settlements, will take us to Rongbuk monastery (5000 m). The north face of Everest is a sight to relish here in Rongbuk. Rongbuk monastery is also the starting point to hike to the northern Everest Base Camp. Witness a beautiful sunset over Mt. Everest (8848 m). Overnight at Rongbuk.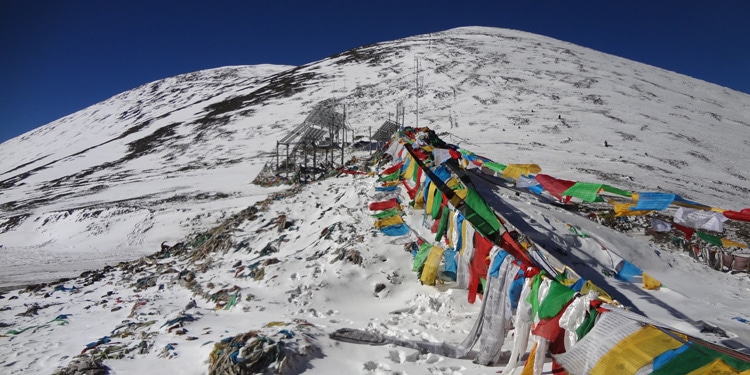 Drive to Gyirong/Kerung from Rongbuk
We will wake up with the monks in Rongbuk and start our drive to the China-Nepal border at Kerung/Gyirong. With a beautiful view of the sunrise and the Everest, we will start the journey early. For the first portion of the drive, we will do high passes with views of steep hills and snow-covered mountains. We will cross the Lalung La (5,124 m) and Tong La (5,120 m) and the views of Mt. Cho Oyu, Everest and Sishapangma are pristine in a clear sky from the passes. We will drop some altitude, and the landscape also begins to change as we get nearer to Kerung/Gyirong. We will stay on the Chinese side for the day. Overnight at a hotel in Kerung/Gyirong.
Kerung/Gyirong to Kathmandu
After bidding farewell to your Tibetan guide and driver, we will start our journey to the Nepalese Capital from Kerung today. The drive is thrilling beside the green hills and Trishuli River straight from the mountains. We will stop in the intermediate hill settlements to have our lunch in the way. The windy roads will lead you to the valley, and you'll head straight to to your hotel here. Overnight at a hotel in Kathmandu.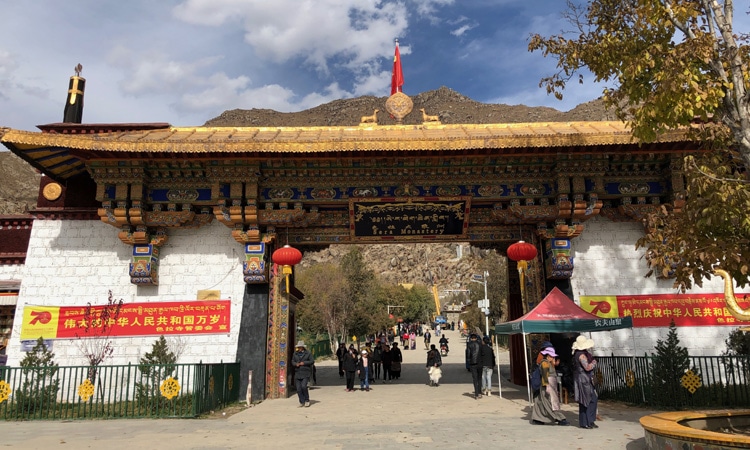 Fly to Bhutan (Paro) and drive to Thimphu
We will fly to Bhutan from TIA today. In the spare time before the flight, you can explore the market areas of Thamel. The trip to Paro is short but gifted with a great view of both the nations. Our representative will receive you at the airport and take you to your hotel in Thimphu. The drive is slightly over an hour in the green hills and farmlands of Bhutan. The fresh breeze and nature accompany you in the journey to the Capital.
Stop halfway to the Paro-Thimphu highway, and visit the 16th-century old Tachogang Lhakhang temple by traversing an old bridge. From the bridge, enjoy the scenic views of the villages. Tachogang temple means the hill of the excellent horse. Continue to drive to Thimphu. Transfer to a hotel and rest for a while. Explore the local life in Thimphu. Visit some famous landmarks such as Buddha Dordenma Statue, Late King's Memorial Chorten, Bhutan Postal Museum, Folk Heritage Museum, and Takin Zoo. Similarly, the weekend markets here is a culture to experience if you are in these days. Overnight at Thimphu.
Thimphu to Punakha excursion and Back to Thimphu
After a great sunrise view and some local breakfast, we will head towards Punakha today. We will stop at the Dochula Pass on the way there and spend some time here. The eyes will go straight to the beautiful Druk Wangyal Chortens which is a collection of 108 memorial chorten dedicated to the deceased Bhutanese war soldiers. The views of the Himalayas and the garden nearby is also majestic from the pass. After some time here, we will move towards the historical fortress in Punakha, Punakha dzong. The Dzong is a beautiful masterpiece located between the Pho Chu and Mo Chu rivers. A few miles from the dzong is beautiful and the longest Punakha Suspension Bridge. Enjoy the beautiful views from the bridge. Then, return to Thimphu, we can also take a short detour to the Fertility temple Chimi Lhakhang if time permits. Overnight at a hotel in Thimphu.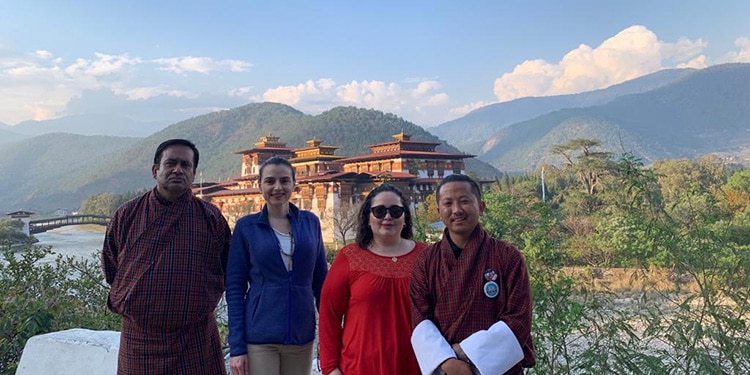 Thimphu to Paro, Taktsang Monastery Hike
After breakfast, we will drive to Paro. Here we will do a short and scenic hike to one of the most significant monasteries in Bhutan, the Taktsang monastery. There are different routes to reach this majestic monastery sitting in a cliff-side of a high hill. We will take the best amongst them and stop for great views and snacks in the way. Our guide will also tell you some local legends and historical importance of the monastery in the hike. After reaching the monastery, you can have a great view of the landscape surrounding it. We can visit the caves where Guru Rinpoche or Padmasambhava is said to have meditated and introduced Buddhism in Bhutan in the monastery. We will return to our hotel in Paro next and have lunch.
Next, we visit Kyichu Lhakhang temple where you can see the oldest Jowo Temple. Then, a visit to beautiful Paro Rinpung Dzong. After crossing a cantilever bridge, you can see the Deyangkha Temple outside the main dzong. Explore the fourteen shrines and chapels inside the dzong. Ta Dzong houses the National Museum of Bhutan above the hill of Rinpung Dzong which was once used as a watchtower. Presently, it is established as the National Museum of Bhutan. A great place for art and culture lovers as hundreds of ancient Bhutanese artworks and crafts embracing traditional costumes, armors, and handicraft tools of daily life are displayed there. Overnight at Paro.
Departure from Paro and return via Kathmandu/ Bangkok/ New Delhi
Our representative will drive you to the airport before your departure. From Paro, you will take a plane first to Kathmandu, New Delhi or Bangkok before heading to your home from there. With boundless memories and experiences, you will head home knowing these beautiful nations and the lifestyle better. The Asia Experience team will stay connected with you for your valuable suggestions and feedback after the tour too. Explore and discover this golden triangle in the Himalayas with Asia Experiences.
Cost & Inclusion
The tour cost for each package might different with the hotel category, tour duration, number of travelers, travel season, routes and activities being the major factors. You can customize these find your ideal package which might not be same with cheaper deals elsewhere. Rest assured, make your visit worth every bit with Asia Experiences.
Please, ask your tour plan with interested countries with below buttons 'Ask to Expert' or 'Customize Trip'. So it will be easy to quote your requirement.
Nepal
Tibet
Breakfast in Tibet.
Processing Travel Permit and Entry Visa.
Bhutan
Full meals in Bhutan.
Processing Travel Permit and Entry Visa.
Airport pickups and drops service.
Private ground transportation with A/C.
Twin-sharing hotel accommodation.
Local cultural tour guide with English speaking.
Sightseeing entrance fees for museums and monuments.
Reviews
---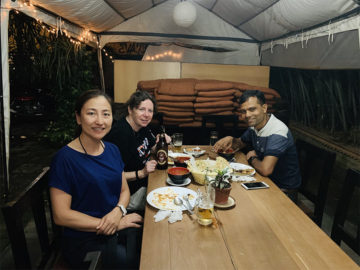 Claire
UK/Japan
Very readily with organised trips – Nepal Tibet overland & Bhutan
Dear Netra and Umesh, Now as I make my way back to the UK, I can pause for breath and think about the trip we did. First of all, thanks very much for taking us out to dinner on our last night in Nepal. It was a very pleasant evening, great food and company. It was a kind gesture and one that does not come very readily with organised trips.
Secondly, thanks very much to both of you for your helpful, insightful and prompt responses, with the putting together of this trip. When I started putting feelers out, I had narrowed the research down to 2 companies. You came out on top for the points mentioned above.
This trip was one, Masako and I had talked about for over a year, probably closer to 18 months. Again, as I begin to reflect and look at photos, I am overwhelmed at what we achieved in a relatively short time. We also had a brilliant, smoothly run trip. This is a huge credit to you both and your organisational skills and research.
Thanks for your photos of the flight over Mt. Everest. I will attach one I took at sunrise and of our last day in Bhutan.
Thanks again for your assistance in making this a brilliant trip.
I can thoroughly recommend your company to fellow travelers.
Until next time,
19 Jan 2021
---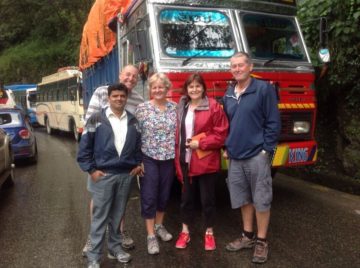 Lucas
Australia
Reaching for the horizon when you have trustworthy agency
As a traveler young in heart and an aging body, I was in doubt that whether I can push further and add a new chapter in my travel diaries with this 14 days tour of Nepal, Tibet, and Bhutan. With my previous experiences, I knew the importance of having a proper agency to back me up in my journey. I was lucky to find a couple back from the tour of these countries a few days back in the local cafeteria. By their help, I was able to connect with the Asia experiences tour. As days came nearer to y arrival at Kathmandu, I asked numerous questions and communicated with the agency. They were of great help to keep my morale high. From the TIA to every other destination to come, the agency and guides completely aided me. From different hidden photographic locations to myths and legends of my destinations, I was provided a complete insight about them. With the Help of Mr. Umesh from Asia Experiences, I was also able to get extra privileges at the Hotels and Lodges. My guides acted as my extra limb as I took on the journey from the plains to the marshlands and high hills. I will suggest Asia Experiences for travelers of all ages and taste.
19 Jan 2021
---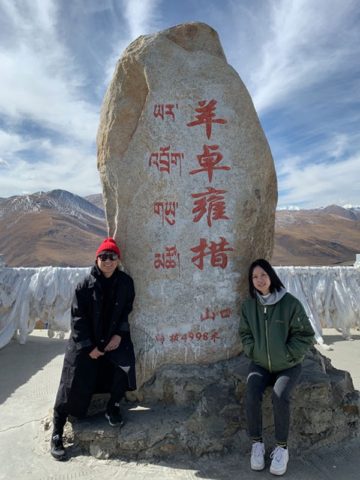 Jennifer
Hong Kong
Tibet, Nepal, and Bhutan- Much more than you hear
Being a solo traveler, I was in a dilemma on whether to take these nations head on alone or ask for some assistance. With the costly offers running the market I was able to give up when a friend of mine suggested Asia Experience. I thank him even today as the experience I had in this Journey was worth every penny. Walking through the hills and the tight streets, my guide made it all possible as only I knew that I would have missed so much of those without Ashish (Nepal), Pemba (Tibet), and Tashi (Bhutan). The great thing was that my guides were well trained and experienced. They also had mastered the local languages in many of their visits. The memories and beautiful stories of reaching each destination were possible with Asia Experience and their pristine group of guides. I approve and suggest Asia experiences for solo travels as it is cost-efficient and professional.
19 Jan 2021
---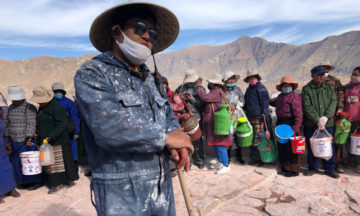 Martin
United States
Amazing trip to Nepal, Bhutan and Tibet
We had very good opportunity to go for Holiday trip to Nepal, Bhutan and Tibet tour with Asia Experiences Holidays. The trip was excellent. They have very good guides and drivers with them. Our guide was knowledgeable his service was perfect and the driver was very experienced and safe drive. We would highly recommend this company to anyone who is planning to visit Nepal, Bhutan, and Tibet. The Company is reliable, very professional and the quality of its services is excellent! If you have any further questions to ask me, please do. Thank you
19 Jan 2021
Similar Trips
Our tours are highly customizable to fit your preference best. Here are some trips with similar experiences from which travelers can select their ideal tour package.
Pay Online