Best Luxury hotels in Nepal
17 Sep 2023 Umesh Paneru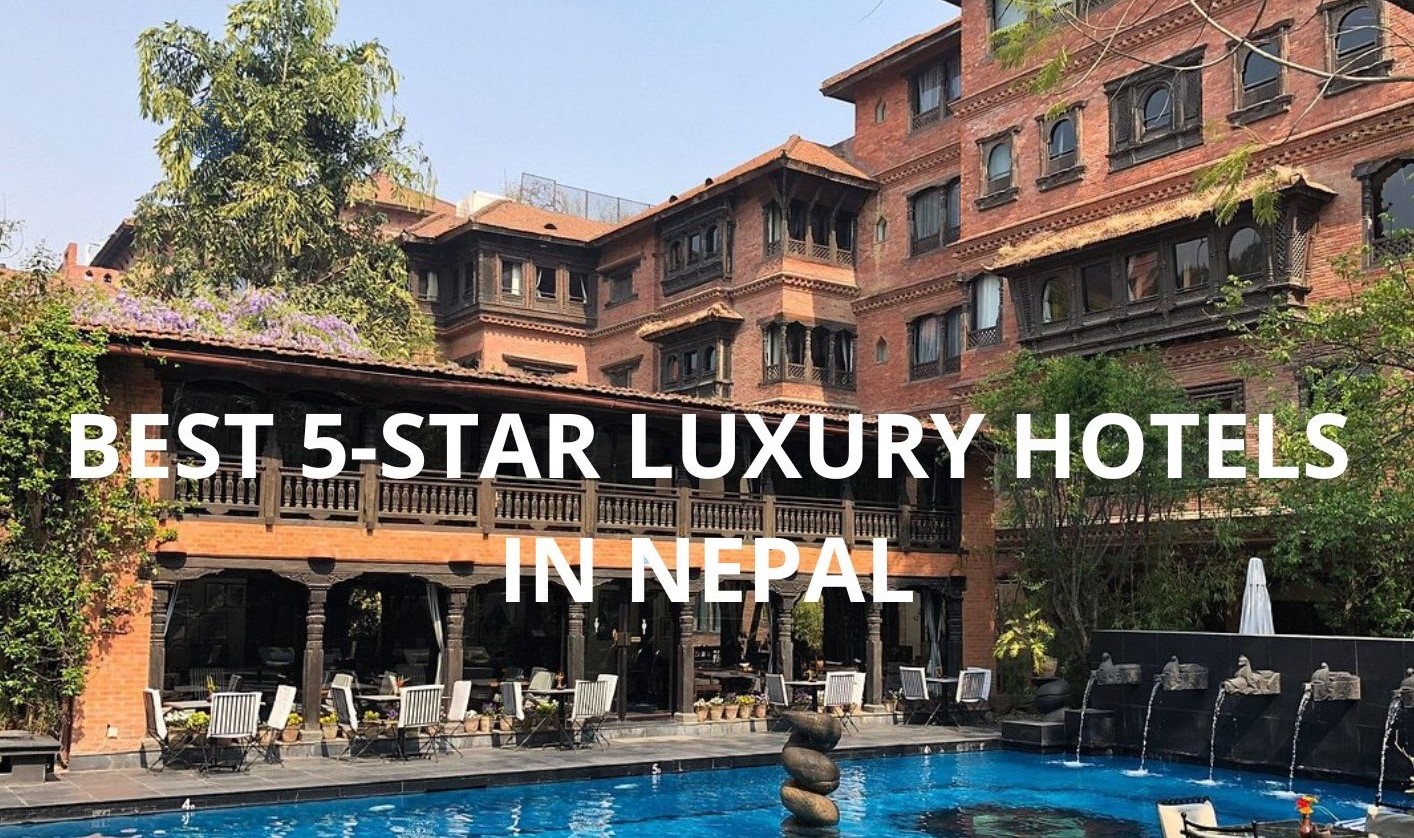 Are you planning luxury tours in Nepal and concerned about luxury hotels in Nepal? Despite Nepal being a small and least developed nation, Nepal boasts 18 officially recognized 5-star hotels, each offering remarkable service and affordable lavishness. The features of 5-star luxury hotels in Nepal have mesmerizing interiors that are hugely inspired by Nepal's rich history and diverse cultures. Let's briefly discuss on best luxury hotels in Nepal renowned for their top-notch amenities and outstanding staff.
1. The Dwarika's Hotel – Kathmandu
The Dwarika's Hotel is an intricately designed Newari civilization's architectural majesty with peaceful courtyards, original artifacts, and lavish rooms offering a royal experience to the guests.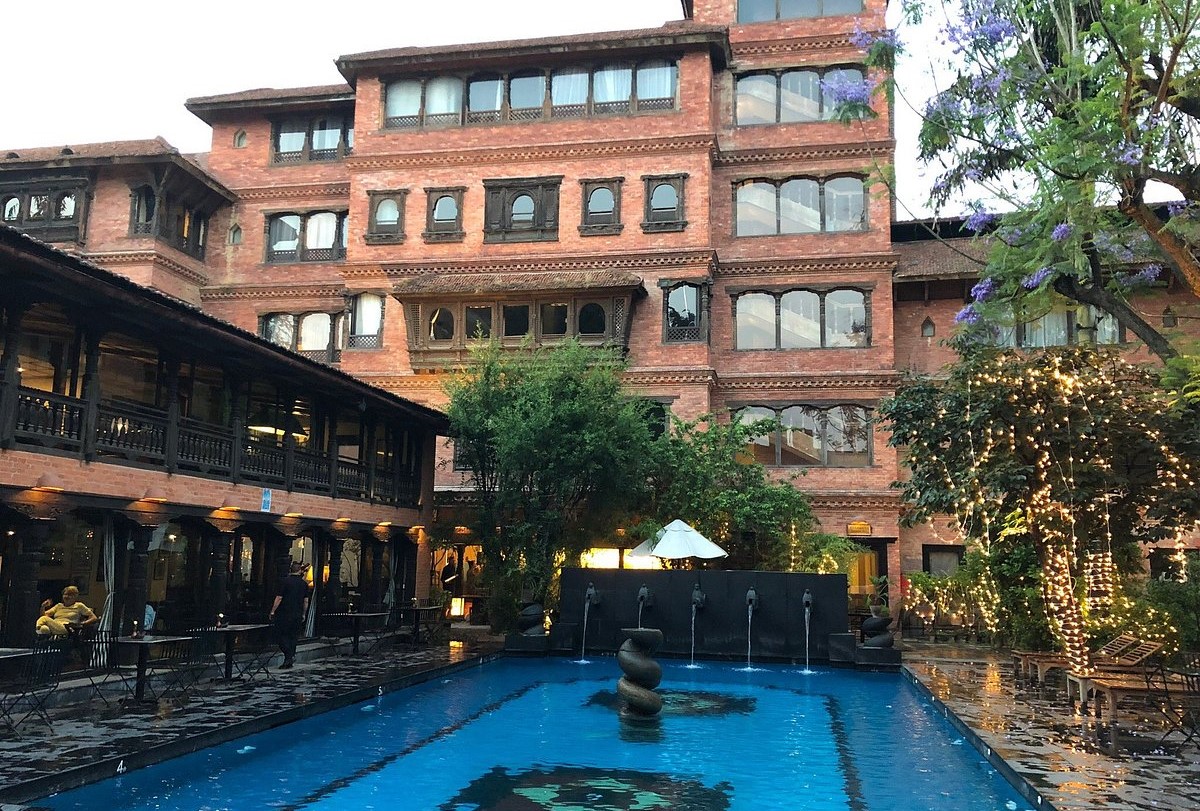 Features
Rooms Types:
Heritage Deluxe Room– Traditional Nepali experience with some traditional Newari design in our 32 Heritage Deluxe Rooms providing a close-to-nature stay.
Heritage Junior Suites– Uniquely designed 42 luxurious Junior Suites with traditional Newari designs.
Heritage Executive Suite- A blend of traditional style with modern comforts in our 5 Executive Suites provides a royal experience.
Royal Suite- The room is inspired by Malla King's private residences with a mix of traditional and modern architecture.
Dining:
Krishnarpan– A signature restaurant offering rich Nepalese culinary delights with carefully crafted menus.
Toran– A global cuisine restaurant presenting casual dining in the hotel's courtyards or the restaurant.
Mako's Japanese– A Japanese fine dining restaurant with traditional cuisine and an authentic Japanese experience.
Fusion Bar– A bar in Dwarika's courtyard with a comfy ambiance and alfresco seating.
Recreation:
Pancha Kosha Himalayan Spa– A signature Pancha Kosha Newari Treatment guided by Ayurvedic doctors, meditation, yoga masters, and astrologers.
Amenities
Swimming pool, Natural Himalayan bathroom amenities, High-Speed Wi-Fi Internet on a complimentary basis, Walk-in shower and bathtub, Daily fruit platter and freshly baked cookies, Daily fresh flowers flower, Mini-bar, Fresh herbal tea/ French press coffee, TV/DVD home theatre/safe etc.
2. Baber Mahal Vilas- Kathmandu
The Baber Mahal Vilas a 5-star luxury hotel boasts Nepal's diverse architecture, blending the neoclassical 'Rana Durbar' style with Newari, Mustang, and Terai influences with 33 rooms and top-notch amenities.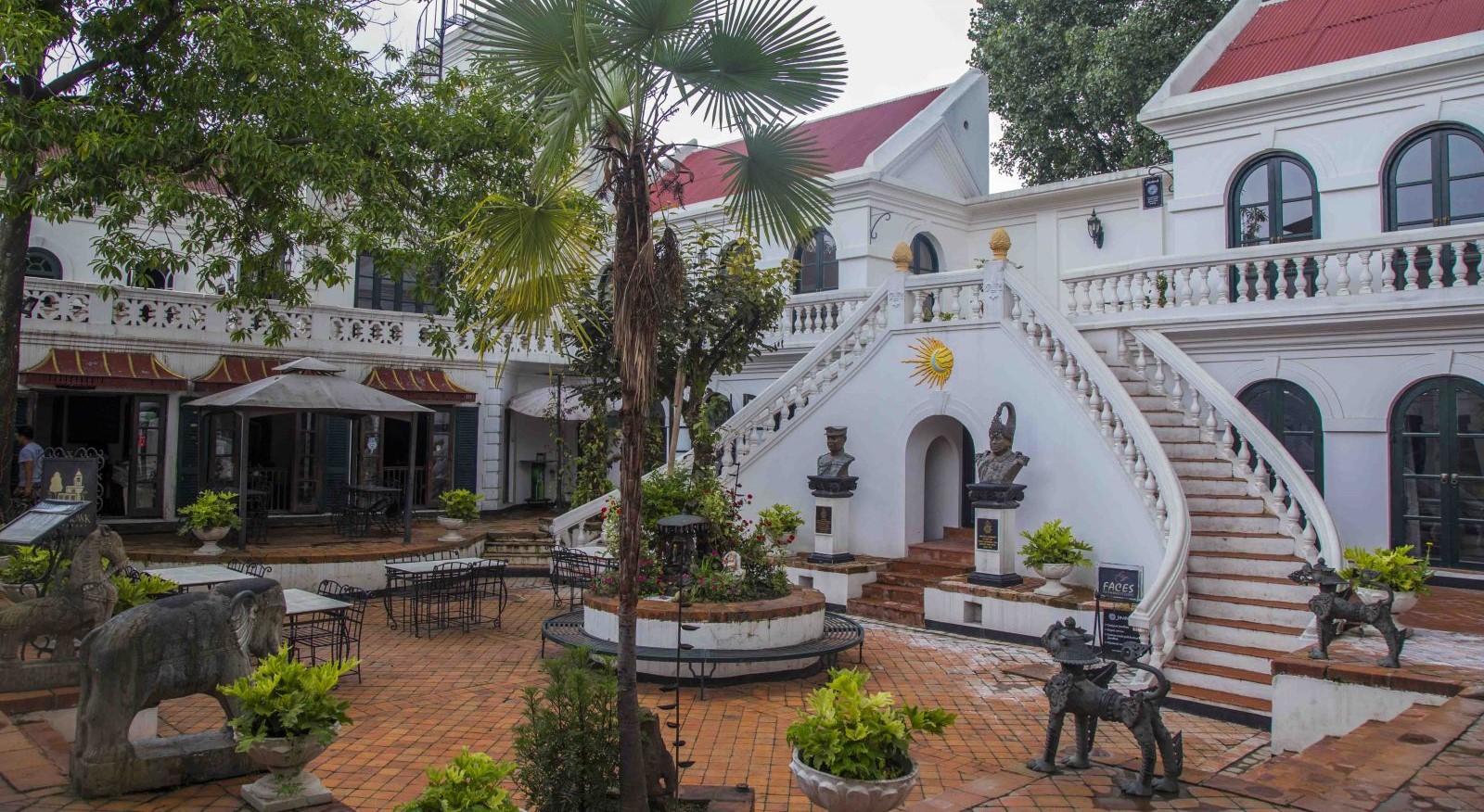 Features
Rooms:
Traditional Room– The room is inspired by traditional Newari décor. Ankhe Jhyal, Newa Kuthi, Frangipani, Lomang, Mujur Kotha, Tahdhu Kotha, Sankha, Srivatsa, Padma, Bumpa, and Machan are luxury room categories offering top-notch amenities.
Traditional Suites- The room is a combination of Victorian finish with a traditional Newari ambiance in their décor. Chatra, Pokhari Kotha, Newa Ghar, Matsya, and Chakra are room types that offer the finest amenities.
Heritage Suites- The room features Buddhist artwork on furniture and wall paintings hugely reflecting traditional Buddhist décor. Singha Suites and Kaushi Kotha are room types with top-notch amenities.
Royal Suites– The Victorian culture suites showcasing Rana-era décor. Chandra Suite, Baber Suite, and Dhvaja are room types with the finest amenities.
Dining:
Jyunar- Delicious Nepali cuisine in a traditional and heritage-inspired ambiance.
Surya Bar- A fascinating hotel bar offering a premium drink selection and an all-day snack menu.
Amenities
LED TV with HD Cable, 24 hrs. Hot/Cold water, 24-hour electric backup, 300 Thread count sheets and microfiber pillows, King Coil Chiropractic Mattress with Memory Foams, Air conditioning, Stocked Mini Bar, Video Library, Spa, Gym, Daily Housekeeping, 24-hour Front Desk, Swimming Pool, Free Wi-Fi, Gift Shops etc.
3. Kathmandu Marriott Hotel- Kathmandu
Nestled in the heart of Kathmandu, this 5-star luxury Kathmandu Marriott hotel offers a memorable stay with its finest rooms, dining, and premium amenities.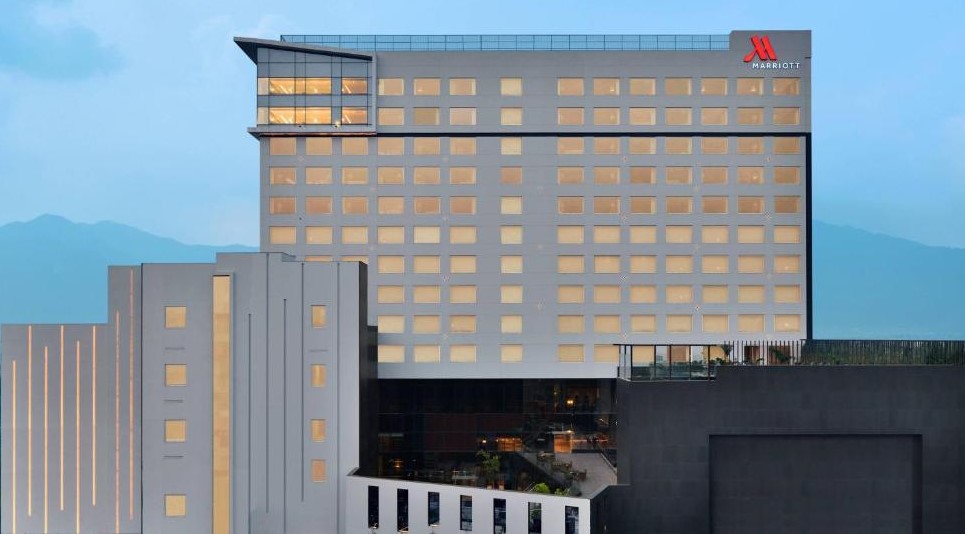 Features
Room Types:
Deluxe Room– Guest room, 1 King, Mountain View
Deluxe Room Doubles– Guest room, 2 double, Mountain View
Club Room– M Club lounge access, Guest room, 1 King, Mountain View
Club Room Doubles– M Club lounge access, Guest room, 2 Doubles, Mountain View
Junior Suite– M Club lounge access, Junior Suite, 1 King, Mountain View
Executive Suite– M Club lounge access, Executive Suite, 1 King, Mountain View
Presidential Suite– M Club lounge access, Presidential Suite, 1 King, Mountain View
Dining:
Kathmandu Baking Company– Our in-house patisserie in the city center for convenient breakfasts. Open: Everyday 8 am to 10 am
Raksi Music Bar– Our in-house Kathmandu bar with a stunning waterfall terrace. Open: Everyday 3 pm to 12 am
M Club Lounge– Offers premier services in a classy dining space. Open: 24/7
Thamel Kitchen- Full-board meals with a variety of international. Open: Everyday 6:30 am to 10: 30 pm
Edamame- Our live yakitori bar and restaurant offers modern Asian cuisine and boutique wines. Open: Mon-Sat 5:30 pm to 10:30 p
Marriott on Wheels by Kathmandu- The signature dishes delivered to your doorstep from Mbistro by KBC and Thamel Kitchen. Open: Everyday 8:00 AM-9:00 PM
Tahina Terrace- A cozy bar and lounge serving crafted cocktails, Mediterranean cuisine, and home-infused gins. Open: Tue-Sun 4:00 PM-10:00 PM
M Bistro by KBC- A perfect setting for a light lunch or dinner offering crafted salads, desserts, and M Signature beverages. Open: Everyday 11:00 AM-8:00 PM
Amenities
Restaurant, Fitness Center, Spa, Outdoor Pool, Hot Tub, Meeting Space, Free Wi-Fi, Casino, Gift Shop, Dry Cleaning Service, Laundry, 24-hour Room Service, Wakeup Calls, Daily Housekeeping, Turndown Service, Kitchenette, Service Request, Complimentary On-Site Parking, Long Term Parking, Electric Car Charging Station, Additional Parking Information, Stackable parking space in the hotel's basement etc.
4. Hyatt Regency Hotel- Kathmandu
Hyatt Regency is a traditional Newari-style architecture luxury 5-star hotel that offers luxurious hospitality and cultural immersion in Kathmandu.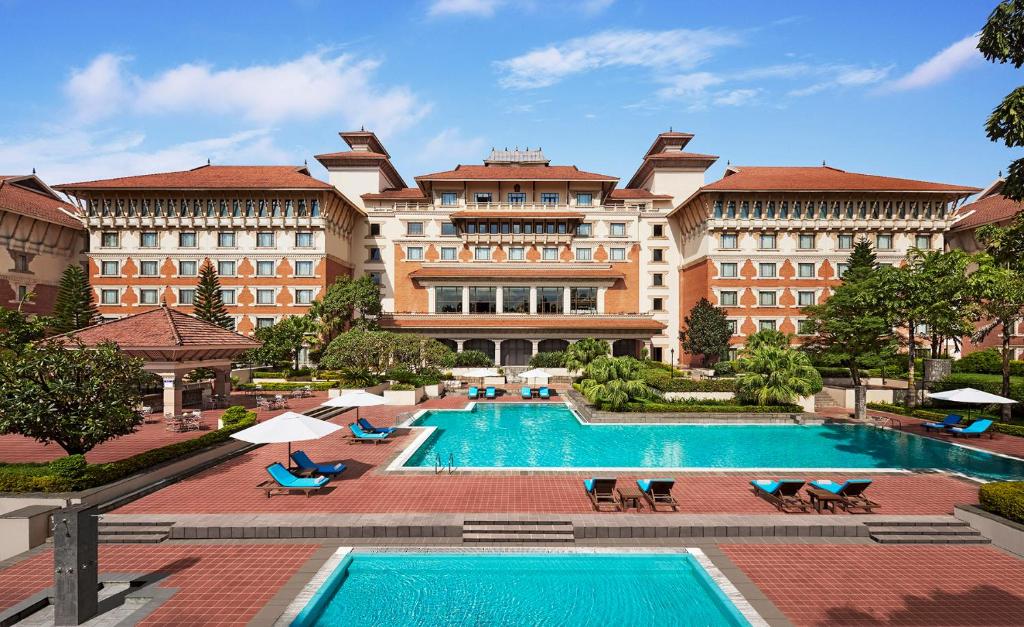 Features
Rooms Types:
Presidential Suite– Distinct Nepalese interior suite with panoramic views and top-notch amenities.
Regency Executive Suite– This fine suite features traditional Tibetan hand-woven carpets and excellent amenities.
Regency Suite King– The suite features local artifacts and Nepalese cultural décor and facilities with a private concierge.
1 King Bed with Club Access- This deluxe room features local artifacts including access to the private Regency Club lounge, evening hors d'oeuvres, and all-day coffee or tea
1 King Bed with Stupa View- The roomfeatures wooden flooring, Tibetan hand-woven carpeting, and an awesome view of Boudhanath Stupa, along with deluxe amenities.
2 Twin Beds with Stupa View- A room with great Tibetan décor and deluxe amenities.
1 King Bed with Club Access- The room features local artifacts with VIP accommodations.
2 Twin Beds with Club Access- The room features VIP accommodations, local artifacts, and exclusive amenities.
1 King Bed- A Tibetan décor deluxe room with deluxe amenities.
2 Twin Beds- The wooden flooring of Tibetan décor room with deluxe amenities.
Dining:
Sesame– Ideal for sophisticated diners seeking authentic Asian, Indian, and European cuisine. Open: 7:00 AM to 11:00 PM
Rox restaurant– The unique architecture signature restaurant serves Italian cuisine and cocktails, including wood-fired oven dishes. Open: 6:00 PM to 10:00 PM
The Living Room– A trendy, health-conscious dining experience in the hotel's lobby with an extensive terrace. Open: 9:00 AM to 10:00 PM
The Terrace– The lavish dining with light, healthy meals, salads, fresh juices, and cocktails is located in the garden. Open: 10:00 AM to 7:00 PM
24/7 room service– A diverse cuisine delivery to your room for a quick start, romantic dinner, or hospitable gathering.
Amenities
Free Internet Access, Free Parking, On-Site Restaurant, Room Service, Fitness Center, Outdoor Swimming Pool, Spa, Digital Key, Business Services, Lobby Shops, Laundry, Concierge, Meeting Facilities, 24-hour room service, Express checkout, Airport transfer, Babysitting services, On-call doctor, Multilingual staff, 24-hour Assistant Manager on duty, 24-hour Business Centre etc.
5. Hotel Radisson-Kathmandu
The luxurious 5-star Radisson Hotel offers lavish amenities and easy access to Kathmandu's commercial hub, perfect for both business and leisure travelers.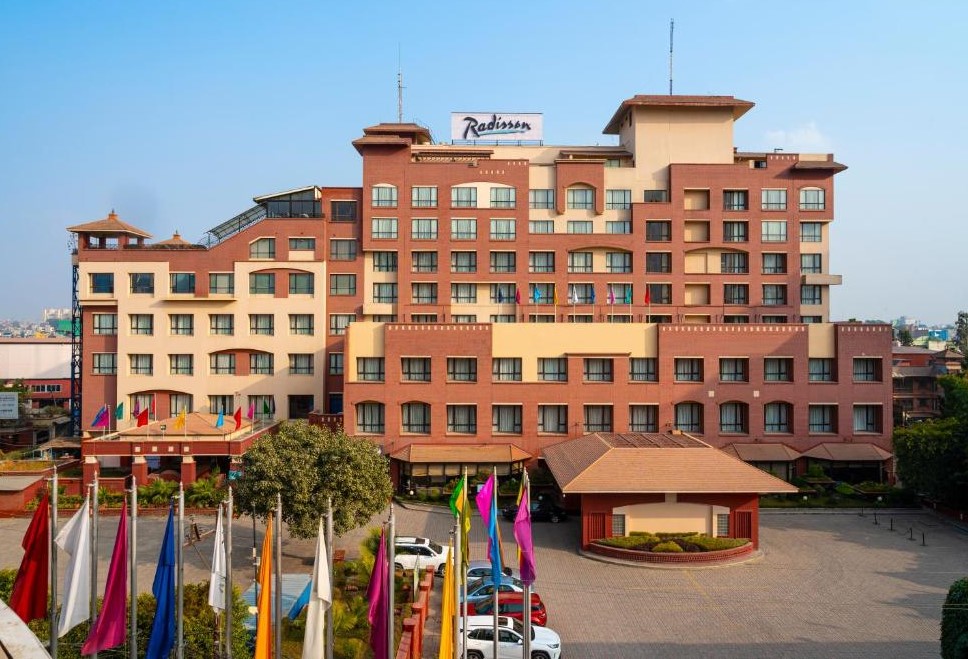 Features
Rooms Types:
Superior Rooms– Our modern, climate-controlled room includes Safety features such as sprinklers, smoke detectors, and a safe.
Premium Rooms– The room with top-tier comfort and convenience is best for business travelers or couples with both smoking and non-smoking options.
Junior Suite- The suite offersspacious, open-plan living with valley and safety services.
Deluxe Suites– A spacious suite with a separate living room perfect for solo business travelers.
Premium Suites- Perfect for special occasions and couples that are situated in a private wing of the hotel.
Business Class Rooms– It offers exclusive access to the Business Class lounge with all Premium room amenities.
Apartments- Premium Room amenities with VIP perks and include a private terrace with mountain and waterfall views.
Dining:
Rooftop Terrace Garden– Excellent service with stunning vistas. Open daily: 11:00 AM to 10:30 PM
Fun Café- A variety of global flavors from à la carte menus and extensive buffets. Open daily: 6:30 AM to 10:30 PM
The Coffee Shop- A pleasant delicious breakfast buffet on the third floor with wonderful city views.
Open daily: 6:30 AM to 10:30 AM
The Pastry Shop– Fulfill your sweet cravings (tasty cakes, pastries, and snacks). Open daily: 8 AM to 8 PM
The Lobby Bar– Refreshing drinks and cocktails from an international selection. Open daily: 8 AM to 11 PM
24-hour in-room dining service– From breakfast in bed to midnight snacks.
Amenities
Accessibility, Airport shuttle, Bar, Breakfast, Concierge service, Early check-in, Express check-out, Fitness center, Free Wi-Fi, Audio System, Laundry service, Meeting Facilities, On-site dining, Outdoor pool, Room service, Spa, Valet parking, Travel Assistance, Safety features (sprinklers, smoke detectors, and a safe) etc.
6. Yak and Yeti Hotel- Kathmandu
A luxurious 5-star Yak and Yeti Hotel showcases a lavish collection of art, artifacts, and crafted fixtures with refined comfort amid a historical ambiance.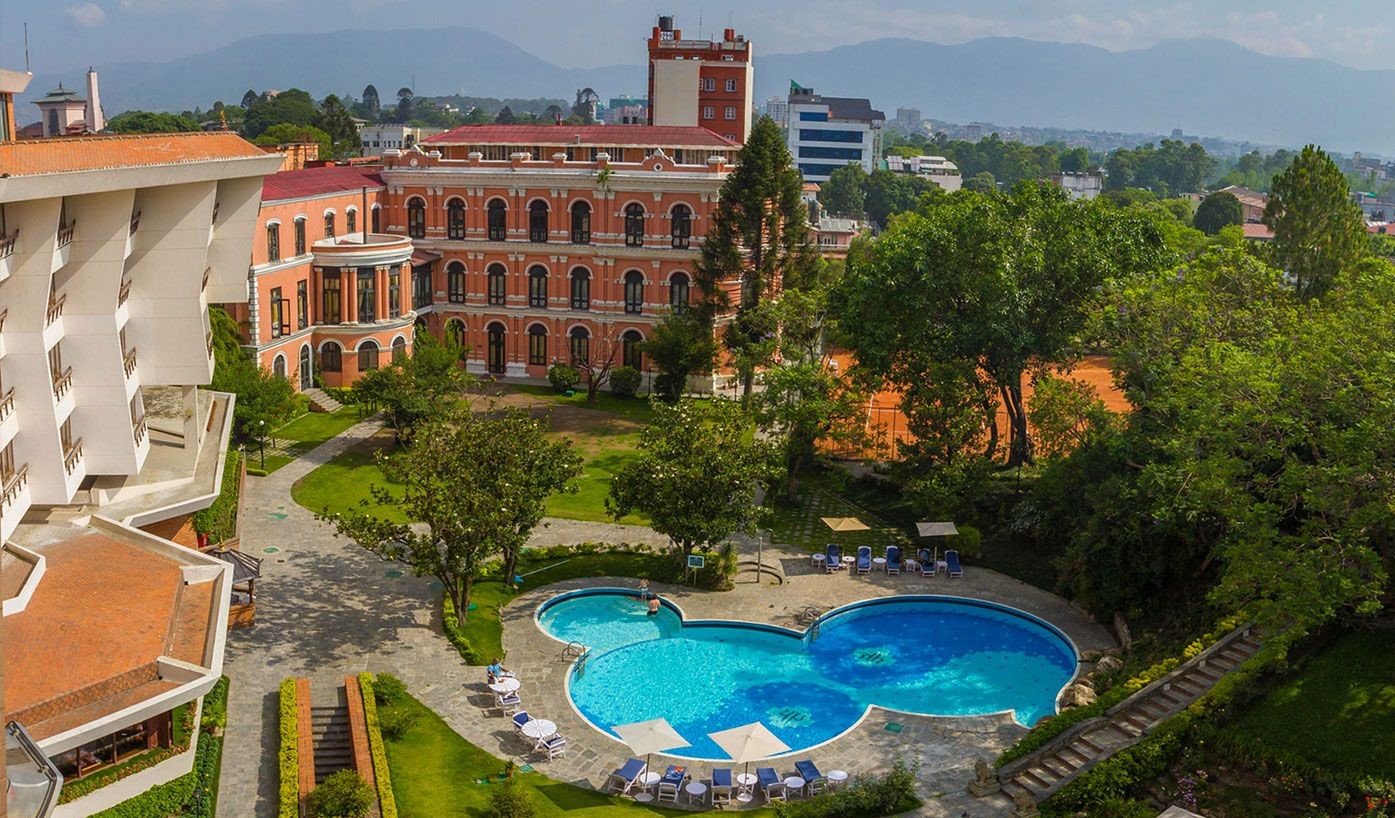 Features
Rooms Types:
Presidential Suites- The spacious suites are decorated with intricate Newari wood carvings, original artworks, and local antiques.
Deluxe Room- Our Durbar wing's Deluxe Rooms are classic contemporary, well-equipped and decorated.
Heritage Deluxe Room- Well-furnished comfortable rooms with traditional wood-carved Nepali features.
Club Shangri-La- A spacious rooms considerately furnished for your working needs.
Junior Suites- Well-decorated room with antique furniture and fittings and spacious accommodation.
Business Suites- The decorative well-equipped room for all classy business and leisure travelers with access to our Club Shangri La amenities.
Dining:
The Chimney- A trendy, classy restaurant with 110 guest' capacity offers innovative Asian and Western influences dishes and drinks. Open: 12:00 PM – 10:30 PM
Spice Room- A fine-dining destination with a capacity of 96 covers set amidst lush gardens offers delicious and diverse Indian cuisine. Open: 06:30 AM – 9:00 PM
Amenities
Multichannel color 32″ Flat LCD Television, Centralized air conditioning, International Direct Dial (IDD) telephones at extra cost, Mini bar at extra cost, Private shower bath, Hair dryer in bathroom, Bathroom Telephone, Safe Deposit Locker, Work Desk with Lamp, 24-hour room service at extra cost, Spectacular dream wedding arrangements, Wellness Centers (7 am to 10 am every day), 400-meter jogging trackTwo-fold lit tennis courts, Sauna, Steam & Jacuzzi State-of-the-art gymnasium, Swimming Pool, Shiatsu Massage, Swedish Massage, Nirvana Spa, Casino Royale etc.
Conference and Events: Different feature Halls (The Regal Ballroom, The Regency Hall, The Durbar Hall, The Dynasty Hall, The Crystal Hall, Senate & Viceroy)
7. Fishtail Lodge- Pokhara
The Fishtail Lodge is surrounded by the lake and lush forested hills. It is accessible by shuttle floats or boats and offers spectacular views of Mt. Machhapuchre and the Annapurna ranges with premium amenities.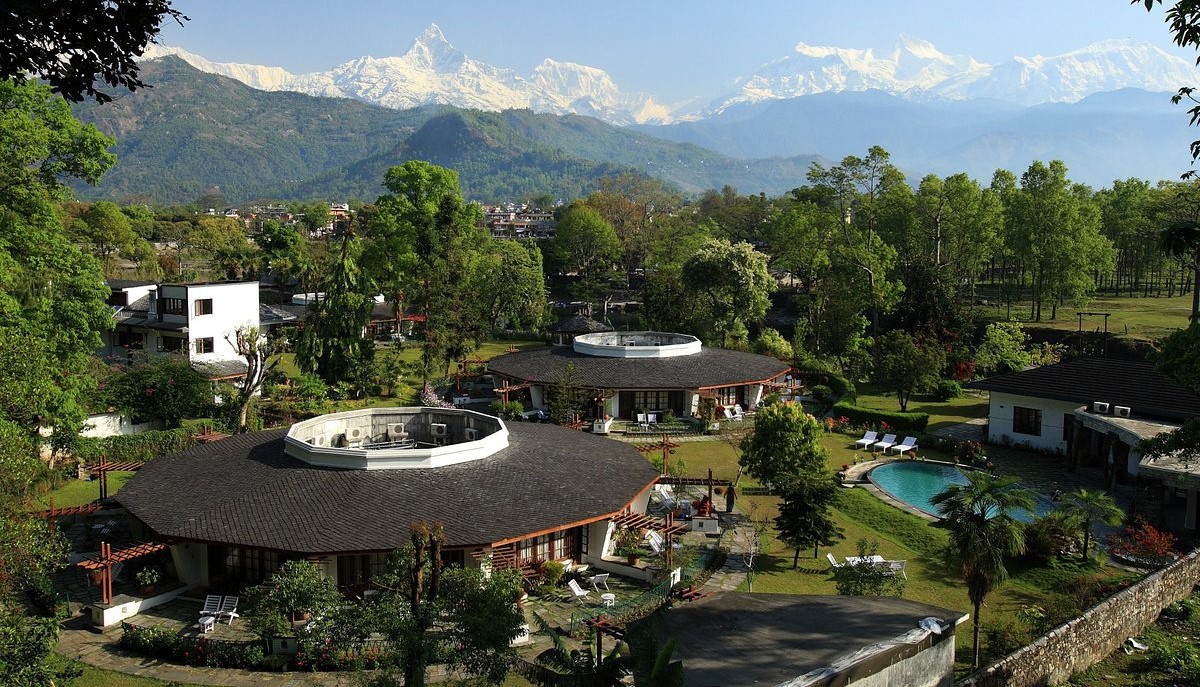 Features
Rooms:
Heritage Suite- Well-blended rooms with attractive Nepali architecture.
Heritage Rooms- The room that has hosted renowned dignitaries (HRH Prince Charles, Former President of the USA, etc.)is a combination of Nepali architecture, art, and hospitality.
Garden Terrace Standard Rooms– The rooms having a private patio are surrounded by a lush garden and offer pleasant views.
Palm Court Deluxe Rooms- A room with a peaceful setting offering a spectacular Himalayan landscape.
Dining:
The Circle Restaurant and Bar- A perfect setting place with comfortable couches on the lobby level offering Nepali, Asian, and Continental cuisines.
Breakfast: 07:00 to 10:00 AM
Lunch: 12:00 to 3:00 PM
Dinner: 7:00 to 9:30 PM
The la carte menu is available throughout the day (09:30 AM to 9:30 PM)
Deck by the lake- Alfresco outdoor cozy dining in the vicinity of Annapurna ranges with a variety of dish options.
24-hour Room Service- In-room dining À la carte menu is available 24 hours
Amenities
Room Services, Private garden, Small patio, Electronic room locker, Tea & coffee maker, Mini bar, Swimming Pool, Private Bathtub, Laundry, TV: 50″ LED smart television with NETFLIX, Internet: Wireless Internet, Spa, Fitness Centre, Steam and Sauna, Meeting and events, Travel Desk for Leisure activities etc.
8. The Pavilions Himalayas The Farm – Pokhara
The Pavilions Himalayas Farm provides 5-star accommodation with private terraces, top-notch services, and stunning views of the vicinity.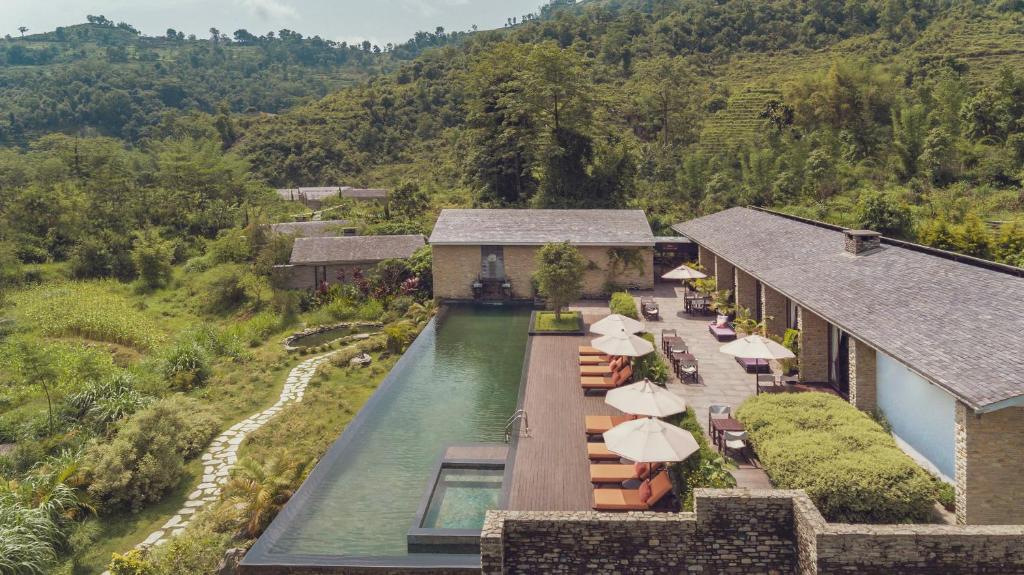 Features
Rooms Types:
Luxury Pavilion Grand Villa– The Villa showcases a classic Nepali design with all modern comforts.
Luxury Chalet Villa– The contemporary-style luxury villa with beautiful Nepalese artwork offers clear views of the Annapurna mountain ranges.
Luxury Pavilion Classic Villa– Well-decorated room with breathtaking natural landscape views from a private terrace.
Dining:
Farm-to-table restaurant- We serve our on-site produce quality goods without pesticides with weekly menu changes based on the ingredients available from the farm.
Amenities
Welcome Drink, Daily Breakfast, Large Master or Split Bedroom, Available with double or twin beds, LCD TV (International Cable TV), Private Terrace, Fireplace, Chargeable mini bar, complimentary tea/coffee, Full-en suite bathroom and Jacuzzi, Wellness Centers (Spa Svastha, Yoga, Yoga Retreat), Pool and Clubhouse, Curated Journey (The Pavilions Himalayas)
9. Tiger Mountain Pokhara Lodge
A perfect 5-star luxury Tiger Mountain Pokhara Lodge with an awesome Himalayan backdrop for leisurely explorations of local communities and bird-watching with the finest services.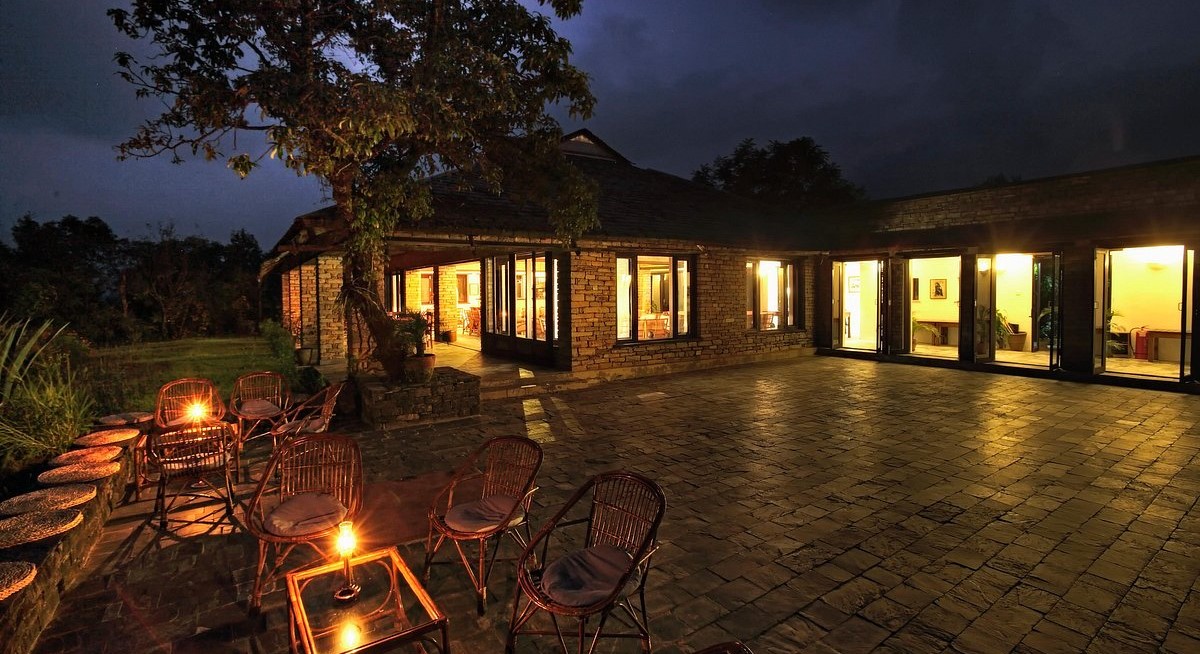 Features
RoomTypes:
Cottage rooms– Locally and fine-crafted rooms with top-notch amenities and fabulous views through large windows.
Dining:
A candle-lit terrace, cozy fireplace seating, and a Nepali-style courtyard at a central gathering point in the main lodge offer authentic Nepalese and international dishes. The bar also serves a variety of beverages.
Amenities
Free Wi-Fi, Private Room Services, Fireplace, Library, Private Terrace, Bar, Restaurant, Spa, Outdoor pool, Guided Walks, Local, fresh organic ingredients, home-grown herbs, garden salads, Yoga Sessions, meditation, and massage treatments
10. Dwarika's Resort – Dhulikhel
The Dwarika's Resort was constructed using traditional methods and furnished with local fabrics and superior services is a perfect 5-star luxury hotel. It impeccably blends with the natural beauty of Dhulikhel.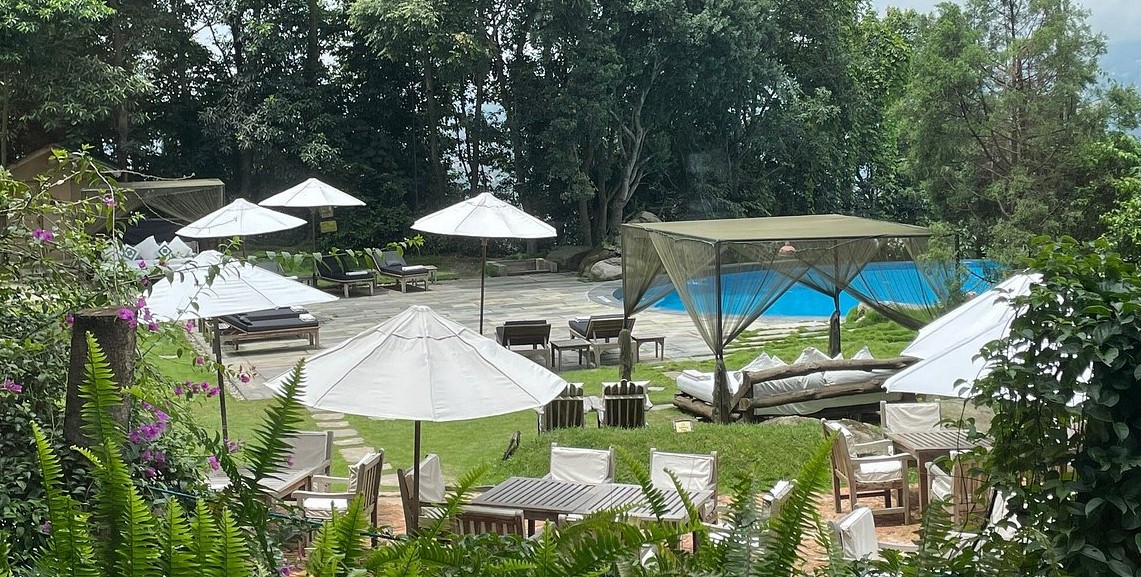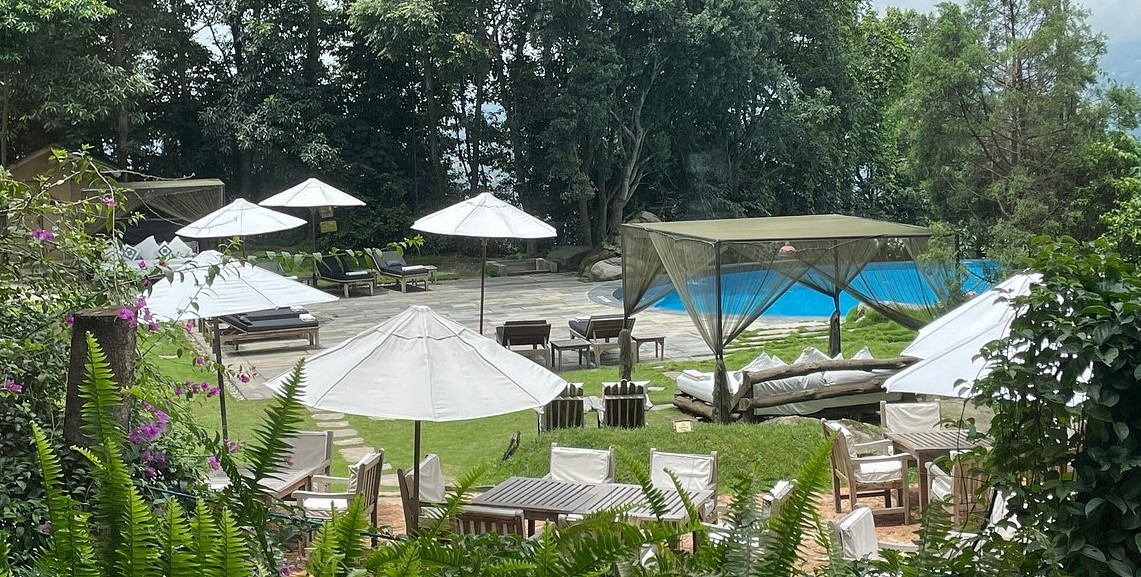 Features
Rooms:
Royal Suite– A spacious suite with a vast terrace and an outdoor lounge with breathtaking views from the resort, and private amenities.
Executive Suite with Garden– The outdoor room is set in a private garden with outdoor living space with a divan (day bed) and lounge furnishings.
Executive Suite with Terrace- Includes an indoor bedroom anda comfortable outdoor living area with a divan (day bed) and lounge furniture.
Junior Suite (Terrace Attached)- A private terrace to witness awesome sunrise views with an indoor bedroom and an outdoor living space.
Junior Suites (Non-Attached)– A shared terrace with an outdoor living space and an indoor bedroom.
Dining:
Nature's Flavors Restaurant– Fresh, nutritious meals created from ingredients sourced from our organic farms, brimming with native flavors.
Mako's Zen Restaurant– We serve Japanese Zen Buddhist cuisine that combines the five tastes and five colors with five ways of cooking that nourish the body.
Ananta Poolside Restaurant– A diverse Nepali and international delightful cuisine alongside the infinity pool.
Gol Lokdham Lounge & Bar– Best place to have beverages and enjoy panoramic vistas.
Fusion Lounge & Bar– A perfect space for drinks and light snacks in the evening with a fireplace setting (especially for winter).
Khet-Bari Lounge & Deck- A unique dining experience with meals prepared from the resort's farm amidst an intimate setting.
Amenities
King bedroom, Private terrace with outdoor living furnishing, Amenities like AC, Mini-bar, Hairdryer, and in-room safe are available in the room, All toiletries are produced in-house by Pancha Kosha Himalayan Spa using all organic and natural ingredients, Bathroom with Separate WC, Tub & Shower, Private Hot Tub, Private Kitchen and Chef (on request), Himalayan Salt Room, Crystal House, Use of Chakra Sound Therapy Chamber, Use of Meditation Maze, Use of Meditation Cave, Use of Indoor and Outdoor Swimming Pool and Fitness Center, Use of Garden of Nine Planets, Use of Sauna and Hot Tub, Group Yoga Session, Group Meditation Session, Group Pottery Session, Group Cine Therapy Session, Library, Cooking Class, Visit to the farm, Art and Painting Session, 30-minute Consultation with an Ayurvedic Doctor, 24-hour front desk
11. Tayo Eco Resort- Nagarkot
A Tayo Eco Resort that is a great amalgamation of old tradition and modernity that combines 21st-century ecological practices. It offers world-class comforts, disability-friendly facilities, and premium amenities.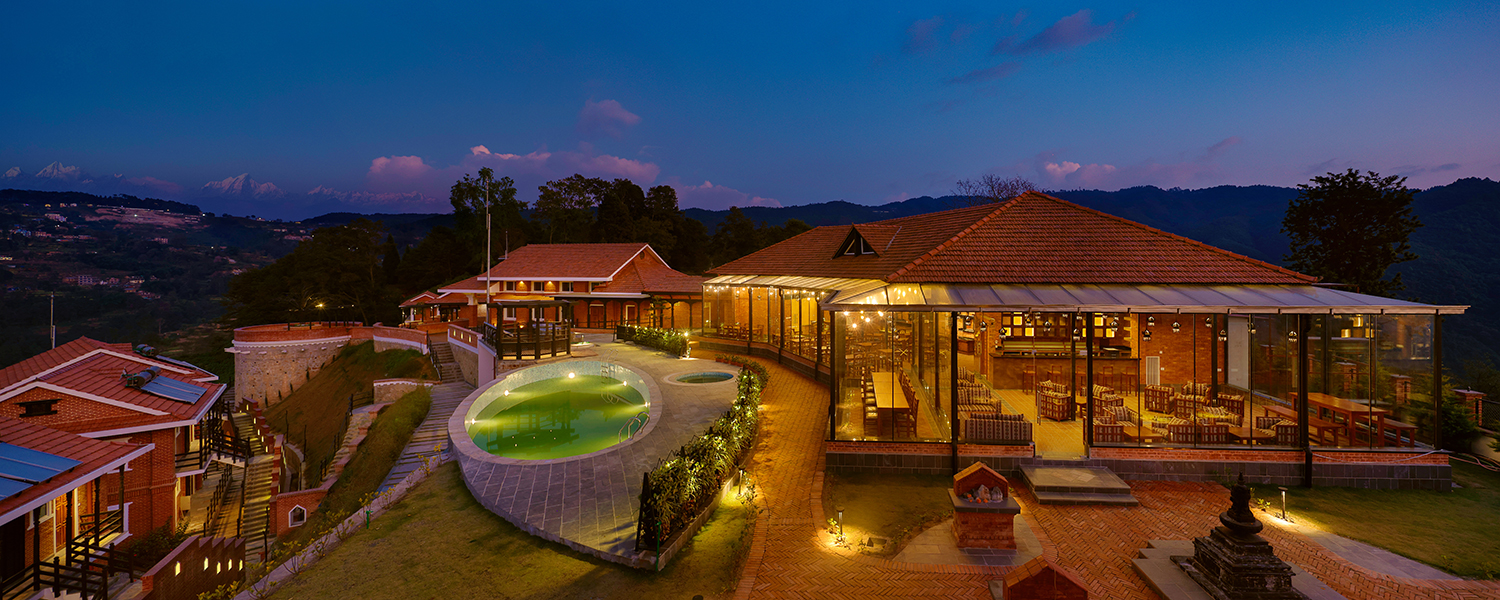 Features
Rooms:
Suite Room (Under Construction) – A private lawn suites with a spacious living area with modern amenities, including Jacuzzis and showers.
Deluxe Room– The privacy-prioritized environmentally conscious rooms are designed with a blend of old-world charm and contemporary luxury.
Dining:
The Food- The authentic Traditional Newa Bahili courtyard dining restaurants with intricate decorations serve a menu of global and regional cuisines including authentic Nepali cuisines.
The Bar- The in-house mixologists serve creative cocktails in a stylish bar that seamlessly extends from the restaurant surrounded by magnificent views of the valley, and mountains.
Amenities
Suite Room Include Jacuzzi, State-of-the-art bathroom, Air conditioning, Television LCD, In-room safe, Shower, Mini bar, Desk, Hair dryer, Wi-Fi access, Clothes rack, Infinity Pool, Family Rooms, Tea/Coffee maker in all rooms, Bar, Parking, Friendly for differently able person, Spa (will be available soon)
12. Kavya Resort & Spa- Nagarkot
The Nepalese tradition and modern luxury blended Kavya Resort and Spa in the vicinity of stunning mountain views and natural landscapes offers warm hospitality and top-notch services.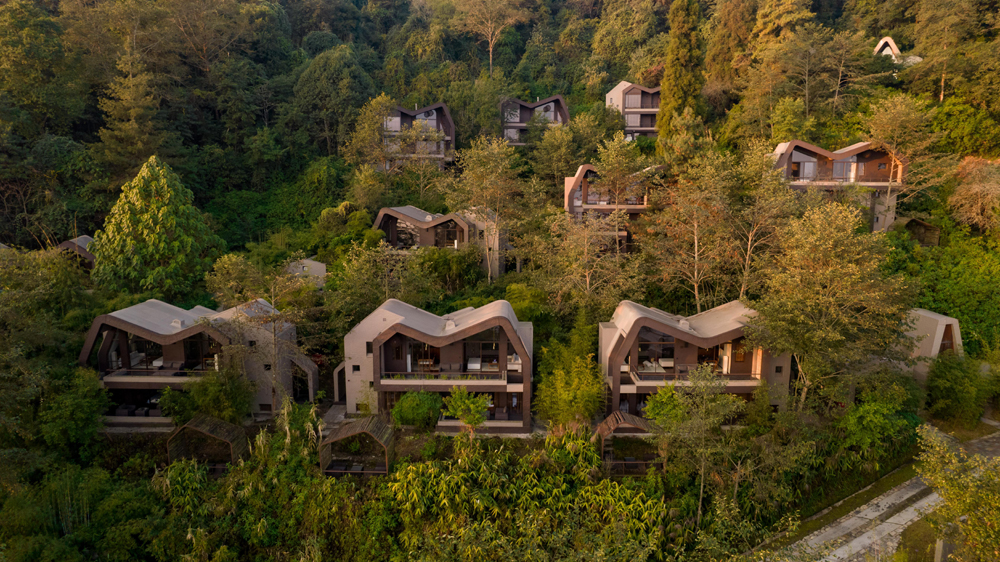 Features
Rooms:
Junior Suite – A beautifully decorated living area featuring a brass fireplace, a hanging veranda (upper levels), a patio with stunning Himalayan views, and luxurious services nestled in lush jungle surroundings.
One-Bedroom Villa– Well-furnished and decorated luxurious ambiance rooms offer majestic mountain views with lavish facilities.
Two-Bedroom Villa- The 2-bedroom studio villa features contemporary craftsmanship and design elements with a grand Himalayan backdrop.
Dining:
Kavya's Weavers and Potters– Gourmet dishes blending local and global flavors catering to diverse tastes with warm Nepali hospitality in a beautiful ambiance.
The Tavern (Coming soon) – A fully-stocked bar with a diverse menu featuring North Italian and Alpine cuisine amidst forest surroundings.
Amenities
Air Conditioning, Television, Tea & Coffee Maker, Complimentary Breakfast, Free Wi-Fi, Mini Bar, Mineral Water Bottle, Wardrobe, Bathrobe & Bath Slippers, 24-Hour Room Service, Laundry Service, Spa (Tevana), Meditation, Yoga, Panoramic Hiking Trial, Mountain Biking, Paragliding in Nagarkot
13. Club Himalaya- Nagarkot
Club Himalaya – A perfect getaway 5-star luxury hotel far from the busy city area is a great escapade that connects you with nature along with its finest services and warm hospitality.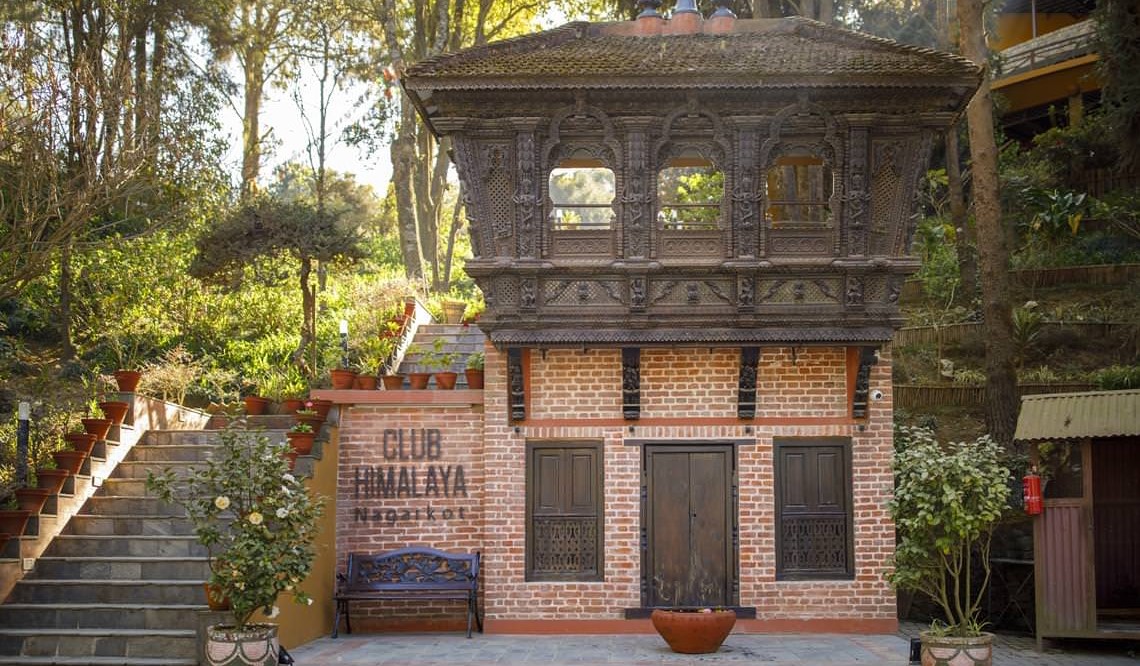 Features
Rooms:
Deluxe rooms, (Deluxe and Deluxe Premiums) – The Buddhist elements incorporated rooms feature handcrafted furniture, locally produced artifacts, and eco-friendly setting.
Standard Room (with Forest View or Mountain View Room) – The spacious rooms with premium amenities have private balconies and well-furnished elements.
Note: We offer a special room for handicapped guests upon request including all amenities and comforts.
Dining:
Kantipur Restaurant– Offers a large selection of Chinese, Indian, Nepalese, and Continental cuisines in a spacious and comfortable ambiance.
Bar Indrawati– The cozy fireplace, fine décor, and beckoning dance floor with a wide choice of beverages (wines, cocktails).
Amenities
Non Smoking Rooms, In Room Safe (Locker), Private Bathroom with shower, Daily housekeeping Daily housekeeping, Slippers, Toiletries, Coffee/ Tea Maker, Hot Water Kettle, Wi-Fi, Telephone, Air Conditioner, LCD TV, Private Balcony with Mountain Views, Blackout drapes/curtains, Hardwood floors, Spa, Hot Tub, Swimming Pool, Library, Meeting, Conference, and Events Halls
13. Barahi Jungle Lodge- Chitwan
A luxury 5-star Barahi Jungle Lodge settled in the lush wilderness of jungle in Chitwan is the best for a fascinating jungle experience and boasts A-one services to the guests.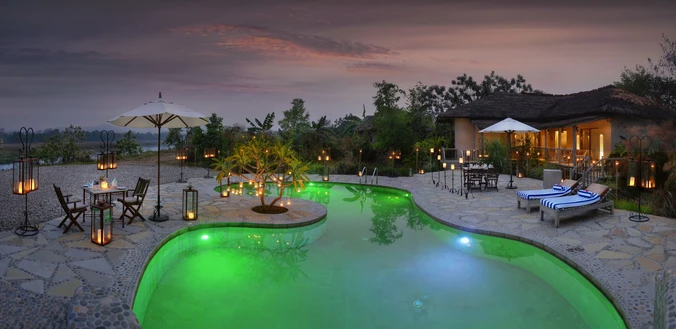 Features
Rooms:
Presidential Suite- Well-designed stylish suite blends with natural ambiance with a private room, outdoor space, and exceptional amenities.
Deluxe Rooms– Thatched roof huts and rooms decorated with natural materials offer stunning views and lavish amenities.
Deluxe Family huts- The natural décor room with 2 interconnecting Deluxe Rooms feature walk-in cubicle showers and are suitable for large groups.
Dining:
Banyan Cafe– It features an array of Continental, Nepali, and Indian dishes from our a la carte menu nestled within our central building.
Tiger Den- The poolside full bar offers a varied range of imported liquors until midnight embracing the jungle's soothing sounds.
Sundowner– Indulge in hot snacks by the riverbank sipping your favorite drink and adoring the surrounding vistas.
Rangasala Dinner– A multi-course meal cooked on-site in the outdoor kitchen with a bonfire setting for an intimate dining experience.
Bush Dinner– A private bonfire and a tasty multi-course meal in a secluded forest clearing.
Riverside Picnic– A hot, fresh lunch served on-site on the picturesque spot by the riverbank.
Poolside Dinner– Al fresco dining and excellent dinner service from our pool area with a view of the river and jungle beyond.
Turtle Deck– A spacious verandah overlooking the pool area is suitable for refreshing drinks and snacks in comfortable seating.
Fig Tree Library– Cozy lounge area and a perfect spot to read books and enjoy a cup of tea or coffee
Amenities
King Size/Twin Bed, Air Conditioning, Filtered Coffee, Free Wi-Fi, In-room safe, Purified Water, Workplace, TV, Rain Shower, Bathtub, Living Spaces, Stone Paved Pool, Spa, Jacuzzi bath, Fig Tree Library, Recreation Park, Souvenir Shop, Kapok Tree Hall for meetings and events, Wedding in the wild, Activities like Boat Safari, Jungle Safari, Walking Safari, Tharu Cultural Walk
14. Meghauli Serai, Chitwan- A Taj Safari Lodge- Chitwan
A 5-star luxury jungle resort Meghauli Serai in the heart of the Chitwan National Park offers spectacular wildlife views in the lap of nature. The lodge provides top-notch facilities to the guests in diverse and mesmerizing themed venues.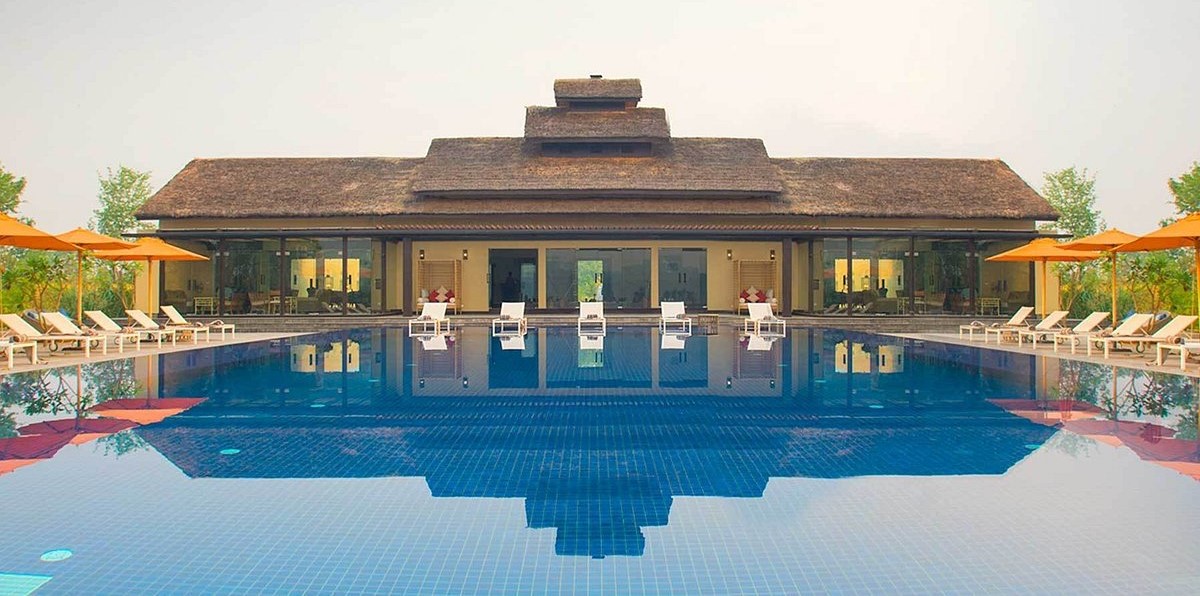 Features
Rooms:
Meghauli Room National Park View– 12 contemporary rooms with original rhino motifs open up to a balcony overlooking the Himalayas and the Terai grasslands below.
Rapti Villa with Rapti View– The 16 luxury villas feature living spaces, private plunge pools, and 5-fixture bathrooms with traditional Nepalese stone spouts.
Rapti Mahal Suite with Private Plunge Pool– The spacious Rapti Mahal with its lush scenic views from the viewing deck, and large plunge pool.
Dining:
Bada Ghar Dinner– A spacious dining area inspired by Tharu culture offers a la carte menu featuring traditional and international cuisines.
Tharu Village Ghar– Tharu village dining experience in (indoor and outdoor) village setting with a blend of authentic local cuisine.
Riverside Dinner– alfresco dining with candlelit tables for a traditional 'sekuwa' barbecue dinner on an elevated deck with river and forest views.
Bonnet Breakfast– Morning safari with a jungle breakfast atop the safari vehicle with muffins, cookies, and freshly brewed coffee and teas.
Private Dinner– Private dining experience on the 'Machaan' wildlife viewing deck with finely prepared meals and private butler service. Additional private dining venues are also there.
Amenities
Free Wi-Fi, Flexible dining options, 16 villas with private pools, Presidential Suite with river view, Varied dining choices, Well-stocked library, Air conditioning and power backup, Airport pick-up service, Guided Jeep and walking safaris, Canoeing on Rapti River, Village visits, Pottery experiences, Elephant activities, On-site safari shop, Private butlers, safes, and laundry, 12 modern rooms with park views, J Wellness Circle with treatments, In-room or on-site massages, Outdoor infinity pool with private villa pools
---