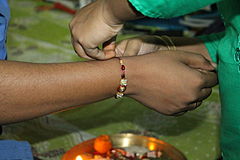 Hindus celebrate the most popular festival, Janai Purnima, all over the country. On this day people also celebrate Raksha Bandhan, and every Hindu ties a blessed thread ("Doro"-Nepali name of the thread).  Janai Purnima maintains holy significance whereas Raksha Bandhan makes love and respect between or among sisters and brothers, with family get-togethers and feasts of Kwati (mixed bean soup).
On the occasion of this big day of Janai Purnima, Hindu men renew their ‪Janai and people collect Janai from Shiva temples places like the Pashupatinath in Kathmandu, Kumbeshwar in Patan, Gosaikunda in Langtang region and Shiva and Ganesh temple in all over Nepal.
The community of Newar's of Kathmandu Valley (Kathmandu, Patan, Bhaktapur, and neighboring villages) call this festival Gunhi Punhi and they prepare a soup of a mixture of beans called Kwati as a special food for the day. People make a nutritious soup called Kwati from different types of beans.