Shoton Festival in Tibet 2023
4 Jul 2023 Asia Experiences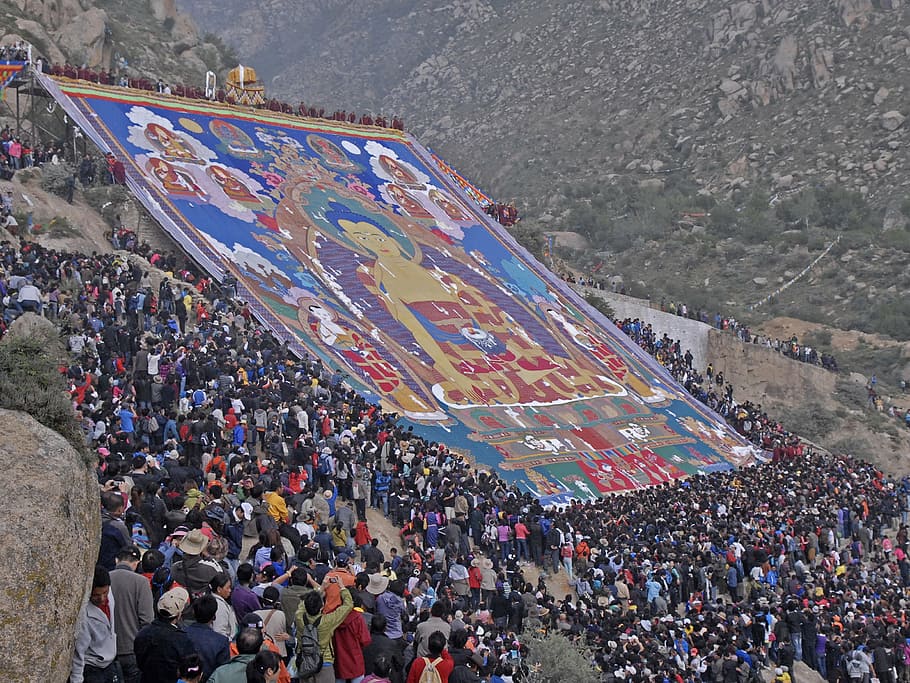 Tibetan Opera Festival or Buddha Festival or Yogurt Festival or Sho Dun Festival
Festival Date: August 16 to August 21, 2023
Shoton Festival which is held annually in the mystical land of Tibet is a grand celebration of Tibetan culture, art, and spirituality. Shoton Festival in Tibet 2023 falls in the month of August 16. This extraordinary event promises to be bigger and more enchanting than ever before. Let's dive into the attractive details of the Shoton Festival in Tibet 2023 and explore the rich tapestry of traditions and festivities that await us.
Origin:
The Shoton Festival originated in the 11th century as a religious offering to the monks who had completed their 100-day summer retreat. Shoton festival is also called Sho Dun festival. It is popular as the 'Yogurt Festival,' and has deep historical roots in Tibetan Buddhism. This festival mostly falls in the 5th lunar month according to the Tibetan calendar. During this grand festival, yogurt is the main offering. In the 17th century, the first festival was held in Drepung Monastery. With time, it transformed into a grand event that showcases various forms of Tibetan performing arts, such as opera, dances, and traditional music.
Highlights:
The major highlights of the Shoton Festival are the Unveiling of the Giant Thangka, Tibetan Opera Performances, Tibetan Yogurt, Cultural Performances, and Exhibitions, and Flavorful Tibetan cuisine. The festival lasts around for 7 days. But, visitors can attend the main first 3 days festival. Visitors can at least plan a 5-day Tibet tour including Lhasa sightseeing and attending the Shoton festival. Visitors can also extend the Lhasa tour and customize it as their preference. If you are planning to attend the Shoton festival in 2023, be prepared to witness the following things:
Unveiling of the Giant Thangka:
The first day of the Shoton Festival starts with the unveiling of a giant Thangka painting at the Drepung Monastery in Lhasa. This beautifully crafted artwork depicts the image of Buddha and draws a large crowd of devotees and tourists. During the Shoton Festival, around 100 monks carry a huge Thangka out of the monastery while mulberry smoke fills the valley. As the lamas chant, the Thangka is gradually rolled up from the bottom. People offer their white Hada, pray at the hem, and within two hours, the Thangka is rolled up and kept inside the monastery until the next year.
Tibetan Opera Performances:
Get ready to be mesmerized by the vibrant and colorful Tibetan opera performances on the second day of the Shoton Festival at the Norbulingka Palace. The talented performers, dressed in dazzling costumes and traditional masks, skillfully bring ancient stories and legends to life through their expressive gestures, melodious songs, and energetic dances. Prepare to immerse yourself in an enthralling display of artistry, culture, and storytelling that will leave you spellbound.
Tibetan Yogurt:
Don't miss the opportunity to indulge in the delightful Tibetan Yogurt during the Shoton Festival. Join the locals as they gather around the Drepung Monastery and Norbulingka Palace, savoring the creamy and delicious yogurt made from Yak milk. The yogurt is served with a variety of toppings, including fresh and tasty dry fruits, adding a burst of flavor to this traditional treat. Treat yourself to this delicious delight that is sure to satisfy your taste buds throughout the day.
Cultural Performances and Exhibitions:
Indulge in the vibrant cultural heritage of Tibet through charming performances and exhibitions at the Shoton Festival. Experience traditional dances, and music, and explore art displays and handicraft exhibitions. Marvel at the intricate craftsmanship and artistic talent of the Tibetan people, taking in the beauty of their rich cultural traditions.

Flavorful Tibetan Cuisine:
Excite your taste buds with the special flavors of Tibetan cuisine during the Shoton Festival. Treat yourself to mouthwatering dishes like Thukpa (noodle soup), momo (steamed dumplings), and butter tea. Every bite is a culinary adventure that showcases the unique tastes and culinary heritage of the region.
Overall, the Shoton Festival in Tibet 2023 is a magnificent celebration of Tibetan culture, art, and spirituality. It plays a vital role in preserving traditions, promoting cross-cultural understanding, and spreading age-old practices to future generations. Immerse yourself in this cultural extravaganza, connecting with diverse people and creating unforgettable memories.
How to Attend the Shoton Festival in Tibet 2023
There are two main ways to get to Tibet to attend the Shoton Festival 2023 and are:
By Flight to Mainland China and Taking Flight (or Qinghai Tibet Railway) to Reach Lhasa, Tibet (You must have Chinese visa and Tibet travel permit before flying to Tibet)

Day 1: Arrival Lhasa from mainland China; eg: Chengdu or Beijing or Kunming etc.
Day 2: Lhasa Exploration
Day 3: Continue exploration of Lhasa
Day 4: Festival Day
Day 5: Departure from Lhasa to Chengdu or Beijing or Kunming etc.


Overland tour to Tibet from Kathmandu, Nepal (You must have Tibet group visa and Tibet travel permit before drive to Tibet)

Day 1: Drive from Kathmandu to Gyirung via Rasuwa Gadi
Day 2: Kerung/Gyirong to Shegar/Rongbuk Monastery (Everest Base Camp)
Day 3: Rongbuk to Shigatse via Tingri
Day 4: Shigatse to Lhasa with Gyantse and Yamdruk Lake
Day 5: Lhasa Exploration
Day 6: Continue exploration of Lhasa
Day 7: Festival Day
Day 8: Depart Lhasa to Chengdu or Beijing or Kunming etc.
---