Famous Souvenirs from Bhutan
21 May 2023 Umesh Paneru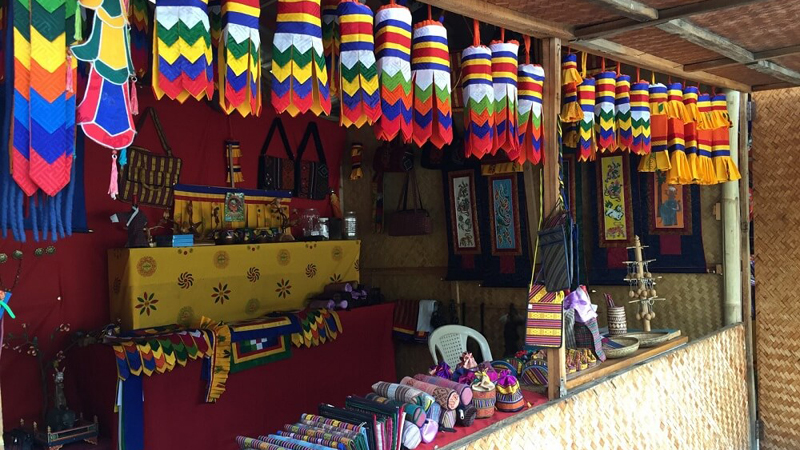 Bhutan is a landlocked nation renowned for its breathtaking scenery, vibrant customs, and exceptional lifestyle, making it an ideal choice among visitors searching for an authentic and unforgettable experience. Bhutan has a wealth of traditional crafts, textiles, and other entities that symbolize the nation's cultural inheritance and natural grandeur. This makes Bhutan a perfect destination for souvenir seekers. Some famous souvenirs from Bhutan are as follows:
Traditional Handicrafts
Bhutan is renowned for its traditional handicraft products. Bhutanese are very skillful and their traditional handicrafts are proof. There are varieties of traditional handicrafts such as cane and bamboo products, home-décor items, traditional colorful masks, and wooden products.
Cane and Bamboo Products:
Bhutanese baskets, wall hangings, mats, carpets, ropes, utensils, etc. are popular souvenirs, as they are made using traditional techniques and materials such as bamboo and cane. These products are eco-friendly and convenient.
Home-decor Items:
The home-decor wooden items are handmade by using artistic skills creatively. These home-décor items are unique and look luxurious. Some of the best home-décor items are wine holders, wine glass holders, stylish furniture, etc.
Traditional Colorful Masks:
Traditional colorful masks are the identity of Bhutan. Many festivals are organized in Bhutan. Bhutanese wear these colorful traditional masks while performing dances in the Tsechu festivals. They hold great importance and integral part of their culture. These masks are handmade and wooden carved in different shapes. The designs are intricate and color detailing is done that makes it appealing. These items are often decorated with traditional motifs.
Some of the popular traditional colorful masks design is Guru Padmasambhava, furious deities, skeletal death masks, the vulture-headed Garuda, the Dragon, the Snow Lion, the Tiger, the Bear, the Dog, and the Pig.
Wooden Products:
Handmade wooden products also make the best souvenirs. Among various wooden products, handmade wooden bowls-'Dappa' are very popular. They come in different shapes, sizes, and colors. Some other wooden products are spoons, spatulas, trays, mortars, rolling pins, coasters, massagers, mirrors, toys, etc.
Bhutan Postal Stamps
The postal stamps of Bhutan are world-famous. Bhutan Postal Museum displays relics and unique stamps that symbolize Bhutan's rich history. It mostly features images of Bhutan's flora, fauna, and cultural heritage. There is a wide variety of postcards, envelopes, and postal stamps in different shapes, sizes, and colors. You can also personalize the postal stamps.
Textiles
One of the most popular handicrafts is Bhutanese weaving. The textiles of Bhutan are a remarkable art form that embodies a rich and intricate tradition. It is renowned for its intricate dyeing and weaving techniques, as well as its diverse patterns and vibrant colors. The artistic expertise has been honed and passed down through many generations.
There are various types of patterns such as plain weaves, warp patterns, and weft patterns. The textiles are made using several products such as leaves, roots, tree bark, flowers, raw cotton, and silk. Some of the famous textile products are bags, wallets, and national dresses Gho &Kira. Other textiles like Yathra and Bumthap are woven using yak and sheep wool.
Thangka Paintings
Thangka paintings are a prominent form of traditional art in Bhutan. Thangka Paintings hold great cultural and religious significance. These paintings are made on cotton or silk applique canvas. They are decorated with intricate designs, and vibrant colors, and are aesthetically beautiful. Thangkas usually illustrate Buddhist deities, mandalas, or spiritual scenes from the life of Buddha or other prominent figures in Buddhism.
Grandly, Huge Thangka Paintings are displayed during festivals in Bhutan. They are specially made by monasteries or individuals for religious purposes. Nowadays, it is also popular as decorative pieces in homes and public spaces.
Buddhist Sculptures and Paintings
Bhutan's culture is closely intertwined with Buddhism, and as such, Buddhist sculptures hold immense significance in their society. You can find Buddhist sculptures crafted from various materials. Buddhist sculptures are made of ancient clay, bronze, or metal. The sculptures come in different shapes and sizes. The popular Buddhist sculptures are of Buddha, Guru Rinpoche, Zhabdrung, and other prominent figures of Buddha.
Not only sculptures, the painting of Buddha is also equally popular. The painting of Buddha is called 'Ihazo' which is made using mineral paints. It is used for wall decorations or meditation purposes.
Handmade Paper Products-Dezo
The handmade paper products of Bhutan are very popular. Dezo is a handmade paper made from the bark of the Daphne tree which is eco-friendly. The paper has a unique texture which is the highlight. It is often decorated with traditional designs or paintings. Some popular paper products are journals, notebooks, postcards, envelopes, and lampshades.
Jewelry & Himalayan Beads
Jewelry is an integral component of traditional Bhutanese attire for women. Skilled artisans crafted it precisely using precious materials like gold, silver, and bronze decorated with gemstones to incorporate Bhutan's distinct artistry. These exquisite pieces are worth acquiring. Some popular jewelry types are bracelets, earrings, hairpins, rings, and necklaces. You can also get aesthetic tie-pins.
Another popular piece of jewelry is Dzi Beads or Himalayan Beads which are crafted using colorful beads. They are made up of natural agate. These beads are considered to be ancient and instilled with divine powers. It is believed that wearing jewelry made from Dzi beads brings good luck and fortune while warding off evil.
Bhutanese Incense
Bhutanese incense as a souvenir is not to be missed. It is made from a blend of natural herbs, spices, and other special ingredients. It can be used for both spiritual and medicinal purposes. The incense is available in a range of scents, from floral to spicy. Mostly it is sold in bundles or sets.
Food Products
Bhutan is not only popular for material goods but also for its variety of food products. Agriculture is very essential in Bhutan's economy. Some famous Bhutanese food products are Bhutan Red Rice, Dried Yak meat and Cheese, and Dried Chili.
Bhutan Red Rice is a good source of vitamins and minerals. Yak meat and cheese are very famous as it is widely used in their cuisine. You can get dried yak meat and fresh yak cheese at local markets. Chili is the key ingredient in every Bhutanese cuisine. The dried chili of Bhutan is very popular. You can buy it from the local market which is finely packed and pure and very spicy.
In a nutshell, Bhutan offers a choice of souvenirs that reflect its rich cultural heritage and natural beauty. Whether you are looking for traditional handicrafts, textiles, or other items, there is something for everyone in this mystical country.
Places to get Famous Souvenirs from Bhutan
Authentic Bhutanese Crafts Bazaar
What We Get: All handmade goods, wooden products, Thangka paintings, Brass statues, Religious Items
Open Timing: 10 am to 6 pm (Wed-Mon), Closed on: Tuesday
Norzin Lam Street
What We Get: All handmade goods and textile goods
Open Timing: 8:30 am to 9 pm
Choki Handicrafts
What We Get: All types of masks, Thangka paintings, and other local handmade products
Open Timing: 9 am to 5 pm (Mon-Sat)
Thimphu Weekend Market
What We Get: Incense, Dried Goods, Yak Cheese, Yak Meat, Regional Fruits, Vegetables, & Local Products
Open Timing: 7 am to 8 pm (Thursday to Sunday)
Bhutan Postal Museum
What We Get: Variety of postal stamps, customize postal stamps
Open Timings: 9 am to 5 pm (Mon-Fri), 9 am to 1 pm (Saturday)
Centenary Farmer's Market
What We Get: Local Organic Products, Dried Chilies, Red Rice
Open Timings: 8 am to 10 pm (Tue-Sun), Closed on: Monday
---