Luxury Tibet Travel by Avoiding Overland Drive
13 Oct 2023 Umesh Paneru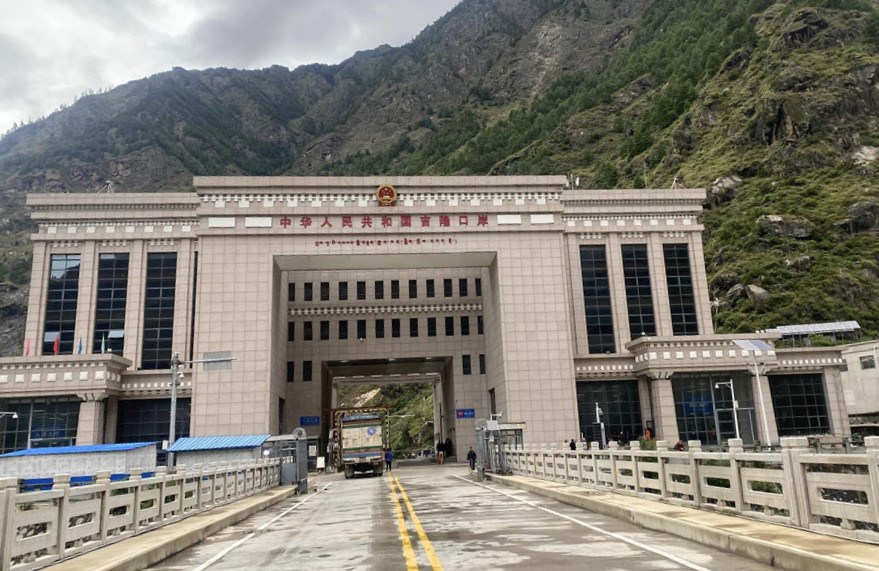 Luxury Tibet Travel becomes truly enchanting when done with complete planning and fineness. Lhasa, an autonomous region in Tibet, China is one of the highest cities nestled at an elevation of 3,656 meters. This administrative and religious capital of Tibet may be small but captivates everyone with its cultural significance, Tibetan Buddhist sites, majestic landmarks (the Potala Palace, Jokhang Temple, and Norbulingka Palaces), and spiritual ambiance. In the Tibetan language, Lhasa translates to 'the places of Gods'. Besides Lhasa, our travel destinations itinerary in Tibet Luxury Travel includes Shigatse and Gyantse.
For Luxury Tibet Travel, there are diverse possibilities to commence the trip to Lhasa. It includes an option of Flights from Kathmandu to Chengdu (China) and then to Lhasa or starting from China mainland and flying to Lhasa. For Lhasa travel, a Tibet Travel Permit is compulsory. Flight options are the best alternative to experiencing Luxury Tibet Travel by avoiding overland drive. Overland drive tours are exhausting and do not align with a luxury tour experience.
Reasons to Avoid Overland Drive
1. Bumpy and Rough Roads (Nepal Side):
A luxury tour means a hassle-free tour. If anyone planning an overland luxury tour, it is possible but expect the road conditions to be bumpy and rough. The road conditions in Nepal are not well-maintained, unpaved, and rugged which can be an uncomfortable experience. But, the road condition after traversing the border to China mainland is well-maintained, fully paved, and a comfortable riding experience on a smooth road.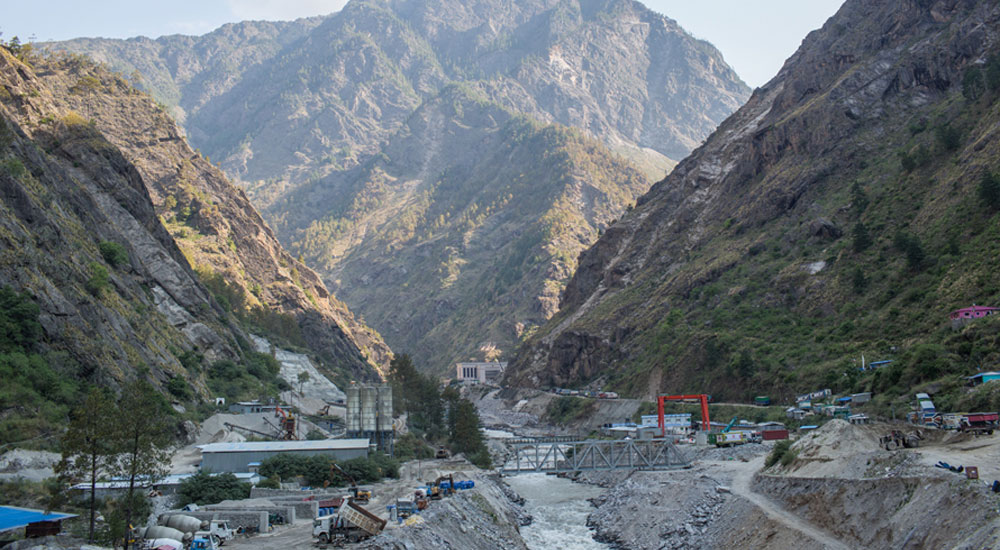 2. Spending 8-9 hours per day:
The overland drive involves extended hours of driving which means spending 8-9 hours daily on a ride. These long hours of ride while doing an overland tour are customary. Spending long hours (8-9) per day for 3-4 days is both physically and mentally exhausting, and uncomfortable, and may lead to a less pleasant experience. Also, there is a chance of travel fatigue that impacts the overall traveling experience.
3. Lack of Luxury Hotels along the route:
There are lack of luxury hotels along the route during an overland drive from Kathmandu to mainland China. There are limited but best luxury hotels in Lhasa, Shigatse, and Gyantse. It can be demanding for travelers if there are no proper accommodations and limited access to amenities such as restrooms, restaurants, and fuel stations.
4. Difficulty in Winter Season (Dec-Jan):
Tibet lies at the highest altitude. The overland tour during the winter season (Dec-Jan) is considered unsafe due to harsh weather conditions. There is a high risk of fatalities as the road conditions are full of snowy ice that makes it slippery. Also, the freezing temperatures make it difficult to travel during winter and impact health. The accommodations and amenities are fewer and during winter their availability may be very less or rare.
Tour Commences from Kathmandu:
If you plan to travel to Lhasa from Kathmandu, it is mandatory to have a Chinese Visa beforehand. Since there is no direct flight available from Kathmandu to Lhasa, the itinerary schedules to first fly to Chengdu and then to Lhasa.
Note: For an Overland tour from Kathmandu, there is no need for a Chinese visa, we will arrange a Tibet Group Visa from Kathmandu for your convenience.
Tour Commences from China Mainland:
If you plan to travel to Lhasa from China Mainland having a Chinese Visa is compulsory. You can fly to Lhasa from China's mainland cities (Chengdu/Beijing/Kunming/etc.). After completing the Lhasa tour, return to Kathmandu via Chengdu flight. And continue the amazing Kathmandu tours.
Note: For your convenience, we provide a Tibet Travel Permit at your doorstep. However, a one-night stay is most likely in China mainland to collect the Tibet Travel Permit and coordinate the flight schedules to Lhasa.
In the realm of Luxury Tibet Travel, trust us for all essential permits and flight arrangements as we will take care of it with precision. To elevate the essence of memorable luxury travel, a luxury hotel stay with premium accommodations plays a vital role and adds to the royal experience. There are limited but premium luxury hotels in Lhasa (Tibet) and nearby cities equipped with top-notch amenities that cater to the needs of the guests. Some selected Luxury Hotels in Lhasa (Tibet) are as follows:
Luxury Hotels in Tibet
1. St Regis (Lhasa Ruiji Holiday Hotel)
The St. Regis Lhasa Resort in Lhasa offers opulent lodging with Sera Monastery design-inspired modern rooms along with premium and upgraded amenities. The unique restaurant serves Chinese and international cuisine.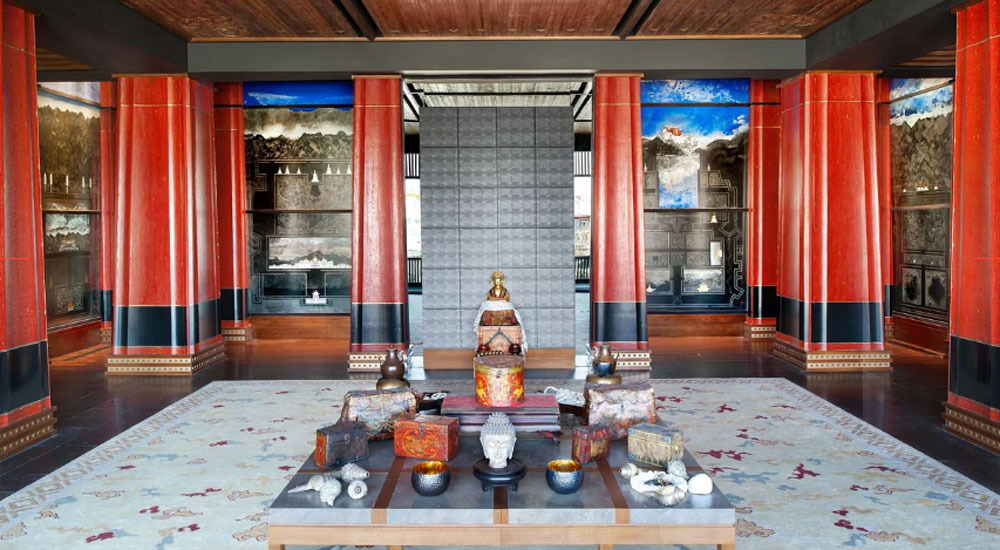 Rooms– Villas, Deluxe, and Suite (with Premium and Upgraded amenities)
Dining– Yang Ting (Chinese Restaurant), Social (International Cuisines), Tubo Bar
Amenities On-Site
Restaurant, Spa, Fitness Center, Indoor Pool, Daily Housekeeping, Turndown Service, Meeting Space, Gift Shop, Dry Cleaning Service, Laundry, Room Service, Wake up Calls, Service Request, Spa
2. Shangri La
Shangrila Hotel located in central Lhasa on Norbulingka Road treats guests with an authentic cultural experience. The hotel accommodates guests with spacious rooms, complimentary oxygen machines, a comfortable Oxygen Lounge, and a medical room for guests' well-being.
Rooms– Horizon Club, Suites, Deluxe, and Premier Rooms, Connecting Rooms (with Premium and Upgraded amenities)
Dining– Restaurants and Bars (Shambala, Lodgers Lounge, Altitude, Shang Palace) offer Chinese and international cuisine, Buffet, Tea, and Beverages.
Amenities On-Site
Bath & Personal Care, Media & Entertainment, Office Equipment & Stationery, Refreshments, Meetings & Events Room, Free Wi-Fi, Spa, Swimming Pool
3. Intercontinental Lhasa Paradise
Intercontinental Lhasa Paradise is a well-equipped luxury hotel that features 472 luxury guest rooms and suites. The hotel includes smart boardrooms and the glamorous Tibet Ballroom along with seven flexible meeting spaces furnished with the latest AV technology.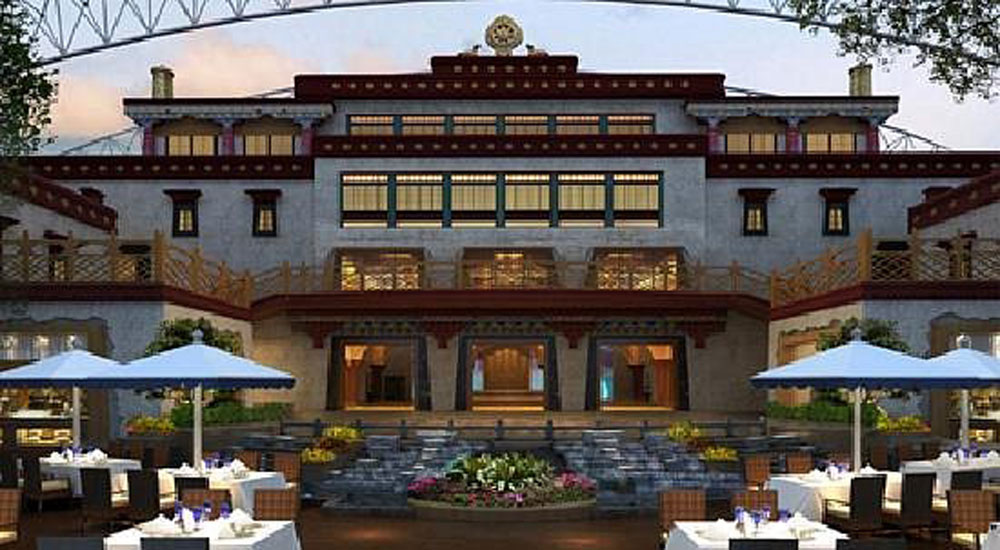 Rooms– Suites and Rooms (with Premium and Upgraded amenities)
Dining- Feast All Day Dining Restaurant, Da Qianmen Chinese Restaurant, Moonlight Lounge, and Longserin Tibet Restaurant offer an exciting array of specialty dining experiences.
Amenities On-Site
Room service available with additional amenities, Free Wi-Fi, Housekeeping, Dry cleaning pickup/laundry valet, Executive VIP services, Secretarial services, Foreign currency exchange, Sports trainer, Business center, Shipping Available, Meeting Spaces, Wheelchair, Hearing, and Vision accessibility (for special-abled), Outdoor Pool
4. Songtsam Retreat Hotel (Songtsam Choskyi Linka)
Songtsam Retreat Hotel is also known as Songtsam Choskyi Linka. The luxury hotel perched on a hillside pays homage to Tibetan artisans, culture, and wisdom with its slaked lime-colored walls, indigo-carved windows, and a fish-fin-shaped facade, our architecture. The hotel is decorated with intricate Lhasa's native lifestyle design and includes a total of 45 rooms with the finest amenities, and dining that create the ambiance of ancient noble families.
Rooms– All total 45 rooms include Superior and Deluxe Suites (with Premium and Upgraded amenities)
Dining– The Chinese and Tibetan restaurant (serves local specialties like grilled yak fillet and Tibetan home-style dishes), The Western restaurant (serves a breakfast buffet, à la carte, and a selection of handpicked wines).
Amenities On-Site
Heater, King bed/Twin beds, Cleaning supplies, Telephone, Audios, Mini-bar, Slippers, Hairdryer, Bathrobe, Bathtub/Shower, Tea/Coffee
5. Hilton Shigatse, Shigatse
Hilton Shigatse is surrounded by mountains which lie in the Shigatse's city center includes a spacious, pillar-less ballroom for elegant gatherings of any scale. It offers a diverse selection of rooms coupled with top-notch amenities and the finest dining with additional facilities and stunning surrounding vistas.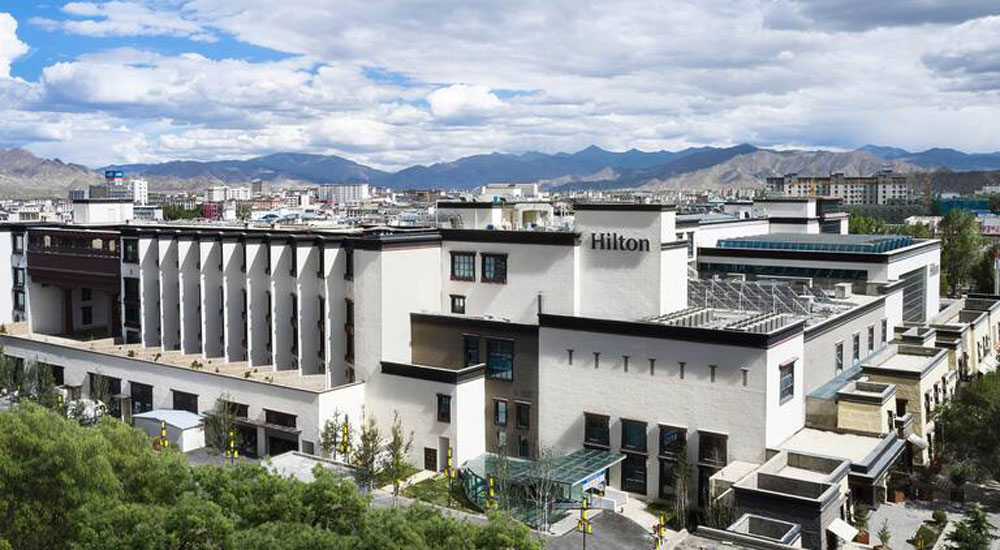 Rooms– Guest Rooms, Suites, Executive, and Accessible Rooms (with Premium and Upgraded amenities)
Dining– Coal (BBQ Restaurant), Yuxi (Chinese Sichuan Specialties), Zang (Lobby Lounge and all-day dining restaurant)
Amenities On-Site
Free parking, Free Wi-Fi, On-site restaurant, Fitness center, Connecting Rooms, Digital Key, Concierge, Executive lounge, Room service, Meeting rooms
6. Qomo Langzong Hotel, Shigatse
A luxurious 4-star Qomo Langzong Hotel in Shigatse charmingly integrates Tibetan culture and art from Shigatse's 18 counties. The rooms and suites with premium and upgraded amenities serve both traditional Tibetan and International cuisines. Additional amenities on-site are top-notch.
Rooms– Suites, and Double & Twin Rooms (with Premium and Upgraded amenities)
Dining– Qomo Langzong Hotel serves both traditional Tibetan and International cuisines and a variety of drinks.
Amenities On-Site
English-speaking service, Breakfast in the room, Guestrooms with glass ceilings, Laundry service, Free High-Speed Internet (Wi-Fi), Private Bathroom, Free Toiletries, Baggage, Storage Air conditioning, Sun terrace, Clean public territory, Diffusion oxygen supply, emergency call system
---