10 Beautiful Souvenirs from Nepal and Sri Lanka
26 Apr 2023 Umesh Paneru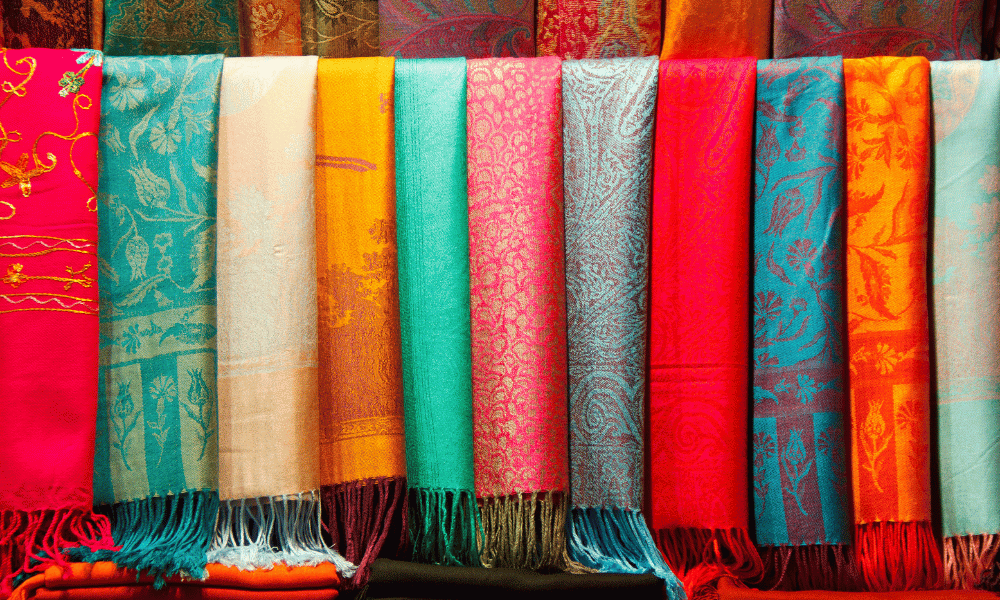 Asia Experiences present this article on 10 Beautiful Souvenirs from Nepal and Sri Lanka to help you with the idea of purchasing souvenirs during the Nepal-Sri Lanka trips. Souvenirs serve as a tangible reminder of the places you have visited and the memories you have created. Souvenirs are the best way to get connected with old memories, a particular experience, or an event in the places you have visited. Souvenirs can come in any form, such as clothing, jewelry, accessories, decorative items, and food products. People buy souvenirs as remembrances or to give as gifts to others.
Nepal
If you are in Nepal and you get in a dilemma on what can be the best and most beautiful souvenirs from Nepal. Nepal is rich in history, art, culture, and the natural environment. There are abundant souvenir products that you can bring back home as a memory of your trip. Here are some of the 10 beautiful souvenirs from Nepal to consider:
Singing Bowls
Singing Bowls are the handcrafted metal product that produces a soothing sound when struck with a striker. The sound of Singing Bowls is gaining popularity as it relaxes the mind and body and promotes healing. People mostly use them for spiritual practices such as meditation and yoga practices. Some popular singing bowl types are Thadobati, Jambati, Naga, Mani, etc. In the market, you can also get crystal singing bowls.
Tip to Buy: Choose a singing bowl that produces good sound and that affects your body positively and you feel connected to it.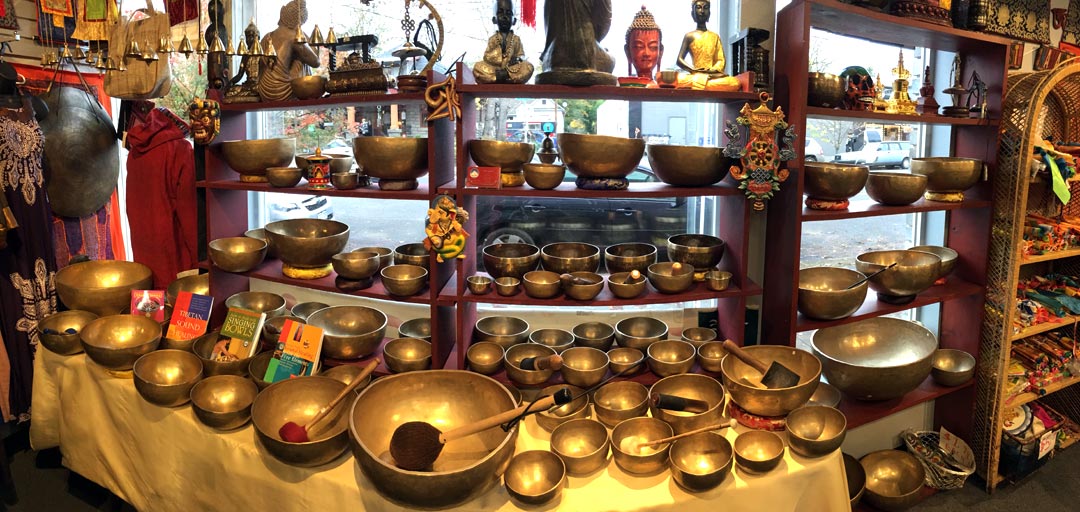 Pashmina Shawls
Pashmina is a special handmade shawl made from the wool of a Mountain Goat or Chyangra. The 100% genuine pashmina shawl is very soft. Besides shawls, Pashmina Scarves and Blankets are also popular. Pashmina shawls categorize as Grades A, B, and C. Grade A is 100% Pashmina, Grade B is 30% silk blended and Grade C is 50% blended with Pashmina. You can find them in a variety of colors and patterns.
Tip to Buy: 100% Pashmina shawls are handmade hence knit is different from one another. It is very light and has non-twisted and loose fringes at the end.
Thangka Paintings
Thangka is intricate paintings on silk applique, or cotton, that depicts Buddhist deities and other religious symbols. They make great wall decorations and come in a range of sizes. Many people also use Thangka as a motivation for practicing meditation. Some famous Thangka paintings are Wheel of Life, Tara, Avalokiteshvara, Zambala, Mandala, Manjushri, and different types of Buddha.
Tip to Buy: Know your purpose whether it is for Prayer, Spiritual Practice, Meditation, or just decoration. Understand the detail and symbolism in Thangka paintings.
Nepalese Tea
Nepal produces some of the finest teas in the world. Mainly 3 types of teas are produced in Nepal i.e. Camellia Sinensis for Orthodox, Camellia Asamica, and C. Asamica spp lasiocalyx, for CTC. Nepalese tea is famous for its aroma, fusion, taste, and color. Some popular Nepalese Teas are Oolong Tea, Ilam Black Tea, Golden Tips Tea, and Silver Tips Tea.
Tip to Buy: Avoid fruit-flavored tea. You can buy them in specialty tea shops in Kathmandu or directly from tea estates.
Handmade Paper Products
Nepalese Handmade papers are worldwide famous. They are made from the inner bark of a wild shrub which is famously called 'Lokta'. Lokta (Daphne Papyracea) papers are one of the eco-friendly and most renewable non-tree papers. Lokta paper is popular for its durability, strength, attractive texture, and insect resistance.
For centuries, using the traditional method handmade paper products are made. Some popular handmade paper products are notebooks, photo frames, envelopes, greeting cards, and gift wrappers. There are a variety of sizes and styles that includes Sun-Washed Designs, Solid Colors, Pinto Patterns, etc.
Tip to Buy: You can buy them in specialty handmade paper shops in Kathmandu or directly from handmade paper companies.
Carved Wooden Masks
Carved wooden masks are purely handmade from elder trees. These masks are light and hand-painted in vivid colors. These wooden masks are in different shapes and of different forms of deities and animals. They are used as wall decorations. The traditional wooden carved masks symbolize Nepali culture. Some popular carved wooden masks are Bhairab, Lakhey, Mahankal, Guru Rinpoche, Buddha, and animal spirits.
Tip to Buy: Know your purpose whether it is for Prayer, Spiritual Practice, Meditation, or just decoration. You can buy them in carved wooden mask specialty shops in Kathmandu.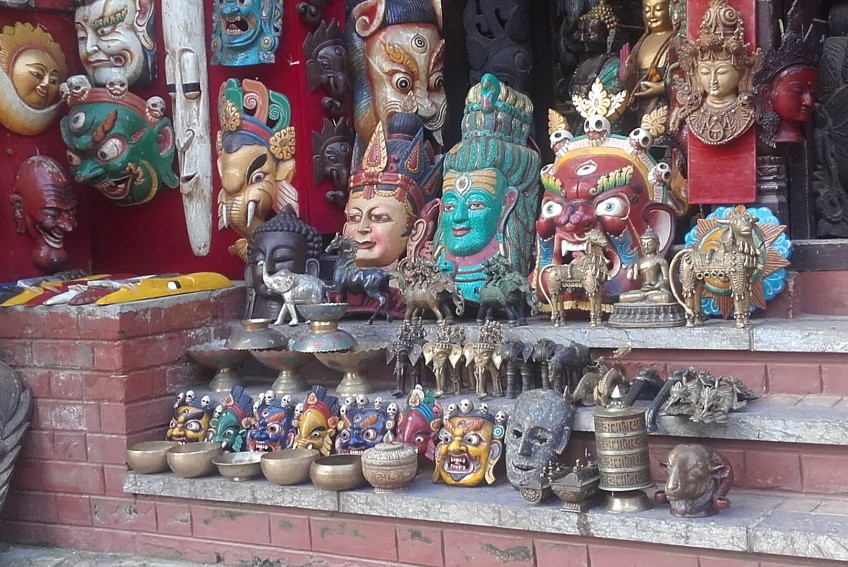 Hemp Products
In Nepal, Hemp seeds and fiber are legal and varieties of hemp products are handcrafted. Hemp products are popular because of their uniqueness, strength, and durability. They are light and best to give as gifts. Some famous Hemp products are backpacks, shoes, slippers, money belt bags, purses, guitar bags, shirts, pants, and hats.
Tip to Buy: You can buy from shops or directly from manufacturers.
Nepalese Spices
Nepal is rich in herbs and spices. Nepalese spices are usually considered healthier and there is richness in the products. The spices are pure and have strong flavors. Some popular Nepalese spices are Himalayan salt, turmeric, coriander seeds, cinnamon sticks, cloves, fenugreek seeds, Timur (schezwan pepper), and asafetida powder.
Tip to Buy: Buy the ones with label marks. Local old markets near Ason, Kathmandu.
Khukuri
Khukuri is a traditional Nepalese weapon that is the symbol of bravery. They were used in wars by the Nepalese army. Khukuri is the identity of Nepal. The weapon looks very aesthetic and many purchase it for decoration on their walls. You can find them in different sizes and designs. Some famous types of Khukuri are Sirupate Slender, Majaulo Banspate, Chaaklo Budhune, Sojo Sidhe, and Tikho Chuchhe.
Tip to Buy: Make sure the body is well-attached to the end handle. Check the rivets to if well-placed or not, the blades are sharp, and the end handle grip is strong and easy to use.
Traditional Nepalese Jewelry
Jewelry is loved by all. Nepal has some beautiful traditional jewelry that is unique and of different styles. Most of the traditional Nepalese Jewelry is handmade and well-crafted. The jewelry designs are intricate but made with genuine materials and attention to detail. Some popular traditional Nepalese jewelry is bangles, earrings, colorful beaded necklaces, and rings. These jewelry are decorated with precious stones such as coral, pearl, and turquoise.
Tip to Buy: Always purchase from reliable sources as the products are genuine.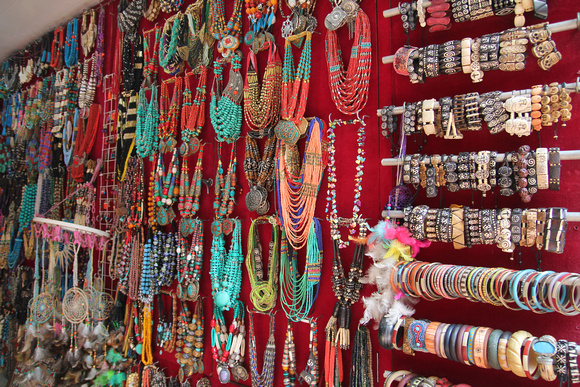 Sri Lanka
Sri Lanka is a beautiful island nation in South Asia known for its rich cultural heritage, gorgeous landscapes, and unique souvenirs. Sri Lanka offers a range of souvenirs that reflect its rich culture, history, and natural beauty. Whether you are looking for classy souvenirs or eco-friendly souvenirs, there is everything for all types for all luxurious and budget-friendly travelers. You can get tea, spices, handicrafts, or jewelry at the best prices. Among many souvenirs, we have listed 10 beautiful souvenirs from Sri Lanka that should not be missed.
Sri Lankan Gems and Jewelry
Sri Lanka is well-known for its abundance of valuable gems. It includes both precious and semi-precious varieties such as sapphires, rubies, and topaz. The handmade jewelry made using these valuable gems is worthy. These gems enhance the beauty of the jewelry. The jewelry and gems both are genuine and can get at a reasonable price than in other nations. Undeniably it is a great souvenir to bring from Sri Lanka.
Best Place to Get: Kandy, Unawatuna, & Galle
Traditional Wooden Masks
Sri Lankan Traditional Wooden Masks are an iconic handicraft of Sri Lanka. They are hand-carved from lightweight Kandru wood and painted in bright colors with unique, intricate designs. Historically, they are believed to have spiritual and healing powers. In Sri Lanka, they are used in traditional rituals and performances that depict Sri Lankan folklore and mythology. Many tourists purchase it for decoration purposes.
Best Place to Get: Laksala, Colombo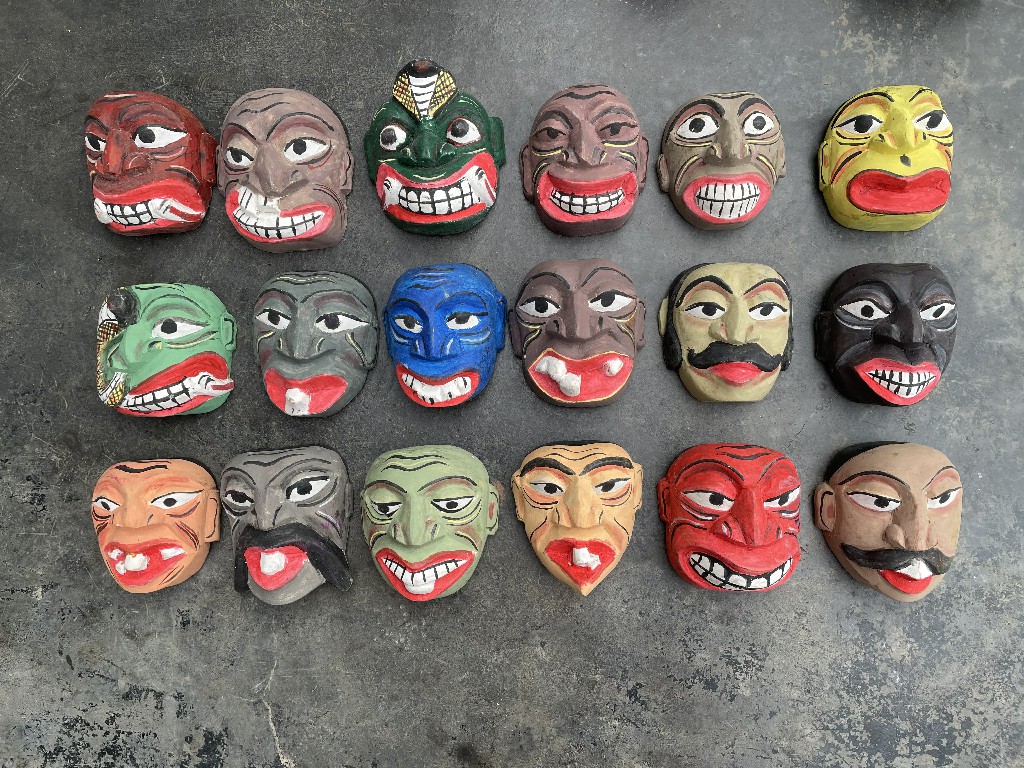 Handicrafts
Sri Lanka has a rich tradition of handicrafts, including wood carvings, hand-woven textiles, and intricate masks. These items are mostly adorned with traditional motifs and designs. These handicrafts symbolize the culture and history of Sri Lanka. One of the best souvenirs from Sri Lanka is handicrafts of various types. These handicrafts make a great decorative piece on the walls.
Best Place to Get: Sigiriya or Laksala, Colombo
Ceylon Tea
Ceylon Tea of Sri Lanka is widely popular as the finest tea in the world. It is associated with Sri Lanka's identity, culture, and heritage. Tea plantation States in Sri Lanka are the highlights while traveling this lovely nation. Ceylon Tea is famous for its strong flavor and aroma. Some famous Ceylon teas are black, green, silver tip, and golden tip. You can get Ceylon Tea in various forms such as loose-leaf tea, tea bags, & gift tea boxes. Dilmah is the most popular Ceylon tea brand in Sri Lanka.
Best Place to Get: Ceylon Tea Museum, Hantane (Kandy)
Cane Boxes and Dumbara Mats
Craftspeople handcraft Cane Boxes and Dumbara Mats using natural materials such as cane and reed. They weave thin strips of dried cane to create Cane Boxes using a specific technique, while Dumbara Mats are made with thin strips of reed woven into intricate and symmetrical patterns. The unique designs and durability of these traditional items have made them famous. People traditionally use them for storing food items or as floor/wall coverings. Nowadays, they are gaining popularity as decorative item as well.
Best Place to Get: Laksala, Colombo
Spices
Sri Lanka has one of the best ranges of spices. A variety of spices are grown here which are natural and produced by using traditional methods. Cinnamon, cardamom, cloves, and black pepper are some of the famous spices. Especially, Cinnamon sticks are favorite among others. The aromatic smell of the spice captivates all which is fresh. You can find a range of spice blends and individual spices in local markets and spice shops, packaged for easy transport.
Best Place to Get: Kandy and Pettah Market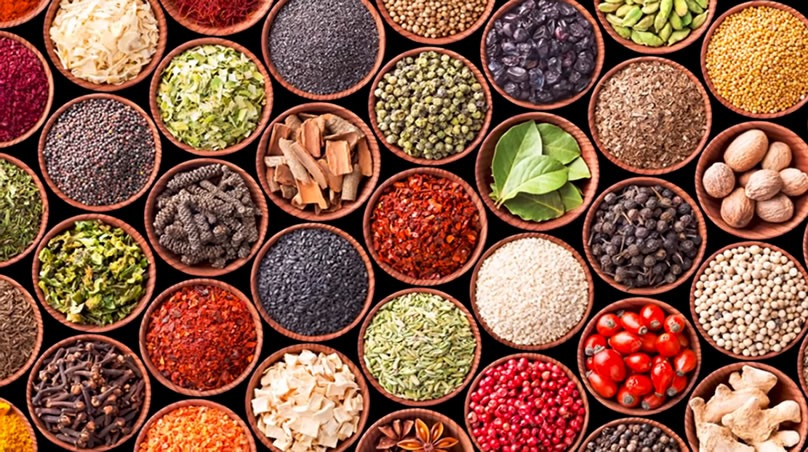 Porcelain Cutlery
Sri Lankan Porcelain Cutlery is produced in Sri Lanka using traditional techniques and designs which are made from high-quality porcelain. They are known for their strength, durability, and beauty. They are highly valued for their intricate designs, vibrant colors, and excellent quality, making them a popular choice for all occasions and everyday uses. Its products include plates, bowls, cups, and saucers, and is a popular souvenir among tourists visiting Sri Lanka.
Best Place to Get: Noritake Outlets or Showrooms
Ayurvedic Products
Sri Lankan Ayurvedic products are very renowned for their natural ingredients prepared using ancient knowledge handed from generations. They produce Ayurvedic and herbal products that include medicines, beauty products, herbal cosmetics, and herbal health supplements which have several health benefits.
Best Place to Get: Nuwara Eliya
Elephant Motifs
Elephants are the most popular and special motifs in Sri Lanka. It is an integral part of Sri Lankan culture and history and is widely used in various forms of art, from traditional to contemporary. Elephant motifs can be seen in various mediums such as wood carvings, pottery, textiles, soft toys, fridge magnets, and paintings. They are decorated with intricate designs and patterns which look stylish. They are believed to bring good luck and prosperity. It is an important religious symbol in Buddhism. The motifs are prominent in traditional Kandyan costumes as well.
Best Place to Get: Laksala, Colombo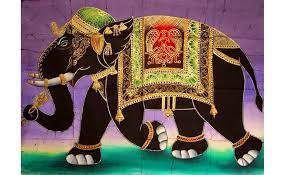 Batik Clothing
Batik is a traditional technique of dyeing fabric using wax to create unique patterns and designs. Sri Lankan Batik clothing is famous for its lightweight, designs, and materials which you can get in various forms such as dresses, shirts, and scarves.
Best Place to Get: Selyn Fair Trade, Colombo
These are just a few of the many souvenirs you can buy in Nepal and Sri Lanka. Make sure to explore the local markets and shops to find the perfect memory of your trip.
---