Holi – Celebrate the perfect harmony of colors in South Asia
30 Mar 2021 Asia Experiences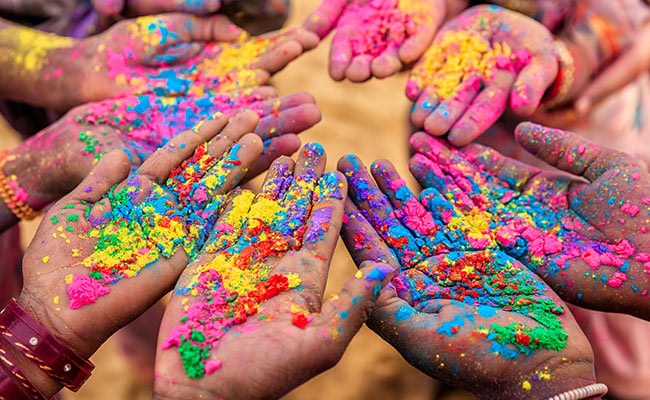 Holi, the festival of colors, is easily one of the most recognized Hindu festivals in the world. Holi is big
and fantastic. Over a billion people around the world come together to share. Also representing the
festival of spring and love, Holi is cultural, natural, and community-embracing. Lasting for two days, both
have significant delights to experience as a traveler.
The excitement in the air, vibrant colors decorating the streets, smiles all around and the traditional
celebrations with modern twists make Holi special. From small children to teens and adults everyone
enjoys this festival with equal enthusiasm. Starting the day with all white like a canvas you can have a
painting like nothing before by the end of the day and wonderful memories adjoined.
Main attractions of the Holi festival
Holi is the festival of colors but there is so much more to enjoy throughout the festival. If you don't fancy
one part of it the others make for a delightful adventure nonetheless. Here is why Holi is one of the
most amazing festivals to be a part of as a traveler to Asia.
Colorful and Lively Atmosphere
As the world moves more towards digitalization the joy in authentic and lively activities is somewhat
ending. Holi is a direct exception here with the wonderful colors painting everything that passes by. A
positive message is relayed with each color. Red signifies love and passion. Blue the openness and sky.
Yellow signifies knowledge and peace whereas green symbolizes spring and other new beginnings.
Celebrations at the community level
Community festivals are always great to witness while traveling. There is always something interesting
and new going on for you to enjoy. Holi is best when you are out of your home and celebrating with
friends and family. This beauty in chaos is what entices travelers of different kinds to attend this
festival.
Religious ceremonies and activities in significant Hindu Temples
Hinduism is the oldest religion in the world. Several legends and religious texts have mentioned the Holi
festival as a celebration of major special occasions. In the major Hindu temples around the world, Puja
rituals are conducted and one can have a look at authentic Hindu prayers and songs during it.
Music and Dance fiesta
Incorporating Songs and musical events with the Holi festival was almost inevitable. This century had
elevated the trend with several music stars now set to entertain the locals in multiple events during Holi.
You can join the swarm has a great time alongside the colors and music.
Sharing Sweets, treats, and delicacies with your loved ones
Holi like every major Hindu festival in Asia is no short of some wonderful festival foods. Sweet and
savory items dominate much of it and everything leads to the major feasts at the end of the day. Barfi,
Ladoos, Lassi, Malpura, and Peda are some common sweets that you can try. Similarly, several drinks
made to refresh and rejuvenate you throughout the day make Holi exciting for foodie individuals alike.
Celebration of victory of good over evil
Holi is a celebration of love and the victory of good over evil. It marks a new start for anything and
radiates positive energy from everything else. Acts in different places recreate the stories of Prahlad as
well as Radha-Krishna. Similarly, the traditional daring game of breaking a high buttermilk pot with a
human tower is nerve-wracking and unique at the same time.
Community bonfire with rituals and singing a night before
Holi is said to be a two-day festival due to an important night ritual to be done a day before. Also known
as Holika Dahan a large bonfire is lit and people gather around it. Just after sunset the singing and
dancing begin with some Bhajans accompanied by people circling the bonfire too.
Hindu cultural experience for travelers and more for Photography enthusiasts
The region of South Asia is a never-ending repository of amazing scenes for any photographer out there.
Just before the spring season, the days are longer and you can be a part of the transitioning nature. Holi
on the other hand, is an endless barrage of culture and adventure that you can take in with your lens
throughout the day.
History and Legends
Holi has been celebrated for a long time in the Hindu Community. Despite modernization and changes
the ways of celebrating Holi have not changed a bit. The most known legend revolves around Prahlad,
one of the biggest devotees of Lord Vishnu. Mentioned in the holy book of Bhagwad Purana, the evil
King Hiranya Kashyap was to be killed by the Narasimha (half Human half Lion) form of Vishnu hence
symbolizing the victory of good over evil. Similarly, Holi also commemorates the divine love of Radha for
Lord Krishna. The act of coloring each other started from this legend symbolizing the love and peace
around the world.
In Shaivism, a major Hindu denomination, Holi is a legend of Kama and Rati. This includes forgiveness by
lord Shiva and a symbol of devotion between the God and goddess of love. In other religions as well Holi
has been a way of celebration although under different names. Several historic figures in different
empires have also mentioned Holi in a way of major celebration.
Best Places to Celebrate Holi
1. Pokhara, Nepal
Pokhara is a great place to visit even without any special occasion. The adventure, nature, and amazing
sites here make any journey memorable. However, Holi is the best time because of the sheer number of events and
programs that you can take part in here. Similarly, you can get pretty balanced participation of
tourists and locals for the festival which is impressive for Holi anywhere.
2. Pushkar, Rajasthan
Rajasthan is a colorful state. One can truly admire the beauty here during Holi. We could have made a
whole list of places from this state alone. However, there are few better than Pushkar to celebrate a
glorious Holi Festival.
3. Kathmandu Valley, Nepal
The best part about including Kathmandu Valley is the number of quality locations available within a day
to witness the festival in different segments. All three cities of Bhaktapur, Patan, and Kathmandu have
dozens of musical and party events that you can be a part of. Apart from these Kritipur and the different
surrounding locations of the valley have many fantastic experiences planned for the Holi festival too.
4. Chittagong, Bangladesh
Holi in Bangladesh might not be the national festival but in major Hindu communities, it is memorialized
with pomp and joy. One such destination is the iconic city of Chittagong. You will be amazed upon
seeing the enthusiastic participation in the coastal region here. Chittagong is the place to visit in
Bangladesh and Holi might just be the best time to do it. As one of the least touristy nations of Asia, you
can blend in and experience Holi effectively in Chittagong.
5. Varanasi, India
Varanasi is the spiritual heart of India. Different Hindu festivals here mean an influx of Hindu Devotees
of thousands in this holy city. On the banks of the mighty Ganges be a part of the biggest Holika Dahan a night before. Starting from the early prayer in the Kashi Vishwanath Temple join the Devotees for a
colorful and spiritual Holi experience here.
6. Sindh, Pakistan
Pakistan is not the first destination jumping on your mind when the Holi festival is discussed. However,
you can witness some fantastic sights of active celebration here in multiple Hindu communities of Sindh.
Pakistan is truly underrated as a travel destination in South Asia and Sindh during Holi can make your
tour memorable.
7. Mathura, India
Mathura is one of the few places where you can still enjoy the authentic traditional holiday experience.
You can also select to go to Brindabhan midday for a complete Holi experience here. As the birthplace of
Lord Krishna, there are several stories, belonging to this city involving Holi.
8. Bandipur, Nepal
Bandipur is a hill station just between the cities of Pokhara and Kathmandu. One of the most amazing
places to visit year-round you can have a cracking Holi here. Very different from a city in Holi, you can
enjoy a fresh perspective in a naturally breathtaking place here.
9. Hampi, Karnataka
Hampi is known for Holi. It is the place to be for celebrating this festival in Southwest India. This ancient
town with its beautiful temples gives travelers plenty of options to join the locals. The Southern cuisine
here completes the celebration with a lot to try during your visit.
What not do during Holi?
Don't get too drunk.
Prevent Colors for an elongated period if you are allergic or aschematic.
Be aware of the Bhang (Cannabis) infused sweets and food.
Avoid Wandering around or joining unfamiliar groups.
Always bring camera covers, don't leave them open especially, with water and color involvement.
If you are not interested in actively participating deny politely.
It is common in community festivals to let strangers or outsiders join the celebration of Hindu tradition.
Similar is the case with Holi and it means putting colors in one another. Don't freak out. Be Polite and
avoid the core of celebration to simply prevent it.
At the end of the day, Holi is not just some random color festival. It is a slide of experience any traveler
has to witness at least once in their lifetime. In your next journey to Asia, Holi can be the centerpiece
and you will not regret your decision a bit. Build up to the day and soak in South Asia at its finest with
your tour climaxing Holi.
---