Mustang Valley: CNN's 2023 Best Destination
17 May 2023 Asia Experiences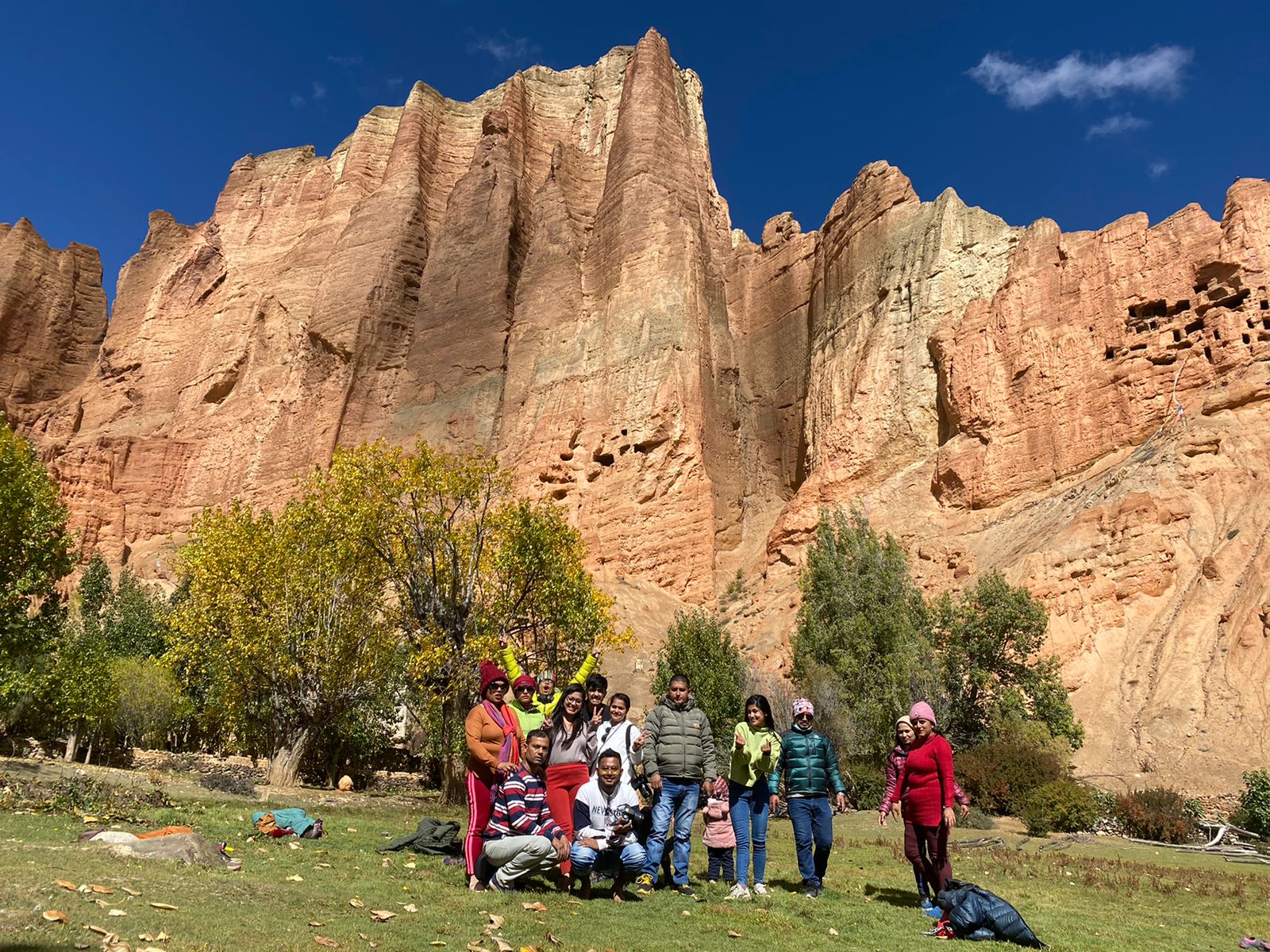 CNN Travel has listed the Mustang Valley of Nepal as one of the best places to go in 2023. According to CNN, "Nepal's Mustang Valley, known for its enchanting mountain treks along historic trails that were once instrumental in facilitating trade between the Himalayas and India, proudly rests on the threshold of Tibet. The town of Lo Manthang, depicted here, showcases the sheer beauty of this remarkable region."
The Mustang Valley in Nepal comprises Lower Mustang and Upper Mustang, each offering distinct experiences. The Lower Mustang trek unveils the picturesque valley, including Kagbeni, Marpha, Jomsom, and Muktinath. Immerse yourself in local culture, enjoy Nepalese friendliness at teahouses, and visit the respected Muktinath pilgrimage site. Jomsom is the gateway to Upper Mustang which is also the administrative center of Mustang Valley. Famous for Tibetan influence and rough terrain, Upper Mustang is often called the "Grand Canyon" of the Himalayas. Explore ancient monasteries, fascinating Gompas, and Tibetan architecture, while cherishing the cultural tapestry of the Mustang Valley. Despite being remote, a few teahouses satisfy trekkers, and the journey from Jomsom via Kagbeni to Upper Mustang presents stunning landscapes and visuals.
Mustang Valley Highlights
Spectacular Mountain treks through ancient trails
Breathtaking landscapes with stunning views of the Himalayan peaks
Unique blend of Nepalese and Tibetan culture
Picturesque villages like Kagbeni, Marpha, and Jomsom
Remote and untouched beauty of Upper Mustang
Ancient kingdom Lo Manthang with its unique traditions and heritage
Explore ancient Buddhist monasteries and the sacred Muktinath Temple
Must-Visit Places in Mustang Valley
Lo Manthang:
The ancient walled Kingdom and capital of Upper Mustang, Lo Manthang is mesmerizing. Tibetan culture thrives alongside remarkable monasteries and architectural wonders. The warm hospitality of locals with a visit to ancient monasteries like Lo Gekar Monastery, Thupchen Monastery, Chode Gompa, and Jampa Monastery are prime attractions.
Muktinath Temple:
A holy temple for both Hindus and Buddhists houses the deity of Lord Vishnu. In the vicinity, the breathtaking natural beauty and a peaceful divine atmosphere make a memorable journey to this temple.
Kagbeni:
A beautiful small village is also the doorway to Upper Mustang. The village is popular for its traditional mud-brick houses, scenic landscapes, and ancient Tibetan Buddhist influence.
Ghar Gompa:
The serene and historic monastery of Ghar Gompa lies on a hilltop that offers panoramic views of the surrounding Mustang Valley. Explore its sacred halls and experience the cultural richness of this must-visit destination in Mustang Valley.
Marpha:
The 'Apple Capital of Nepal'- Marpha is a lovely village with its quiet ambiance, traditional mud-brick houses, and warm hospitality of the locals. A wonderful culinary experience with its apple-based products like cider, brandy, and pies. Try out some products.
Dhakmar Village:
The village of Dhakmar is famous for its distinctive red cliffs and caves. The village provides a fascinating landscape for exploration and a glimpse into the geological wonders of the region.
Chhoser Cave Houses:
The Chhoser Cave Houses are unique attractions that stand on the cliffs. This man-made cave is an archaeological bewilderment that amazes everyone. The panoramic views from the caves are enthralling. Not only caves, but the Chhoser village is also an interesting place to explore.
Mustang Eco Museum:
Located in Jomsom, the museum offers insights into the unique ecology, culture, and history of the Mustang region, providing a deeper understanding of the valley's significance.
Tsarang Village:
The second-largest village in Mustang is Tsarang. A 500-year-old Tsarang monastery is decorated with beautiful paintings of Buddha deities. Explore this pretty village and interact with friendly locals to get an inspirational cultural experience.
Damodar Kunda:
The holy lake Damodar Kunda is significant to both Hindus and Buddhists. It lies at an altitude of 4,890m. The rocky terrain and breathtaking Himalayan vistas in the surrounding attract everyone. This is one such place which is not to be missed.
Mustang Valley Trek Guidelines (Recommend for 4WD Jeep tour instead of Trek)
Hire an Experienced & Licensed Trekking guide:
Make sure to hire an experienced and licensed trekking guide. Book from a reputable trekking agency to ensure safety, navigation, and a better understanding of the region's culture and history. Make sure your tour package and all facilities are well looked after and managed by the trekking agency.
Select the right season:
The best season to visit Mustang Valley is during the Spring (March to May) and Autumn (September to November) seasons. The weather is pleasant, stable, and the visibility is clear. Monsoon season (June to August) is also best as Mustang is Rain Shadow Area and expects very little rainfall.
Plan your itinerary:
Decide the trekking season, trek duration, trek route, places to explore, meals and accommodation, and means of transportation by consulting with a reliable trekking agency. Once the itinerary is fixed, separate the budget and pack accordingly.
Acquire necessary permits:
You need to acquire permits for the Mustang Valley Trek. You must require Annapurna Conservation Area Permit (ACAP), a Trekkers Information Management System (TIMS), and an Upper Mustang Special permit (only for Upper Mustang Trek). Make sure to have all these permits before entering the Mustang region.
Pack appropriately:
Pack appropriate clothes varying the weather conditions, strong trekking shoes, equipment, gear, and essential personal belongings. Include warm but lightweight clothes. Don't forget to carry medicines, water purification tablets, a water bottle, sunscreen, a hat, and a mini medical kit.
Travel Insurance:
Get travel insurance from a trusted insurance company as it is mandatory to trek in the mountain regions in Nepal. It assures safety from unforeseen events and emergencies if in case. Consider getting travel insurance that covers medical emergencies, emergency evacuations, altitudes above 5000m, flight cancelations, and loss/theft of belongings.
Stay hydrated and acclimatize:
To prevent altitude sickness in the mountains, drink plenty of water to stay hydrated. Acclimatize properly and allow your body to adjust to the higher altitudes.
Respect local customs and traditions:
Mustang Valley has a unique cultural heritage influenced by Tibetan Buddhism. Respect local customs and traditions. Ask for permission to take photographs of religious sites or religious objects.
Support local businesses:
Stay in local teahouses or guesthouses, and support local businesses and communities. If you wish, you can also purchase local handmade products and services.
Responsible Tourism:
Practice responsible tourism and make sure to dispose of waste properly. Respect the people, environment, and wildlife in the region.
Stay updated and consult with reliable trekking agencies for further guidelines to ensure a safe and pleasant experience on the Mustang Valley trek.
For more information about Mustang tour and it's packages; please click below links.
https://asiaexperiences.com/upper-mustang-tour/
https://everestnepaltours.com/upper-mustang-4wd-jeep-tour/
---