Tipping (Gratuities) Guidelines in South Asia and Southeast Asia
3 Sep 2023 Asia Experiences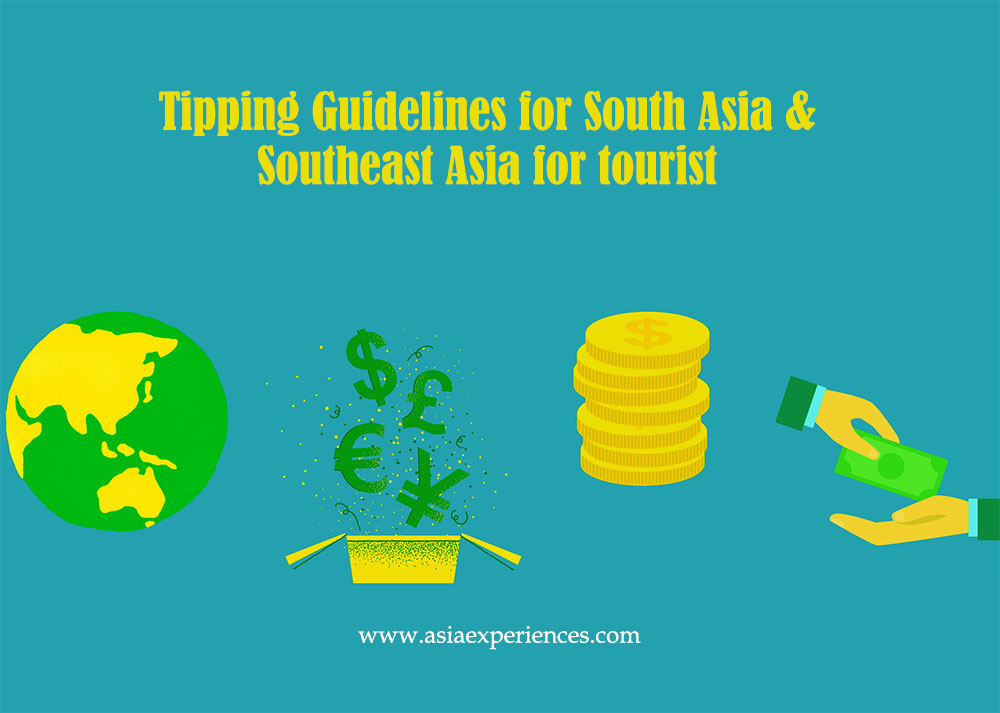 Exploring South Asia and Southeast Asia opens doors to diverse cultures, including their tipping customs. Tipping is generally appreciated in this region, but it's not always compulsory. This article is here for 'Tipping guides in South Asia and Southeast Asia' to consider when tipping during your tour:
Guides for Gratuities in South Asia: Nepal, Bhutan, Tibet, India, Sri Lanka, Bangladesh etc.
Guides for Gratuities in South-east Asia: Vietnam, Laos, Cambodia, Thailand etc.
Recognize Cultural Variations
Tipping customs can vary widely across countries in South Asia and Southeast Asia. While it's appreciated, it's not mandatory everywhere. Please beware that tipping customs can differ. Certain countries in South Asia and Southeast Asia may not emphasize tipping, while others have well-defined practices.
Show Appreciation for Good Service
Tipping serves as a gesture of gratitude for exceptional service. Tour guides and drivers work long hours and go above and beyond to ensure your journey is memorable. If you're pleased with their services, consider tipping as a way to express your appreciation.
Research Local Norms
Before embarking on your journey to South Asia and Southeast Asian nations, research the specific tipping customs of the country you'll be visiting. Local guides or online sources offer valuable insights into local customs and expected practices.
Consult Your Guide
When it comes to understanding tipping norms in a specific country, tour guides are trustworthy resources. Consult them to learn about suitable tipping amounts and recipients during your travels. They know best about local customs and help you tip right. However, in cases where you need to offer tips to both the driver and the guide, you can either consult your tour operator or make an independent decision based on your judgment.
Go for Cash
Cash is often the preferred method of tipping in South and Southeast Asian nations. Opting for either the local currency or widely accepted foreign currencies like USD, Euro, Pound, Australian Dollar, etc., which are easily exchangeable, is advisable.
Government Officials and Public Services
Focus your tipping efforts on those who directly contribute to your travel experience such as service providers like guides, drivers, porters, housekeeper etc but not for government officials or employees in public spaces such as police officers or ticket sellers. To avoid confusion, talk to your tour operator or guide for guidance on giving tips to the right person.
Hotels and Restaurants
Besides guides and drivers, you might also tip at hotels and restaurants. If there's no service charge included in your bill, a small tip for great service is a good gesture. Generally, offering around 5-10% of the bill indicates appreciation for the service received.
Consider Your Budget
If you're on a tight budget, remember that even a small tip can be meaningful. When you're unsure about the right tip, a small sum like USD 1-2 or its equivalent in local currency can still express your thankfulness.
Consider Local Economy
When deciding the tip, consider the local economy and living costs. A small tip from you can make a big difference in certain countries. Given that guides and drivers often receive insufficient pay in numerous areas, boosting their income is praiseworthy. Tipping helps improve their livelihoods.
Stay cautious and Tip Gently
When in doubt stay cautious and tip gently. It's better to tip a little than to overlook the gesture altogether. Tipping is generally viewed as a positive gesture, and locals will probably value your attempt to respect their traditions.
Tipping customs in South Asia and Southeast Asia can be a blend of cultural awareness and personal choice. While there's no set of rules, the following guideline table can assist you in making informed tipping decisions. Remember, tipping is saying 'Thanks' for good service. Your honest gratitude is what truly matters.
Tipping Guidelines Table
To Whom (Recipients)
Standard Tipping Rate
(It is depended on group size, touring location, spending time etc.)
Tour Guides
USD 15-20/person, per day (full day)
Drivers
USD 10-15/person, per day (full day)
Airport Transfer Drivers
USD 4-5/person, per transfer
Hotel Porters
USD 1-2, per bag
Housekeepers
USD 1-2 per person, per night
Restaurant or Room Service
5-15% (unless already added to your service)
Remember, the purpose behind tipping is to recognize hard work, and dedication, and to show gratitude for a positive travel experience. By following these guidelines and showing consideration for local traditions, you can make sure that your tipping practices add a positive touch to your South Asia and Southeast Asia journey.
---