South Asia Tour from the USA
5 Nov 2023 Asia Experiences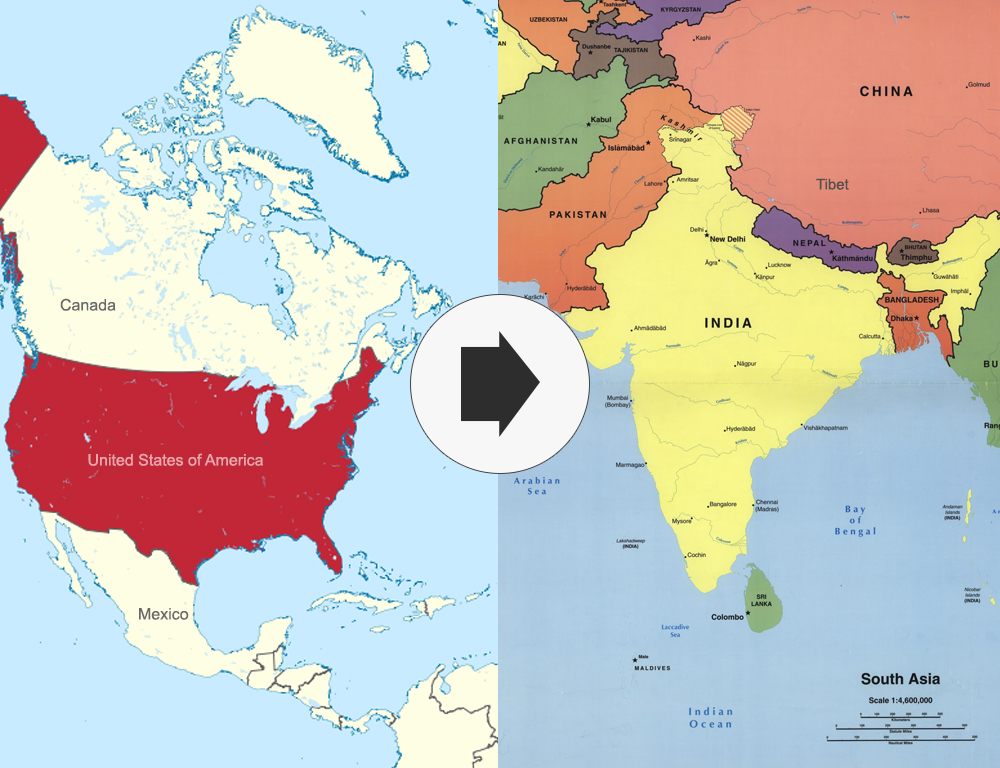 South Asia is a rich destination with an amalgamation of history, culture, traditions, and natural wonders. South Asia attracts travelers from around the globe to discover its historic sites, natural wonders, and vibrant cultures. South Asia Tour from the USA is an incredible journey that is filled with diverse experiences from cultural treasure troves to serene beaches, notable landmarks to the splendid Himalayas, and archaeological sites to safaris admiring the natural wonders.
Many might be surprised to know that the USA is the number one nation from the Western region that frequently travels to South Asia. The availability of direct or connecting flights has made this journey more feasible. On the other hand, getting a Visa for American citizens is easy. South Asia is a perfect destination for travelers with diverse preferences. Whether you are a culture and history enthusiast, or adventurer, a foodie, or a nature lover South Asia has something to offer every traveler.
Americans stands top in traveling to South Asia
The Americans stands top in traveling to South Asia from the Western region. South Asia offers a rich and diverse array of destinations to travel to. American citizens are fascinated with destinations' culture, history, stunning landscapes, historic landmarks, natural wonders, and mouth-watering delicacies. South Asia is undoubtedly a treasure of experiences for travelers. Yearly numerous American citizens visit South Asia for various purposes. The primary purpose of a large number of Americans' visits to South Asia is the region's culture and history followed by adventure and entertainment purposes. South Asia boasts abundant destinations that cater to the diverse choices of American travelers. Bhutan, Nepal, Sri Lanka, Tibet, Maldives, India and Bangladesh are among some preferred destinations.
Airline connectivity from the USA to South Asia
While traveling, the availability of airline connectivity is a big concern. In the case of travel from the USA to South Asia, airline connectivity is robust and abundant. Travelers can get direct as well as multiple connecting flights. From the USA, there is a direct flight to India. Many travelers choose the Bangkok or Singapore connecting flight route due to high volume of airlines and easy visa (free-visa). Some also choose Middle-East Asia (Dubai, Doha) connecting flight routes to travel to South Asia. This abundance of airline connectivity options ensures flexibility for travelers. They can select the route that aligns with their time, preference, budget, and itinerary.
Recommended tour packages for Americans
South Asia boasts numerous destinations that align with the diverse preferences of Americans. However, cultural and historic landmarks are top attractions for Americans. Most travelers choose to travel to South Asia for cultural immersion and delve deeper into the rich history, art, culture, and abundant cultural heritages. In this context, South Asia is a gem with numerous ancient temples, royal palaces, a treasure trove of art and architecture, and archaeological wonders. From the city of temples in Kathmandu, Nepal, to the iconic Taj Mahal in India, archaeological wonders in Sri Lanka to spiritual monasteries in Bhutan, all destinations can be a great research hub. Not only these destinations but there are many more in South Asia that can satisfy the traveler's needs and intensify their traveling experience. It adds a depth layer to their tours with a great connection with South Asian cultures.
Besides these cultural and historic landmarks, South Asia is popular for its natural wonders, snow-capped mountains, beaches, and safaris. From adventurous activities like trekking, paragliding, bungee jumping, and rafting to nature tours with wildlife safari or beach tours for relaxation there are varied choices for all American travelers. Some recommended South Asia tour packages are:
Recommend Luxury hotels
In South Asia, there are numerous 3-star, 4-star, and 5-star hotels for accommodation. They provide service catering to the diverse needs of customers. For accommodation, we recommend luxury hotels for Americans in South Asia as these 3-star and 4-star hotels don't match the standards that Americans are used to in the West. South Asia boasts some of the finest luxury hotels which meet their expectations. All luxury hotels are top-notch with premium amenities. These luxury hotel options ensure an amazing and comfortable traveling experience in South Asia.
Choose a local operator and private tour for flexibility
We recommend that American citizens choose a local operator and private tour for flexibility. Some benefits of choosing a local operator are:
In-depth knowledge of the region
Flexibility to customize the itinerary
Arrangement of Private Tours
Individual Preferences focused
Intimate and immersive experience
Contribution to Local Business
Time-saving and Reasonable Price
More authentic and rewarding travel experience
Getting a visa for American citizens
Getting a Visa for American citizens is easy while traveling to South Asia. Some South Asian nations require On-Arrival Visa while some can apply E-Visa online. For all South Asia and Southeast Asian nations, obtaining a Visa is easier except for Tibet (China).
---