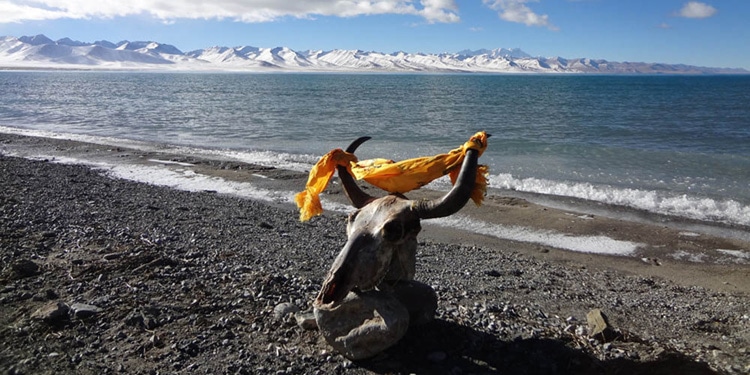 Namsto translates as 'The Heavenly' in the Tibetan Language. It is also the second-largest salt lake in China and also the highest in the world. With more than 1,900 sq. km of area in an elevation of 4,718 meters, Namtso Lake is a nature wonder to observe. The crystal clear water and the blue color of the sky are perplexing to watch. The lake water comes from rain and melted snow making it pure and clean. Visitors stroll around the lake and find a calm heart and peace of mind. The view of Mt. Nyainqêntanglha is beautiful from the lake, and far from the horizon, the blue lake seems connected to the sky as a single plain.
Namtso Lake was also a practicing spot of Estoric Buddhism by the Buddhist Hierarchs in the early 2nd century. The hierarchs, also including the founders of Tibetan Buddhism involvement in the lake made it a holy lake. Buddha and Bodhisattva hold Buddhist rites in Namtso Lake; such is the belief of the local people. One day excursion from Lhasa is easily possible.
People also believe that walking and pattering around this Lake only once in the year of the ship is equivalent to doing it a thousand times in other years. Therefore, Namtso Lake is full of Pilgrims all year round in the Tibetan year sheep circle Namtso Lake with the feeling of fulfillment and joy. Namsto Lake is a place where nature meets devotion. One can merely visit there to admire nature or share their dedication and spirituality with the pilgrims.
Major Attractions
Nyainqêntanglha Mountain ranges in the surroundings
Tashi Dor Monastery
Cave Hermitages