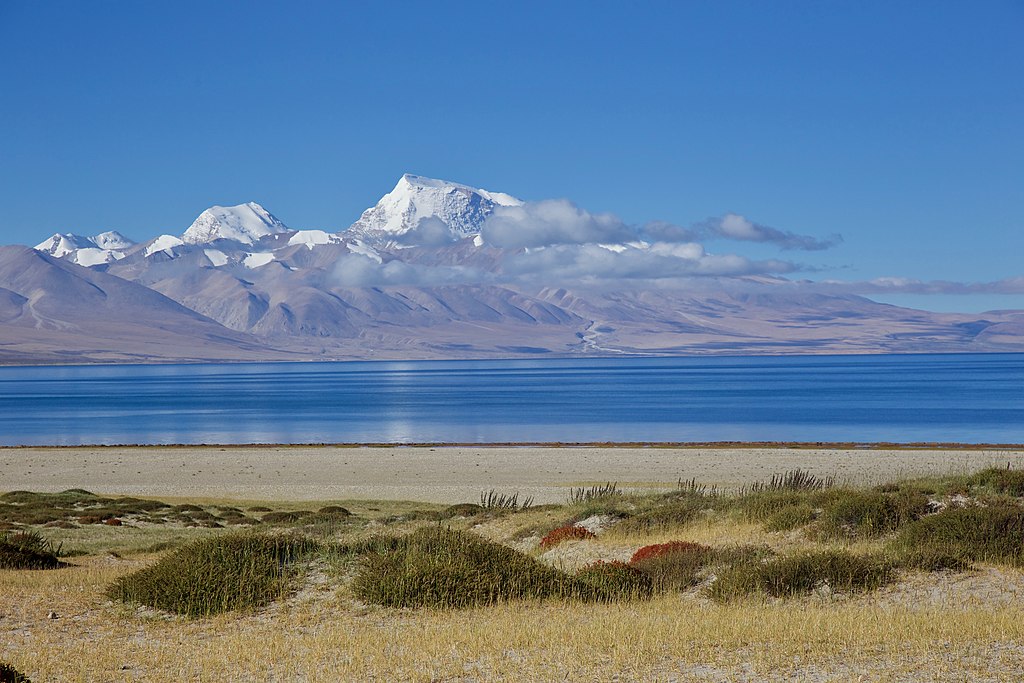 In the lap of the holy Mount Kailash lies a lake of great spiritual significance- Lake Manasarovar. At an altitude of 4590 meters, this freshwater lake is from the Kailash glaciers. One of the holiest places to be in the whole world, Pilgrims of Buddhism, Hinduism, Bon, and Jainism visit Manasarovar. This lake also has major natural importance as it is the source of four major rivers in southeast Asia. The Bramhaputra, Ghagara(Karnali), Sindhu, and Sutlej also provide irrigation, hydropower, and drinking water in these regions. All these rivers are also sacred as they are related to Mt. Kailash.
Pilgrims around Asia visit this holy late for spiritual cleansing and peace of mind. People also drink its water and even bathe in sub-zero temperatures to clear their sins. The Kora(circling) of this lake is also a holy act and pilgrims complete the Kora too. The kora of Mt. Kailash-Manasarovar cleanses the sins from previous lives too; such is the belief of devotees. According to Hindu mythology, the lake was made by Lord Brahma(the creator God) for his sons to bathe here after their journey.
Similarly, Buddhists have their say that The mother of Lord Buddha bathed here before giving birth to the Lord. Lying in one of the extreme landscapes the scene and vibes after reaching Lake Manasarovar, if one hopes to define it, will be short of words. A vast lake with Holy Mt.Kailash in the distance, Lake Manasarovar is a place not to miss on your Tibet Trip.
Major attractions
Natural Scenery
Shrines and monasteries surrounding Lake Manasarovar
Joining pilgrims for the holy Kora