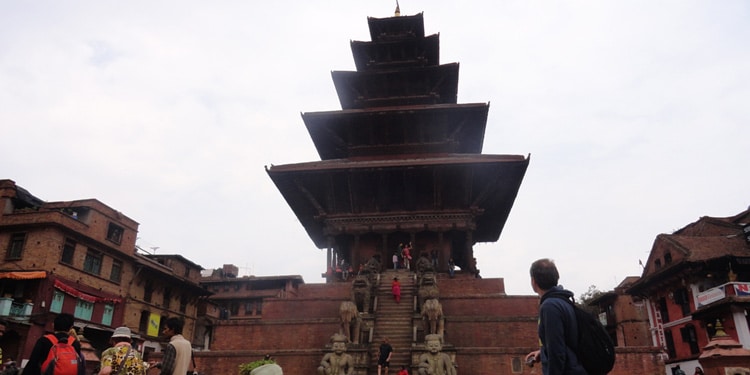 Bhaktapur is a living representation of the Historic medieval Kathmandu valley lies to the east corner of this valley. A land of abundant Newa culture is also an academy to nurture art and craftsmanship. Here, in every street and every house, you will find an architecture to live in for the rest of your life. Similarly, the utmost pottery and carving skills of the locals are flairs to admire. A place where the local Newas welcome you with a warm smile and exquisite Newari cuisine, you will find a street to lost into and cherish the heavenly acquaintance of this cultural Paradise.
Literally translated as the land of devotees we can experience the locals celebrating the Jatras (festivals) here with paramount pomp and joy. Bhaktapur or Khwopa (local) was the ruling kingdom of the Kathmandu Valley before separating to three independent kingdoms. Khwopa was previously renowned for Malla Yuddha, wrestlers wrestling fiercely to impress their king. Therefore, one can still see carvings in the wood of these wrestling activities. One can also see stone sculptures of these wrestlers in temple steps as guardians of the city.
Bhaktapur Durbar Square is the palace from where the Malla kings ruled this city. One of the three cultural and architectural repository of Kathmandu valley you can stay forever praising the beautiful structures, monuments, and temples here. Similarly, you can experience carvings and cultural abundance in the temple of Changunarayan here too. Both these sites are in the UNESCO world heritage site list. You can walk around the maze-like Galli(narrow streets) and study the primitive and unmodernized Newars here.
Bhadgaon is the second name of Bhaktapur. Translated in Nepali as 'the city of rice,' Bhaktapur has fertile land, and most land here serves as a field to grow crops. Bhaktapur is also famous for it's tasty Ju Ju(kings) Dhau(curd). You must try them on your visit there. The lifestyle of people here is simple. People are friendly, and this place is homely and clean too. You can see women doing their laundry in public taps and locals drying their grains in the streets. You are to the experience of your best moment of life here at Bhaktapur.