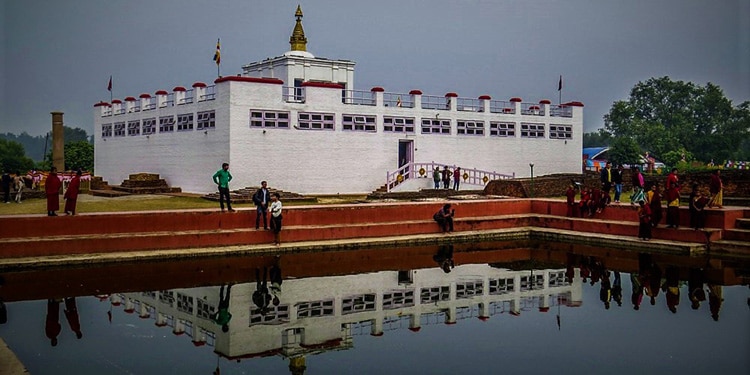 One of the most sacred, sanctifying and devotional places for Buddhism all over the world is Lumbini. Located in the central plains of Nepal is the birthplace of Lord Buddha, Lumbini. A place where you can reach your true self and rinse your soul with positive vibes awaits for you. With more than twenty-five international monasteries and hundreds of shrines and temples in the zone, peace comes uninvited. You can study Buddhism, meditate and also visit the birthplace of Lord Buddha 'the Mayadevi gardens' here.
Mayadevi Temple is one of the must visit a place which constitutes the Birthplace of Lord Buddha. Many Historians and archaeologists alike have their claims that this was the very place of his Lord Buddha's birth. We can also visit the Ashoka pillar which says that Lord Buddha was born in this very place and King Ashoka worshipped the spot himself. You can also visit beautiful Monasteries from China, Japan, Sri Lanka, Myanmar, Germany and more to embrace this holy land of Buddhism. Hindus consider Lord Buddha as the incarnation of Vishnu(the savior of lives). Therefore, Lumbini also gets thousands of Hindu pilgrims every year.
Today Lumbini is one of the most peaceful and holy sites in whole Nepal. Funding from government and different nations has managed and preserved this place with utmost care. One can reach the next level of spiritual fulfillment by visiting Lumbini. Similarly, you can visit the Panditarama Vipassana Center and engage into meditation and take spiritual guidelines and truth of life from the monks there. This place is a perfect resting destination to achieve Mokshya(nirvana) and to learn life.
Must see places:
Maya Devi Temple
Ashoka Pillar
World peace pagoda
Myanmar Golden Temple
Lumbini crane sanctuary