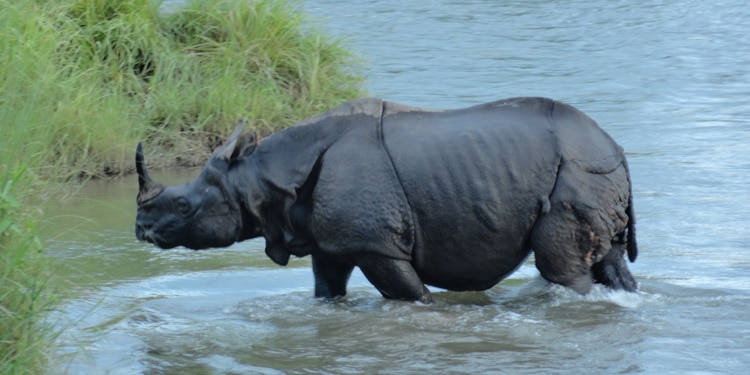 Chitwan National Park, Residing in the central plain of Nepal lies one of the most promising and pleasuring wildlife experience of the whole of Asia. Chitwan National park, also one of the oldest national parks in Nepal. The home to the rare One Horned Rhinoceros and Royal Bengal Tiger this park provides you with lush Wildlife which you can enjoy to your heart's content. Also listed in UNESCO world heritage site of Nepal, Chitwan is a place where wildlife and nature meet. Lying in the foothills and plains of the mighty Mahabharat range you will experience the unexploited and rejoicing unity of wildlife and their habitat.
An adventure that will make you an admirer of this lavishing wilderness forever this park welcomes you with grace. A place where you will lose yourself in the canvas of natures artbook, this park is for adventure lovers. So grab your binoculars and jump into a back of an Asiatic elephant as your ride in this safari. Taste the nature in her purest form with her glaring components. Brisk in the sun with the Mugger crocs and Ghariyals and savor the blueberries with Hornbills. You will end your day in beautiful homestays of the Tharu people. Here you can have a campfire to recharge and Tharu cultural dance to wash off your exhaustion.
Abundant with rare wild animals, birds, and plants, Chitwan is also a place to see the Terai lifestyle in Nepal. Along with that, there are egg hatcheries and breeding centers within the parks best for an educational tour. A short plane flight from Kathmandu or a view rich day drive and you reach this wonderful destination. A safari that will complete your adventure to Nepal, You will unlock a new treasure of this country. A day here always ends with the homely cultural and calm evening in the banks of Narayani river.
*Major attractions
Elephant Safari
Breeding center and hatchery
Cultural programme from the local Tharu tribe