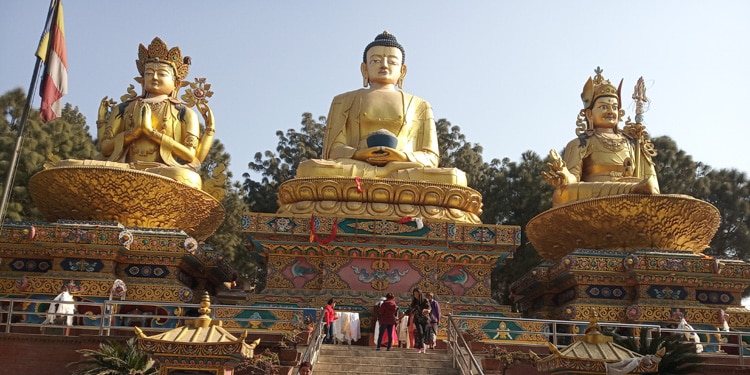 A place where peace and prayers come together in perfect harmony with the nature. Swyambhunath is amongst the oldest temples of Nepal with some of them aging up to 2500bc. Sitting in the top of the hill with a nubber of small temples and stupas surrounding it, it's a delight to reach there. You have two options to reach the peak. One can go straight and walk while you can also drive to the top. The upward hike takes steep steps  together with small shrines all the way. We also know this temple as the Monkey Temple. It is because of abundance of monkey in the temple. The pilgrims and monkeys share this temple alike.
Westward to Kathmandu, Swyambhunath is a popular valley view point as we can also view the buzzing Kathmandu as a whole from the top. Swyambhu itself translates to self existent and people believe this temple came to existence by itself when the lake of Kathmandu valley dried. One of the holiest destination for Buddhist pilgrims it also has numerous Hindu shrines constituted in it.
The Stupa and the whole Swyambhunath region is an art of Tibetan architecture. The biggest image of the Sakyamuni Buddha lies on the western boundary of Swyambhunath. There are also temples of godess of learning Saraswoti or Manjusri in the rear hills of the region. Chaityas, images, statues and shrines fill the peripheri of the Swyambhunath. The whole baseline of Swyambhunath is surrounded by prayer wheels. We can see devotees circumambulating the stupa all day long. Some of the monuments not to miss in swyambhunath are-
*The huge gold-plated Bazra(thunderbolt) in the east side of stupa.
*Sakyamuni Buddha statue in the western boundary
*The sleeping Buddha and the Dewa Dharma Monastery
*Temple of Harati and Museum in Swyambhunath.