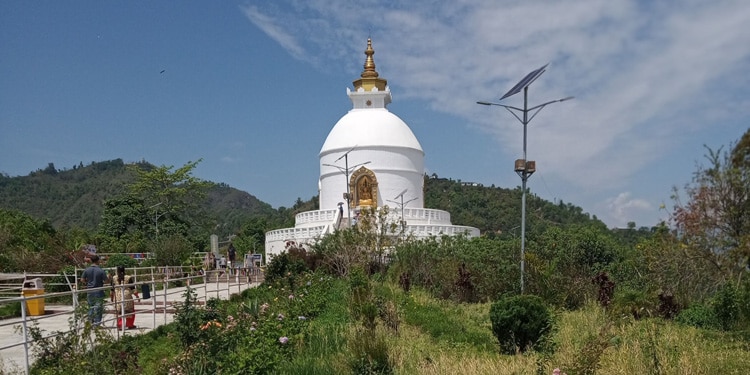 Spotted from miles away is this brilliant monument of Shanti Stupa at the top of Anadu hill. A Buddhist pilgrimage and the perfect locus to view the mesmerizing view of Phewa lake and the whole Pokhara valley. A hike to this majestic destination involves the diverse flora and fauna of these rich hills. Similarly, one can also view the amazing sunset befalling upon the city of Pokhara in a calm and Captivating environment. From the top in the clear sky, you can observe the whole Annapurna Mountain range and many other small ranges of snow-capped mountains. This place also has a significant possibility of off-road cycling and short trekking. The picture-perfect panoramic View this site provides will remain in your memories for a very long time.
Construction and history of Shanti Stupa
This flawless white colored Pagoda is amongst many other peace stupas around the world. Reflecting Architecture and beauty this untarnished stupa was built by Nipponzan Myohoji monk named Morioko Sonin. Standing 115 feet tall with 344 feet of diameter, visitors have to trek from a nearby trail to reach here. There are two rows of the entrance to the structure with separate transits to circumambulate — a monument carrying architecture to adore and dazzling statues of Lord Buddha.
Statues of Gautam Buddha
There are four stunning statues of Buddha representing the friendship and the mission to achieve World Peace  .'Dharmachakra Mudra,' 'Bodh Gaya,' 'Kushinagar,' and 'Lumbini' of the four-nation they came from Japan, Sri Lanka, Thailand, and Nepal respectively. On the top of the Stupa is a Pinnacle (Gajur in local language) holding crystal stones from Sri Lanka. Below the Gajur is a wheel of life signifying Dharmachakra. Similarly, there is a hall of worshipping (Dharma Hall) which holds statues of Buddha, near the stupa where pilgrims do their rituals on auspicious days. To peek in and study the religious tradition one may scout this portion of the pagoda.